Two months away from the May 21st premiere of the new Twin Peaks, a mysterious billboard has gone up showing nothing but a heart/owl-shaped cherry pie with a zig zag crust à la the Red Room floor. And possibly several other hidden meanings.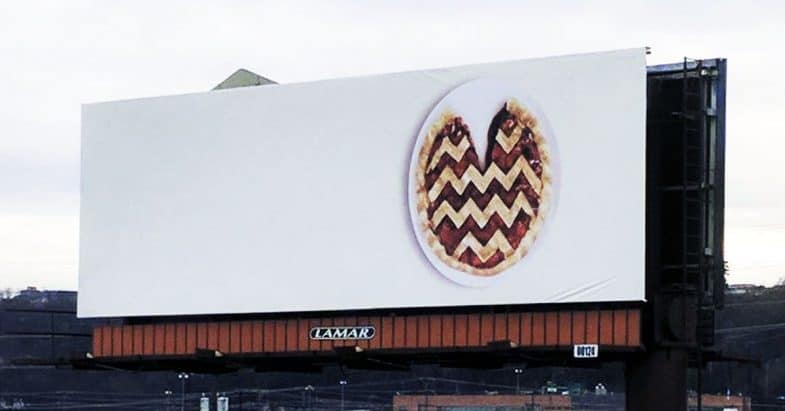 The poster's location?
West Seattle Bridge, Seattle, WA. Not too far from where the pilot, the movie, and the new series were filmed.
Getting stuck in traffic suddenly got really excited for Twin Peaks fans. What else will appear on the blank canvas? And when? And have you spotted any other posters around or outside Seattle?
UPDATES: There's a second one not far after the first, showing "the missing piece" of the pie. Thanks to Joshua for the pic.
The Missing Piece. #TwinPeaks pic.twitter.com/hKikKxyGRl

— Twin Peaks ? (@ThatsOurWaldo) March 21, 2017
Several Welcome to Twin Peaks readers have also reported seeing these northbound on the I-95 in Philadelphia, PA, Here's a great shot by James Borders taken in Philly's Northern Liberties neighborhood, a short drive from the FBI's headquarters in Philly.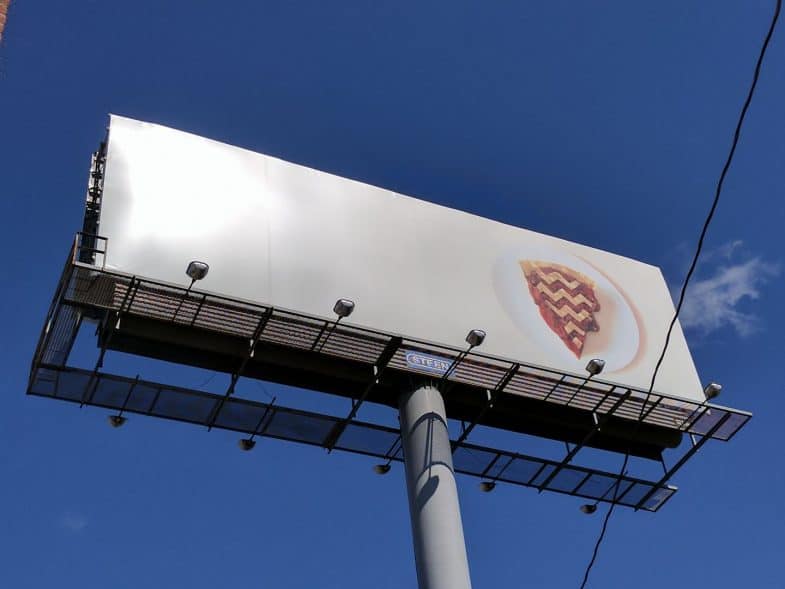 And another sighting in… MISSOULA, MONTANA! Home of Maddy Ferguson and the birthplace of David Lynch. Thanks to Caleb and @glacierboater for the photos.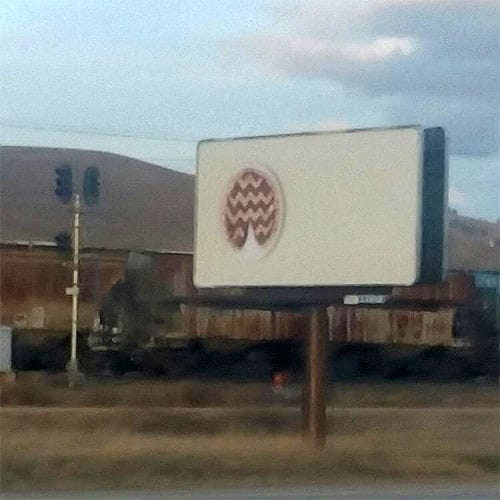 @ThatsOurWaldo Missing piece in the home of Maddy and David Lynch. pic.twitter.com/U5N7NmWPwH

— Toodledoo (@glacierboater) March 24, 2017
And here's one of the last two billboards, discovered by Silencio's Dessa in Pittsburgh, PA, where Dale Cooper got stabbed by Windom Earle (the first time).
Here's the final #TwinPeaks billboard, discovered in Pittsburgh, PA, where Dale Cooper got stabbed by Windom Earle! https://t.co/z6LlnRSlXI pic.twitter.com/B0vYGrNCW5

— Twin Peaks ? (@ThatsOurWaldo) April 5, 2017
Two weeks ago, Laura Palmer posters were plastered all over Sydney, Australia. But this one is different. Has Showtime's outdoor campaign officially started?