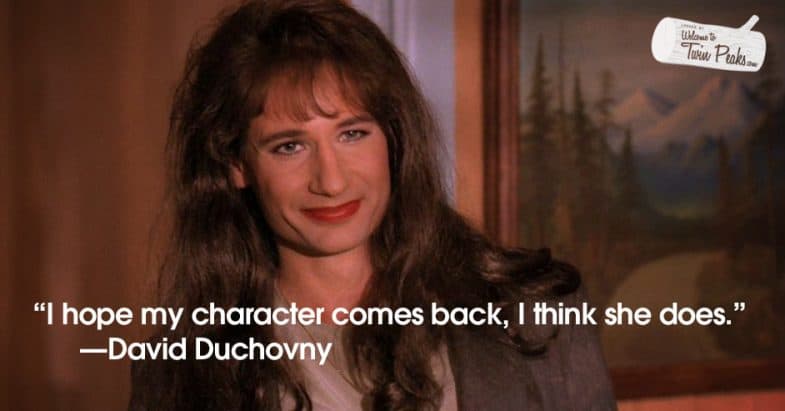 UPDATE (May, 2015): Moviehole learned from "a reputable source" connected to David Duchovny's upcoming show, Aquarius, that the actor is due to shoot some Twin Peaks in the third quarter! Thanks for the tip, Andrew.
Unquestionably a fan favorite, David Duchovny is high up on many of your wish lists for the cast of Twin Peaks 2016. And now the actor himself told the Los Angeles Times he's hoping for DEA agent Denise Bryson (formerly Dennis) to return to the show. For what it's worth, he even thinks she will.
I think "Twin Peaks" is happening for sure. I hope my character comes back, I think she does.
If so, the question will be: does she still pull her panties on one leg at a time?
A few days later, Duchovny told The Age: "If they would have me, if there was any way for me to come back for an episode or two I would jump at that. I'd put on the stockings again and shave my legs in a second."
Regarding that other surprise return, The X-Files, David Duchovny said:
Certainly, something's happening. Something's brewing. It's like the Eagles' greatest hits tour … by me.
First #TwinPeaks2016 and now maybe #XFiles2015? Crossover possibilities! @nerdist pic.twitter.com/GM05w6pwCP

— Welcome to Twin Peaks (@ThatsOurWaldo) January 14, 2015
David Duchovny discusses Twin Peaks
I was just trying for any job that I could get and I just happen to get one where I had to wear a pantyhose.
And here's an entertaining interview with the actor originally included in the Season 2 DVD (Amazon) and also present on last year's Blu-ray release.
I believe that my part was inspired by and written for James Spader… and he wasn't able to do it.
https://www.youtube.com/watch?v=ZXrr7IFg5Jo
I must've auditioned much more stereotypically feminine, and when I put on all this makeup it became clear to me that less is more.
https://www.youtube.com/watch?v=Q5lkFdN5w_0
David Lynch kind of improvised the whole mythology of Twin Peaks as they went along [and that] is crazy.
https://www.youtube.com/watch?v=gg7GOvrZS54