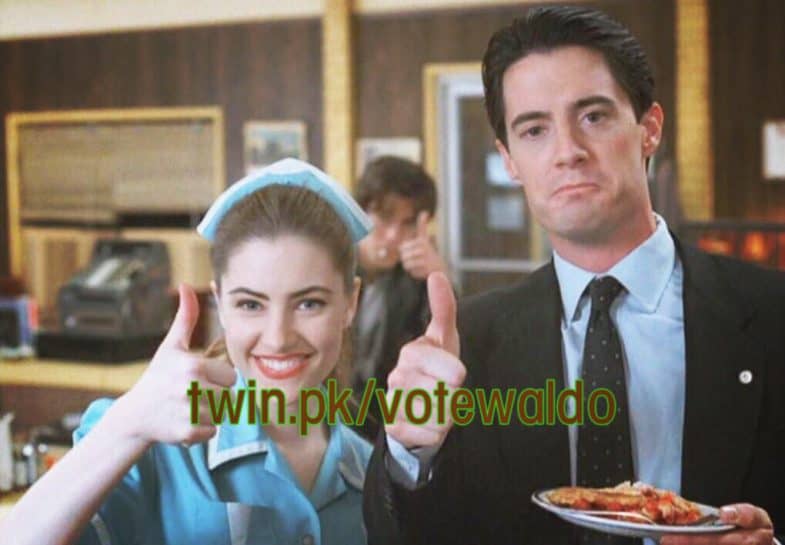 With Welcome to Twin Peaks going into its 5th year and Twin Peaks celebrating its 25th anniversary in 2015, it would be both a dream and perfect timing for this fan-built community to get acknowledged by you, passionate fans of David Lynch and Mark Frost's television show, as worthy of a Shorty Award in the #fansite category.
The Shorty Awards, also known as the Shortys, are an annual awards event, recognizing the people and organizations producing real-time short form content across Twitter, Facebook, Tumblr, YouTube, Instagram, Vine, and the rest of the social Web.
Don't need convincing?
Let's rock and click here to vote with a tweet (don't forget to add a reason).
THANK YOU!
Welcome to Twin Peaks was founded in 2011 by myself in an effort to rekindle the fire for Twin Peaks through social media, and to create a worldwide community and open platform where fans can express and share their fascination for a place both wonderful and strange.
To sum up a few highlights from the past year, our Facebook page reached its original goal of 51,201 likes (equaling the town population), we celebrated the fact that David Lynch was shooting new material with a fan-sourced music video via Vine and Instagram, fans collaborated on a Twin Peaks themed playlist for Spotify, and we broke news a few times via Instagram. That's on top of posting daily updates and original content, bringing you the latest news and showcasing massive, massive quantities of top notch fan art which frequently gets noticed by major blogs.
Major Briggs would say that "achievement is its own reward," but if there's one shiny object that would warm my heart (other than Laura Palmer's half heart necklace) it's an award that says: "Thumbs up, fella. Please continue!"
Nominating happens entirely via Twitter and should take no longer than a few seconds. Here's what to tweet, followed by your own reason.
I nominate @ThatsOurWaldo for a Shorty Award in #fansite because…
A tweet without a reason will not count, so just in case you need inspiration, what about "it's a damn good fan community", 'this site is aces!" or "it keeps the fire burning"?
If you don't have Twitter, you can help by sharing this post and the campaign video below on Facebook, Google+ and other social networks and spreading the word.
Thank you. Thank you kindly.
Pieter
Welcome to Twin Peaks
Also, hear it from Gordon Cole…
Direct orders from Gordon Cole.
https://www.youtube.com/watch?v=EjoK_JLqLiY&feature=youtu.be
And some of your very kind nominations so far…
I nominate @ThatsOurWaldo for a Shorty Award in #fansite because of relentless dedication!

— Twin Peaks Book (@TwinPeaksBook) January 30, 2015
https://twitter.com/DisLydie/status/561228841323335680
I nominate @ThatsOurWaldo for a Shorty Award in #fansite because…do I really have to tell why? Have you seen it? It's amazing!

— Tessa (@mschrtslnss) January 30, 2015
I nominate @ThatsOurWaldo for a Shorty Award in #fansite because it's a rad source for all things Twin Peaks. keeps the show's spirit alive!

— ? jules z ? (@juleszuckerberg) January 30, 2015