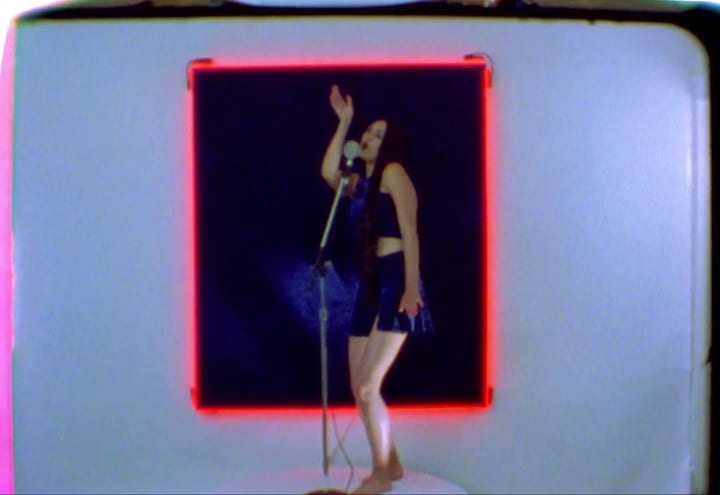 Juliana Giraffe's debut video and cover is the first of a series of psychedelic performance pieces she and her sister, Nicky, have set out to create. Heavily influenced by Isabella Rossellini's performance as Dorothy Vallens in David Lynch's Blue Velvet, Giraffe's version of the Bobby Vinton song that partly inspired the film was produced and recorded by Greg Hartunian.
"We felt it was important to capture the same magnetic presence of her character and the hypnotic nature of the music where time is suspended," the artist tells Welcome to Twin Peaks, "while still introducing an aesthetic that we felt was entirely new and unexpected for the song."
Filmed on super 8mm, the "space-age meets California cool time-free zone" video turns its viewers into the movie's amateur sleuth and accidental voyeur, Jeffrey Beaumont, treated to a private neon peep show performance by the seductive chanteuse. "We hope our viewers take away both a captivating and surreal experience that pays homage to David Lynch's extraordinary 1986 film."
An album by Juliana Giraffe is expected late 2015.
Juliana Giraffe – Blue Velvet (Cover)
Starring Juliana Giraffe
Directed and photographed by Nicky Giraffe
Song production and recording by Gregory Hartunian
Make-up by Desiree Falcon
Costume design by Monica Adriana
Filmed on location at Giraffe Studios Los Angeles, California