A bargain is a bargain, no matter what the cost!
In the nearly two years since it has been out on Blu-ray, I've never seen Twin Peaks: The Entire Mystery more reasonably priced than this!
UPDATE (May 27, 2016): For a very limited time, HMV is selling the Twin Peaks Blu-ray for just £17.99 and that even includes free delivery. They don't ship outside the UK though.
UPDATE (February 15, 2017): Zavvi currently has the best deal on the 10-disc set right now (£24.99 or €29.50).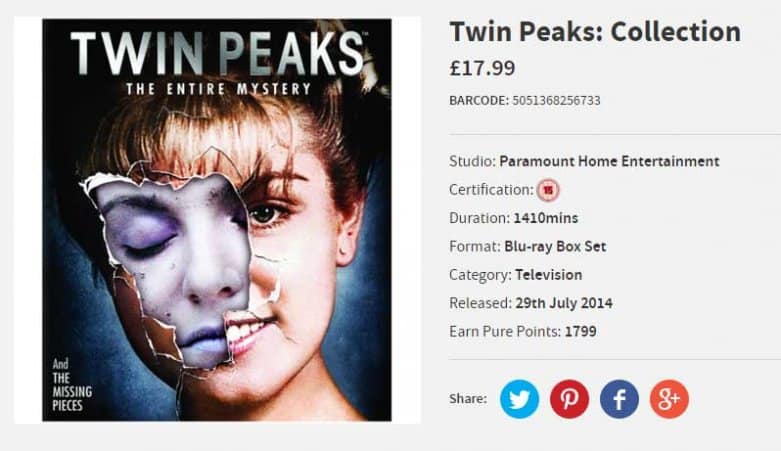 Zavvi is currently selling the excellent 10-disc Twin Peaks Blu-ray box set for £27.99. That includes free shipping within the UK. Since it's a region free release, you can play these discs worldwide and shipping outside the UK is cheap too: about €38 delivered anywhere in Europe, or US $42 including delivery to the U.S.
Again, this is the lowest price it has ever been, anywhere! If were eyeing this release for a while, don't hesitate. Even if you don't own a Blu-ray player yet! Zavvi sold out of these last week, but luckily, they've restocked. This might your last chance to grab it at half the price.
For more information about this release (eg. subtitles, different audio versions and the deleted scenes) check out the Blu-ray FAQ.