Last week a track called "Flesh World" caught my eye on Soundcloud for obvious reasons. After hitting the play button, my high expectations were more than fulfilled. This track by a producer called Slimes samples the hell out of the moody "I'm Hurt Bad" instrumental from the Twin Peaks Season 2 Music And More album, and throws in a bunch of other Twin Peaks samples along the way, including the Waldo recordings ("Hurting me!"). The song's style is reminiscent of RJD2's instrumental hip hop, but a lot grittier. And I happen to like gritty.
Before I let Slimes answer a few of my questions, have a listen to "Flesh World":
[SONG DELETED FROM SOUNDCLOUD]
WELCOME TO TWIN PEAKS: First, can you tell us a bit about yourself. Where you're from, when you started producing, what you've released so far and where the name Slimes comes from?
SLIMES: I'm Calum, I'm 25, from Scotland but living in London. I've been making music for a very long time, mostly on computers under different names and styles, but I'm also a vocalist in a band called Dananananaykroyd. The Slimes name comes from those little creatures from the video game Dragon Quest, the little blue blobs. Dragon Quest is some seriously good time RPGing, particularly the 8th one on PS2. I haven't released a lot thus far, just a free EP called 'Gunge'.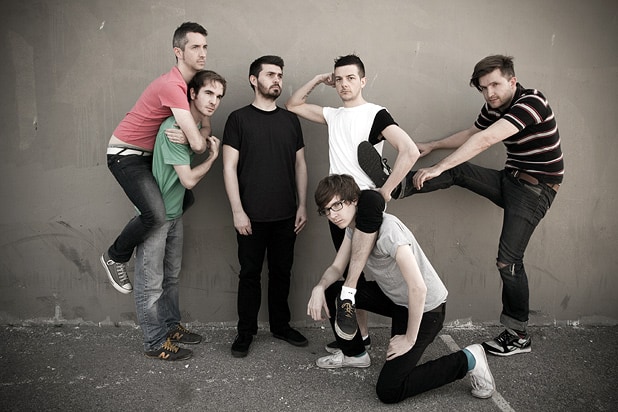 WTTP: Can you describe your production setup briefly?
SLIMES: I use my trusty '07 Macbook running Ableton Live and a few VSTs (V-Station, Hydra and the Korg Legacy pack most notably) with a whole load of samples and things. Just kinda put them all together until I'm happy. Boooooom.
WTTP: Then, of course, we're all interested in hearing where this Twin Peaks obsession comes from.
SLIMES: I got into Twin Peaks by accident when I was 18, while at a friend's house. He had the whole VHS set (and the European feature-length pilot!), and was watching an episode from halfway through the first series. I was pretty hooked from then on, the whole thing just seemed surreal and hilarious. Every year or two, I re-watch the whole series; it never gets old.
WTTP: So far, I've heard two Twin Peaks sampling tracks of yours. Any plans for more? (Yes, please! Keep 'em coming).
SLIMES: "Flesh World" and "Enfolden" are the only two tracks I've thrown samples into so far! Maybe some more will materialise… who knows! Just depends on how I feel when I make tracks 🙂
My favourite song from Twin Peaks is easily 'I'm Hurt Bad' – when I first heard it (Bobby playing it on the RR Diner jukebox) I was amazed – what kind of jukebox anywhere in the real world has music like that on it? It's so cacophonous, a huge wall of organ. The music itself is fantastic, as well – I love the chord progression. The Twin Peaks Archive version of it is fantastic as well, adding droning buzzes over the top. Very disorientating. I pretty much HAD to sample it.
Note: Here's the other song, sampling Dale Cooper:
[soundcloud params="auto_play=false&show_comments=false"]http://soundcloud.com/slimes/enfolden
WTTP: If you had to compose a theme song for one of the Twin Peaks characters, completely from scratch, who would it be for, what would it sound like and what would it be called?
SLIMES: I'd love to make a theme for Windom Earle. Something dark and unhinged, where things don't quite sit right. I guess it'd be called "Beyond Good And Evil"!
WTTP: Finally, what's your favourite Twin Peaks quote?
SLIMES: That's probably "Excuse me, is there something wrong, young pretty girl?" I can do a pretty good impression of that. My girlfriend hates hearing it. IS SYUMTHYNG WROONG, YUUNG PRYYETTYY GYURL?
WTTP: Can't wait for you to sample it on your next song. Good luck with your band (wonderful name by the way) and your solo-productions!
You can follow Slimes on Twitter, Mixcloud and Soundcloud.