Oops! No results, try changing your search!
"You won't learn much, but you'll be strangely happy that you didn't." —Jeannette Catsoulis, The New York Times.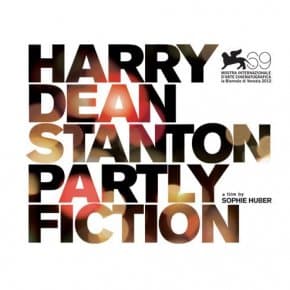 The beloved 87-year-old actor seemed pleased as punch with The New York Times review when he quoted the one-liner above to an enamored audience that had just seen Harry Dean Stanton: Partly Fiction at its New York City premiere back in September 2013. There's a reason why Sophie Huber's black-and-white documentary about one of the most prolific character actors alive "is what it is." Although the charismatic man —listed in over 200 movie credits— is not very talkative, the director gives us plenty of time to experience the unique atmosphere that surrounds him, in close-up at his home and when he's hanging out with friends such as David Lynch and Kris Kristofferson. Add tons of memorable film clips, a few packs of cigarettes, a harmonica and his heartwarming renditions of old folk songs, and you've got a captivating and essential movie portrait of "a walking contradiction, partly truth and partly fiction."
"When I first saw Harry Dean singing this in the trailer for Harry Dean Stanton: Partly Fiction I burst into tears. Harry Dean singing Everybody's Talkin' is one of the most beautiful things I've ever seen or heard… his ending of the song is pure beauty, deep, deep, deep, beauty… he takes the song and he takes you to another place with it. It's sublime."
—David Lynch (in Mojo Magazine)
Harry Dean Stanton: Partly Fiction is now available on iTunes.
Harry Dean Stanton: Partly Fiction will be available on DVD (Amazon) starting June 3, 2014.
Harry Dean Stanton: Partly Fiction's soundtrack will be available on Amazon on vinyl, CD and as an mp3 download starting June 3, 2014. Or you can stream it here.
Don't miss the 4th annual Harry Dean Stanton Fest 2014 with Harry Dean Stanton in attendance, from June 13 through 15, 2014.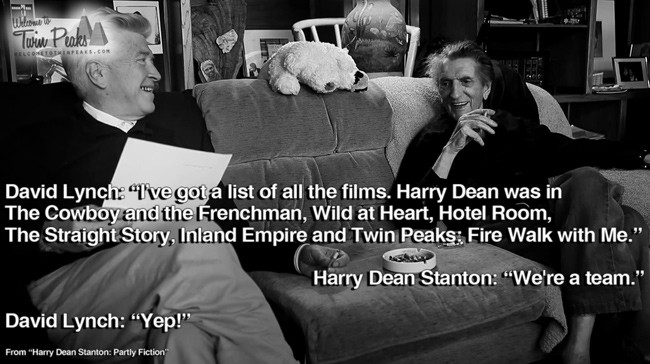 Harry Dean Stanton: Partly Fiction is a mesmerizing, impressionistic portrait of the iconic actor comprised of intimate moments, film clips from some of his 200 films and his own heart-breaking renditions of American folk songs. Stunningly lensed in color and black and white by Seamus McGarvey, the film explores the actor's enigmatic outlook on his life, his unexploited talents as a musician, and includes candid reminiscences by David Lynch, Wim Wenders, Sam Shepard, Kris Kristofferson and Deborah Harry. (Source: iTunes)
Harry Dean Stanton as Carl Rodd in Twin Peaks: Fire Walk with Me