I remember when I was a kid, you know, dividing my heaps of leisure time between Princess Zelda and Laura Palmer, I always hoped somebody would make a video game adaptation of Twin Peaks. And for a while, there were indeed crazy rumors going around that Hi Tech Expressions was to release a Twin Peaks video game. Here's what Nintendo Power wrote in the gossip column of one of their early nineties editions:
Twin Peaks, which is based on the bizarre T.V. show, will be role playing in style, with the player trying to solve the mysteries of Twin Peaks as one of the many strange characters on the show. The plot is based on the second season, with multiple endings possible depending on which character is played.
While I like the idea of multiple endings —also, could there please be NO ending?— the second season storylines wouldn't have been the best source material for an RPG. Add the fact that Hi Tech Expressions wasn't exactly known for its line of outstanding games —Beethoven: The Ultimate Canine Caper, anyone?— I consider it a fortunate event that this particular 8-bit NES game never saw the day of light. Wondering how an old-school Twin Peaks game would look like, I ventured into the wonderful world of pixel art and found some inspiration…
Dale's Quest
A few hours into this Police Quest-type of adventure game by Sierra On-Line, the player would enter an interactive version of the trippy dream sequence. Some commands to get you started: "DRINK COFFEE", "ASK WOMAN IF SHE'S LAURA PALMER" and "LOOK BEHIND THE CURTAIN TO SEE WHAT ON EARTH THAT MOVING SHADOW IS."
UPDATE: Here's a spoof ad for Dale's Quest.
Let's Rock pixel art by Andy Helms ("Ask about: Gum you like")
Twin Peaks Fantasy
Or it could've been a Final Fantasy spin-off, a fantasy role-playing video game filled with secrets. And these cute, little pixel characters.








Twin Peaks characters as pixel sprites by samson.
The Legend Of Twin Peaks
After hours of wandering through Ghostwood Forest, the player finds the secret entrance to The Black Lodge at Glastonberry Grove and he's welcomed by the Little Man From Another Place saying "Buy somethin' will ya!"… but then backwards.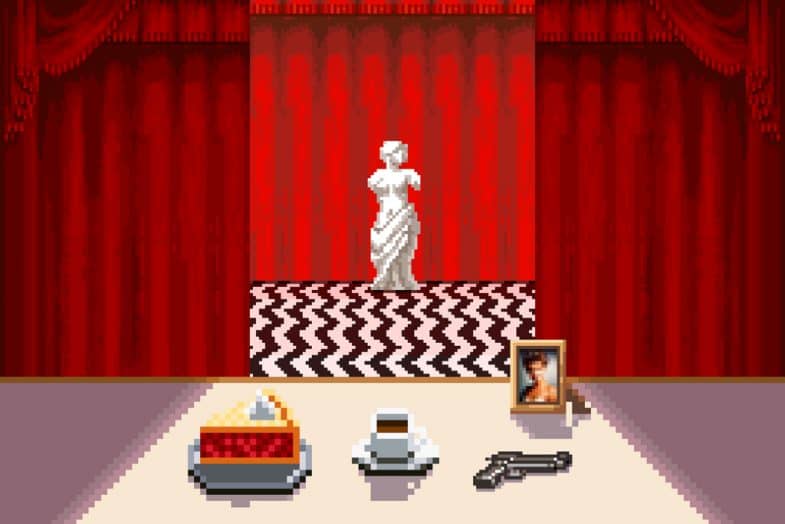 8-bit Black Lodge by Ashley Anderson (based on pixel elements from Castlevania on the Nintendo DS)
Chip Music From Twin Peaks
Now what about that lo-fi Nintendo 8-bit music? We don't have hook Angelo Badalamenti up with a chip maestro, because all has been taken care of by chiptune artist Norrin Radd.
[wpaudio url="https://welcometotwinpeaks.com/wp-content/uploads/welcometotwinpeaks.com-Audreys-Dance-Twin-Peaks-the-NES-Game.mp3″ text="Norrin Radd – Audrey's Dance (Twin Peaks The NES Game)"]
[wpaudio url="https://welcometotwinpeaks.com/wp-content/uploads/welcometotwinpeaks.com-Dale-Cooper-Arrives-Twin-Peaks-the-NES-Game.mp3″ text="Norrin Radd – Dale Cooper Arrives (Twin Peaks The NES Game)"]
Update: Angelo Badalamenti – "Twin Peaks Theme (Falling Instrumental)" 8-Bit Cover by Analog Sunset
I think this is enough proof that our favorite TV show would make a brilliant old-school video game. But only, and only under the condition that a certain brilliant person would oversee the production…
David Lynch as a video game character

8-bit David Lynch, part of the Movie Directors series by Very Important Pixels.
Twin Peaks for Nintega Entertainment System
That game you like is going to come back into style! Be Cooper! Find the Killer! Drink the Coffee!
Twin Peaks for Nintega, a NES cartridge box cover by Steve Gregson
Twin Peaks for Super Nintendo (Start Screen)
Twin Peaks as a point and click adventure game in the style of The Secret of Monkey Island and Maniac Mansion
Twin Peaks for Nintendo NES (Title Screen)
Mock up pixel art by VG Junk.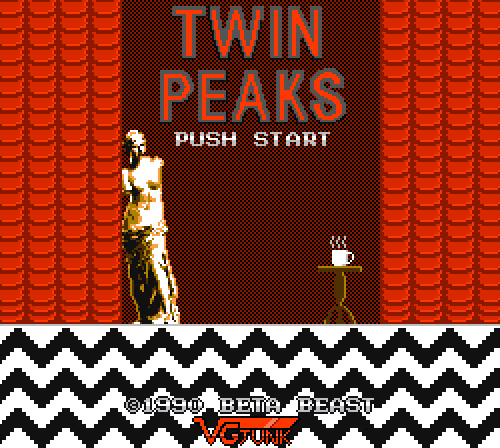 Pssst… If you enjoyed this post, please share it with your Facebook friends and Twitter followers. Thanks for your support! And check Black Lodge 2600 for an actual Twin Peaks action game.