Diane, I'm holding in my hand an Atari game program called Black Lodge…
Yesterday, I was only dreaming of a Twin Peaks adventure game. Today, an old-school Twin Peaks video game starring Dale Cooper is here, ready to be played! Turns out my If There Were A Twin Peaks Video Game post was somewhat prophetic!
Black Lodge is an Atari 2600-style action video game for PC and Mac, created by Jak Locke as a love letter to both retro gaming and Twin Peaks. From the manual (which I highly recommend reading for your amusement and gameplay experience):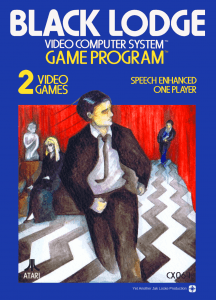 A day in the FBI was never like this before! You are Special Agent Dale Cooper and you've found yourself trapped inside of the Black Lodge, a surreal and dangerous place between worlds.
Try as you might, you can't seem to find anything but the same room and hallway no matter which way you turn. Worse yet, your doppelganger is in hot pursuit! You have no choice but to keep running through the room and hallway (or is it more than one?) and above all else, don't let your doppelganger touch you! Your extensive physical training in the FBI will provide you a seemingly limitless supply of energy to run as long as necessary, but running out of breath is the least of your worries!
You'll find quickly that you're not alone in the Black Lodge, though your friends are few and far between. Not only that, the lodge itself seems to be actively trying to trip you up at all times! You'll be dodging chairs and crazed Lodge residents all while trying to keep your own insanity. How long can this go on?
No time to think of that now -here comes that doppelganger again. Just keep on running through the curtains or it will surely be curtains for you!
Actual in-game screenshots, no mockups!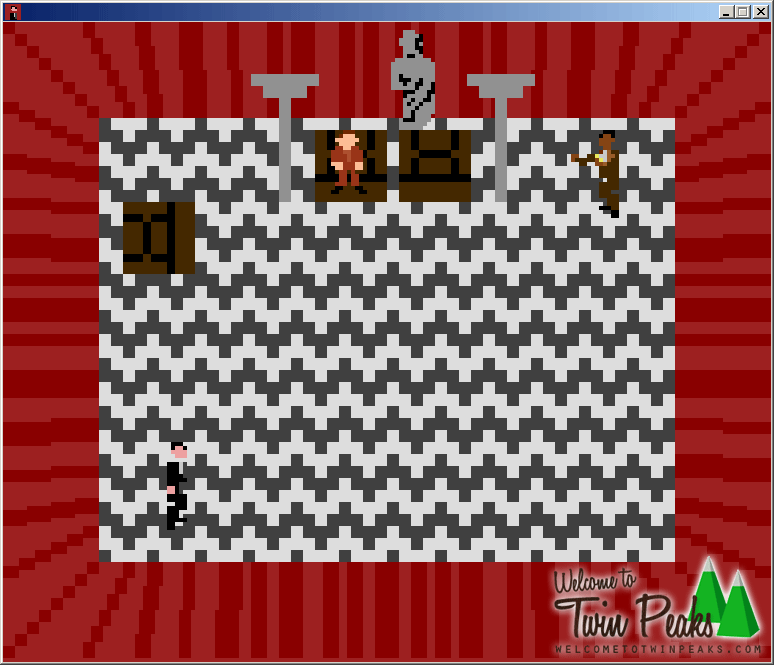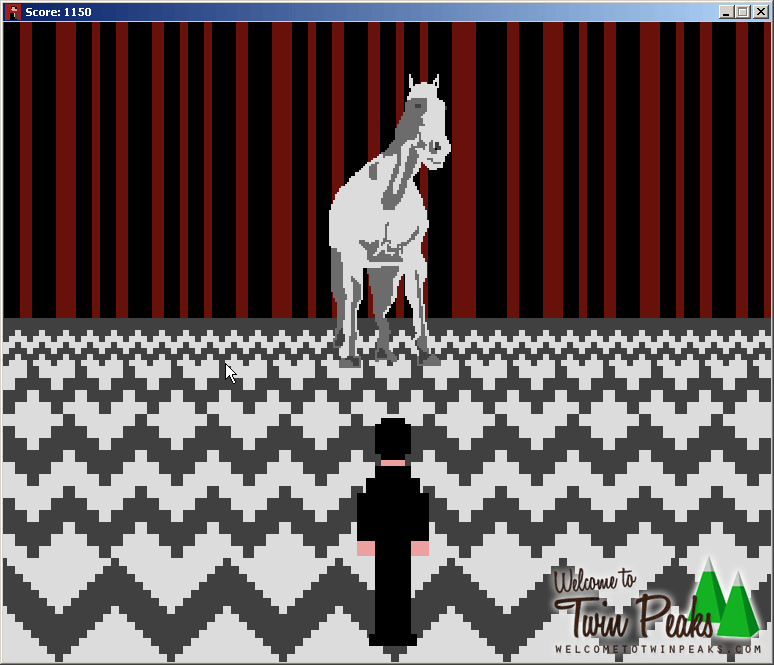 Lovely 8-bit graphics, a chiptune version of Sycamore Trees, and early speech synthesis technology (check that Game Over screen)… It's hard to believe this one-player video game isn't 20 years old like Twin Peaks, but was created just a few days ago! It's nothing short of brilliant. Let me repeat that: BRILLIANT! Special Agent Jak Locke, you are my hero!
» Download Black Lodge 2600 for PC for free!
» Download Black Lodge 2600 for Mac for free!
» Read the interview with creator Jak Locke!
Now I'm off to try and score 5000+ points in order to see the easter egg! What's your high score so far?