I'VE GOT A SURPRISE FOR YOU, CHET. SOMETHING INTERESTING THAT I WOULD LIKE TO SHOW YOU. ARRANGEMENTS ARE BEING MADE AND I WILL MEET YOU AT THE PORTLAND, AIRPORT."
Gordon Cole (Fire Walk With Me)
Black Lodge Burlesque is a David Lynch inspired burlesque show taking place on November 11th, 2011 at the historic Star Theater downtown Portland, Oregon. Organizer Sign of the Beast Burlesque promises that it'll be "a dark, sumptuous evening of burlesque beauties and cabaret style performances centering around the works of legendary director David Lynch!"
Featuring the talents of Baby Le Strange, Meghan Mayhem, Hai Fleisch, Vera Mysteria, Miss Alex Kennedy, Rocket, Lady Stockholm and Miss Steak. Recreating infamous Lynch scenes for your visual pleasure will be Rikki Barney, John Renner and Noelle Eaton. Hosted By Dylan Hillerman as the man himself, David Lynch and Vera Mysteria as The Log Lady.
» Purchase tickets here (+21) or at the door. Doors open at 8:30pm and the show commences at 9pm.
» If you're going, don't forget to RSVP for the show on Facebook and spread the word.
» You can purchase the Black Lodge Burlesque's wonderful poster design as an art print, iPhone case or laptop skin over here.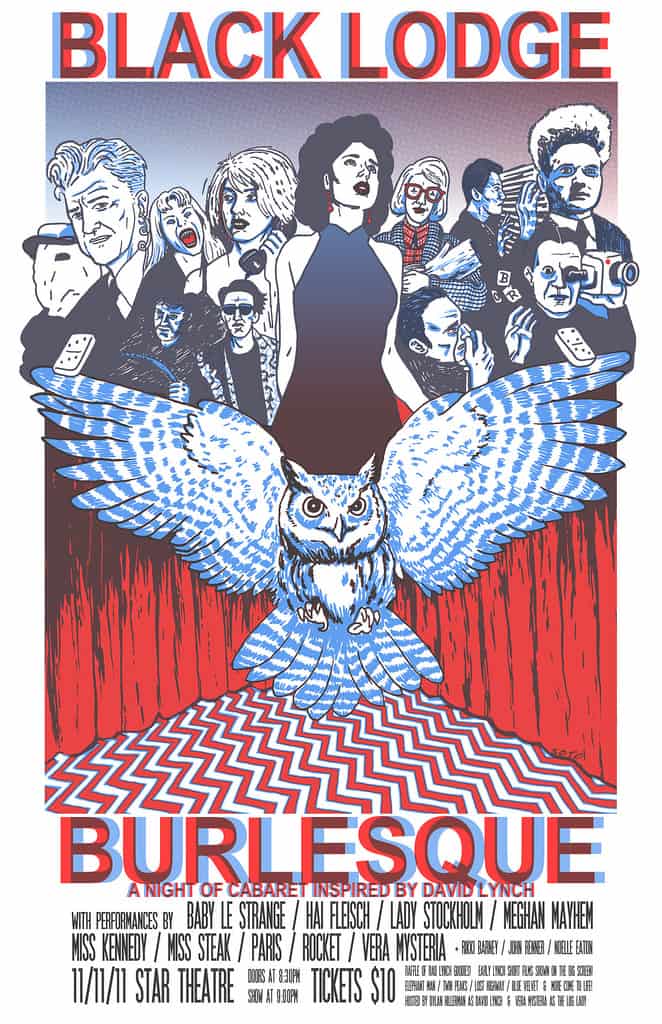 Address: Star Theater, 13 Northwest 6th Ave., Portland, OR

Thanks to Vera Mysteria for letting me know!