From the moment I first saw the Black Lodge I was fascinated with it and its mysteries. I wanted so badly to be inside that strange world. I would re-watch the scenes trying to unlock the mysteries within and all of the details of its construction.
The first piece of that puzzle was a major one! In 2012, while browsing an antique store in my hometown of Centralia, WA, I saw a red mohair Art Deco chair with wooden accents that I could swear was the same model of chair that Cooper sat in. I took a photo, went home to compare it with the show, and with it being the same model seen in the last episode of Season 2 and Twin Peaks: Fire Walk With Me, I purchased it the next day for $40. Even though it was in rough shape, I knew one day I would get it reupholstered with the correct fabric.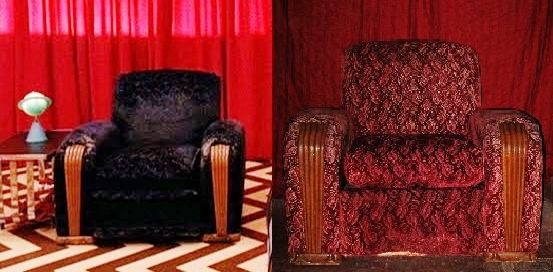 The next piece was the 1939 New York World's Fair Saturn Lamp that I fell in love with the moment I saw it. I found one on eBay back in 2013 for a reasonable price. Mine had unpainted frosted glass and no stars or moons that are reverse painted on many. I used a mix of stained glass paints on the light bulb to create a green glow and custom cut moons and stars in vinyl to recreate the illusion that is seen in the Black Lodge.
Years went by with the chair sitting in the corner of my home waiting for me to get to work. I decided I wanted it to be part of the 2015 Twin Peaks Festival. I understood I was in no place to reupholster the chair myself, so I found a local business with a reasonable price. I located and purchased a black damask fabric to use. I then removed the wooden accents and restored that area myself. I sanded off the banged and chipped-up original finish and used cherry stain to restore the color.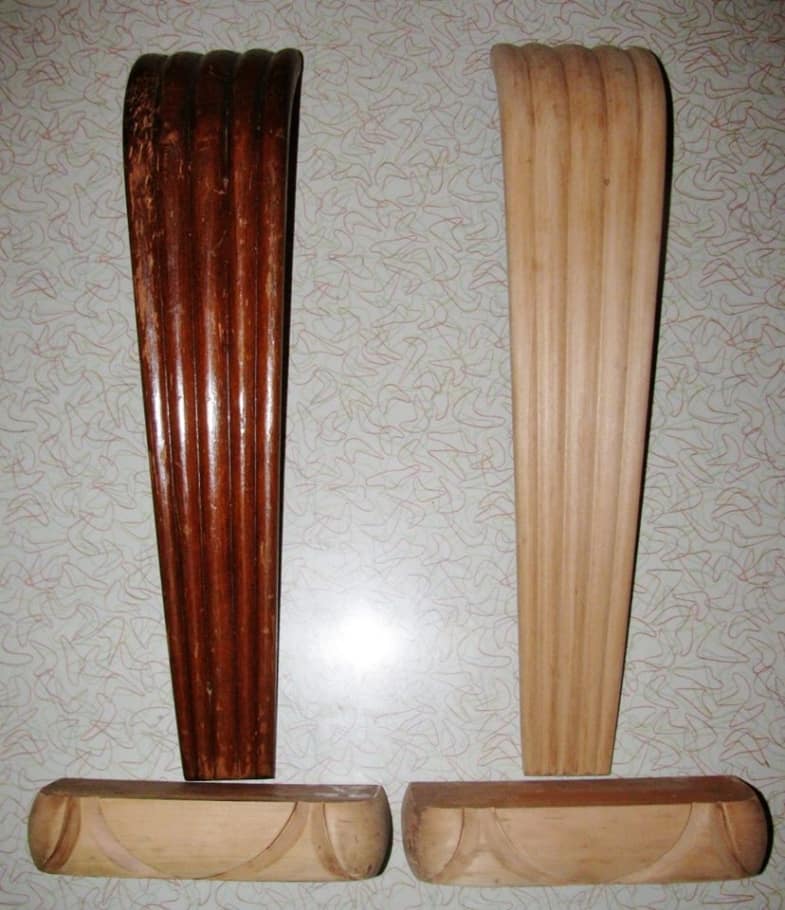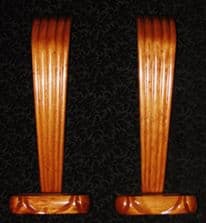 It was a nice coincidence that it was the correct color. Now that it was presentable, with restored wooden accents and fresh black upholstery, it was a nice addition to the recreated Black Lodge photo op of the 2015 festival in North Bend, WA.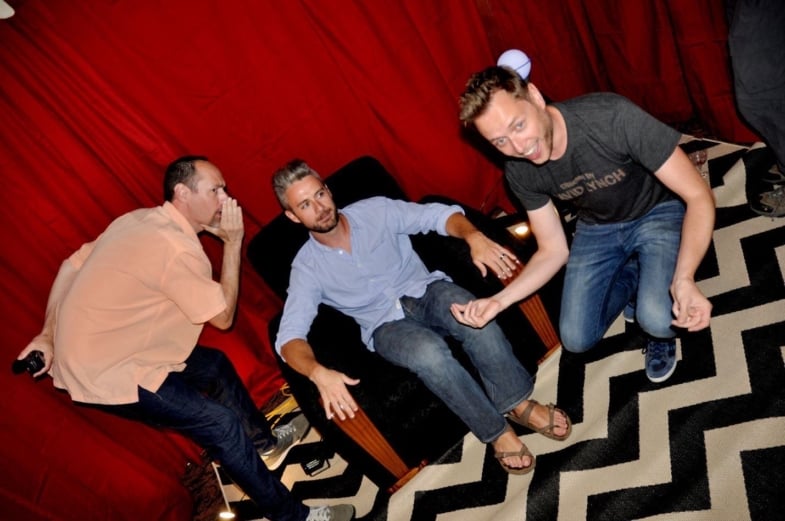 Earlier that month, Welcome to Twin Peaks sent out a notice that Rancho Rosa was looking for original props for the upcoming revival of Twin Peaks. I can't get into the details now, but needless to say, my chair was borrowed and used for Season 3. They were kind enough to reupholster it again with a beautiful deep black fabric that was a closer match to the original.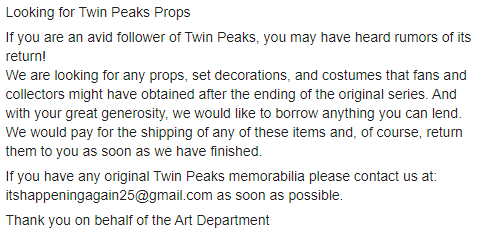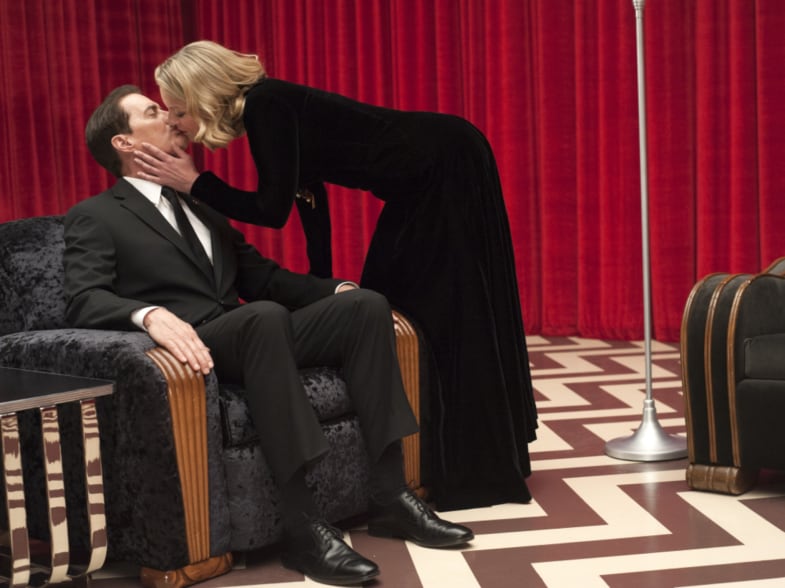 Once I got the chair back from its visit to Hollywood, I knew it couldn't be just another chair in my living room. Besides my cat's affection for it, it felt wrong to not have it in a proper setting. I began researching the other furniture that is in the Black Lodge. I discovered the chrome side table is a Lloyd Alfons Bach, probably from the '30s. I searched and searched, and finally found one on eBay, but it had a wooden top. After matching the size of the top, I had a custom piece of glass cut with rounded corners. I spray painted the back of the glass to give it a dark mirrored look, then used a nice piece of cherry stained plywood for the backing. I found a modern vintage-style aluminum ribbing to go around the new top, completing the replication of the table.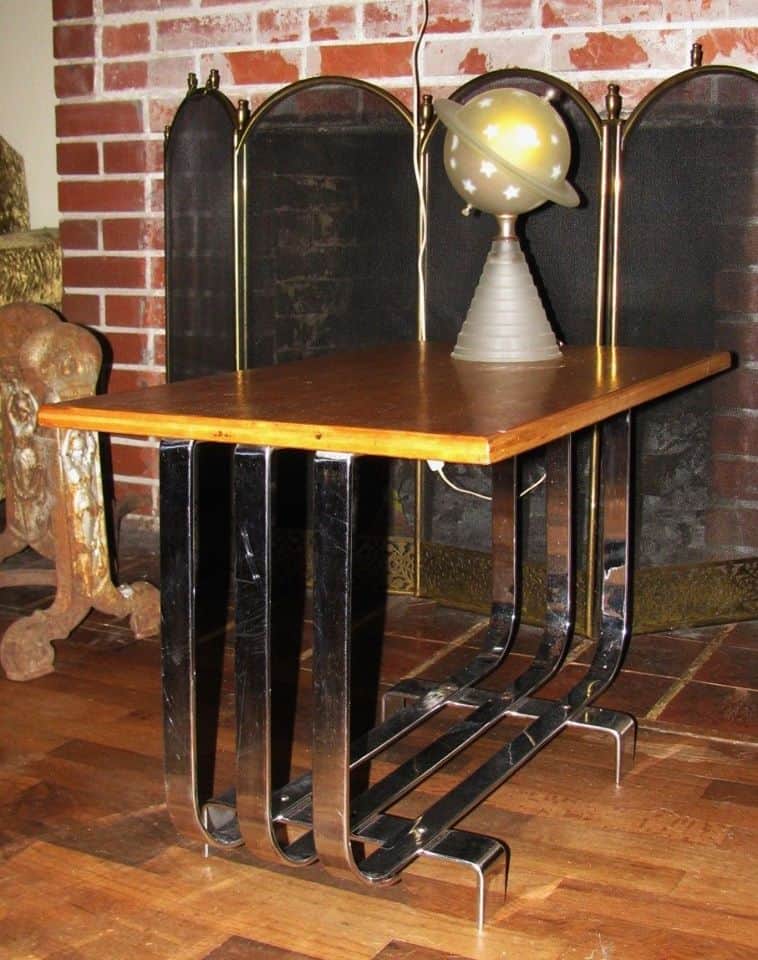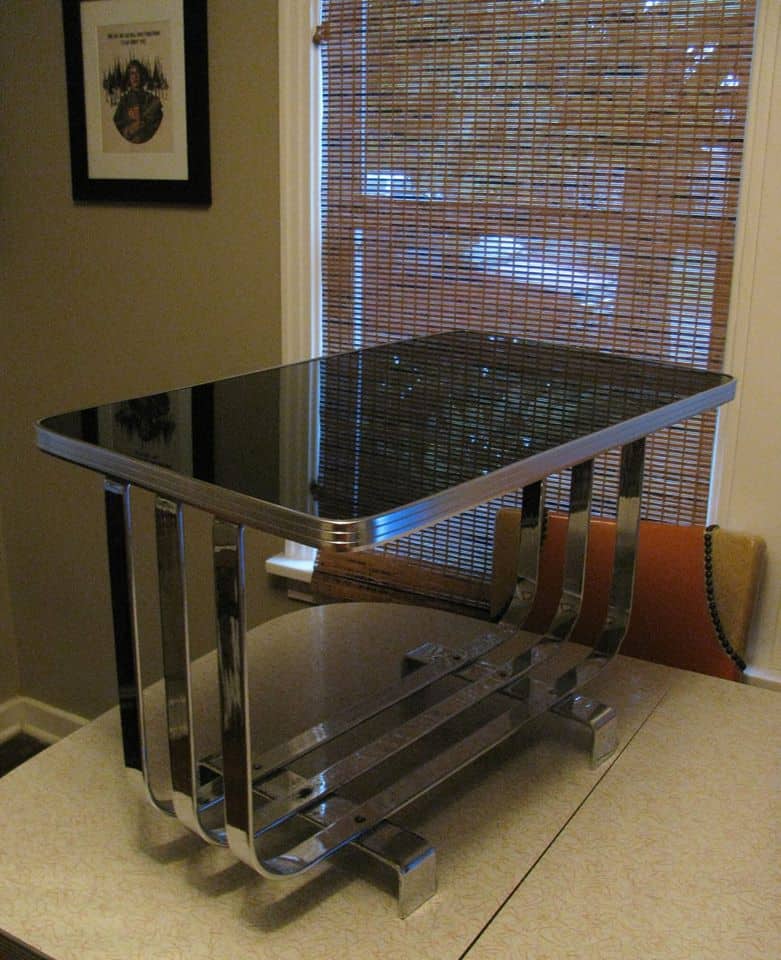 I was also lucky enough to find a similar Art Deco torchiere floor lamp that is seen in the Black Lodge. Mine, I believe, is of the same manufacturer, but does have a shorter trumpet. Otherwise, it has many of the same details as the ones seen on screen.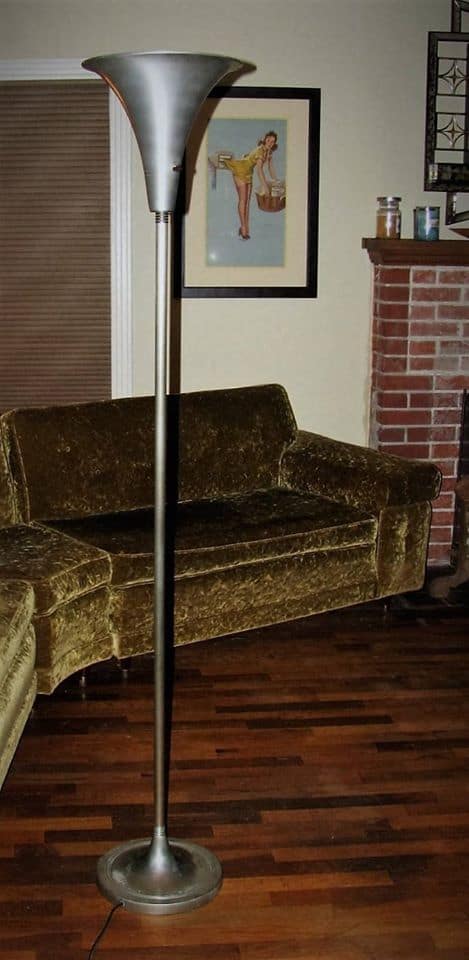 With the premiere of Season 3 coming up, I felt pressure to complete a small corner of the Black Lodge for my chair to reside. With the blessing of my wonderful wife, I emptied out our spare bedroom and began the remodel of the room. I purchased an 8′ x 8′ piece of vinyl flooring and several yards of red fabric. Using the blank back side of the vinyl, I laid down two coats of primer, then two coats of cream colored exterior paint. After coming up with a grid system for the chevron pattern, I drew markings on the painted vinyl. Using painter's tape, I created the brown chevron lines of the floor. Once it was complete, I used a matte varnish as an extra layer of protection against scuffs.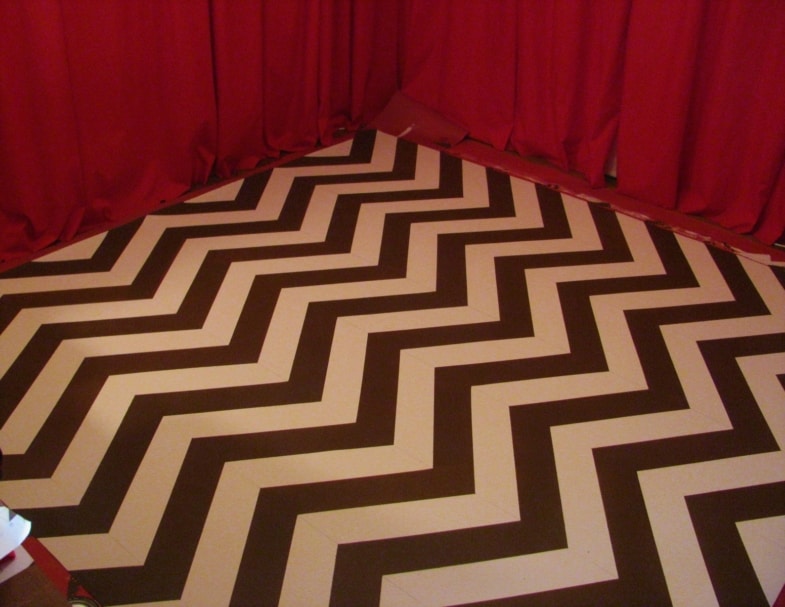 I challenged myself to make the curtains for sewing experience and to save money. I purchased 8 ft. lengths of electrical conduit to use as curtain rods and mounted them near the ceiling. I made the curtain panels from 4′ x 8'3″ pieces of fabric that I ironed out and hung from the conduit curtain rods. Each one is carefully pleated to create the same draped look as on-screen. Someday I will up-grade to red velvet.
Now that all the pieces were done, I placed everything together to create a life-size corner of the Black Lodge so Dale Cooper's chair can be properly exhibited. I completed the remodel just in time for the May 21, 2017 Season 3 premiere party at my house. Each of my guests were forced to have a bite of creamed corn before they could see and sit in the chair.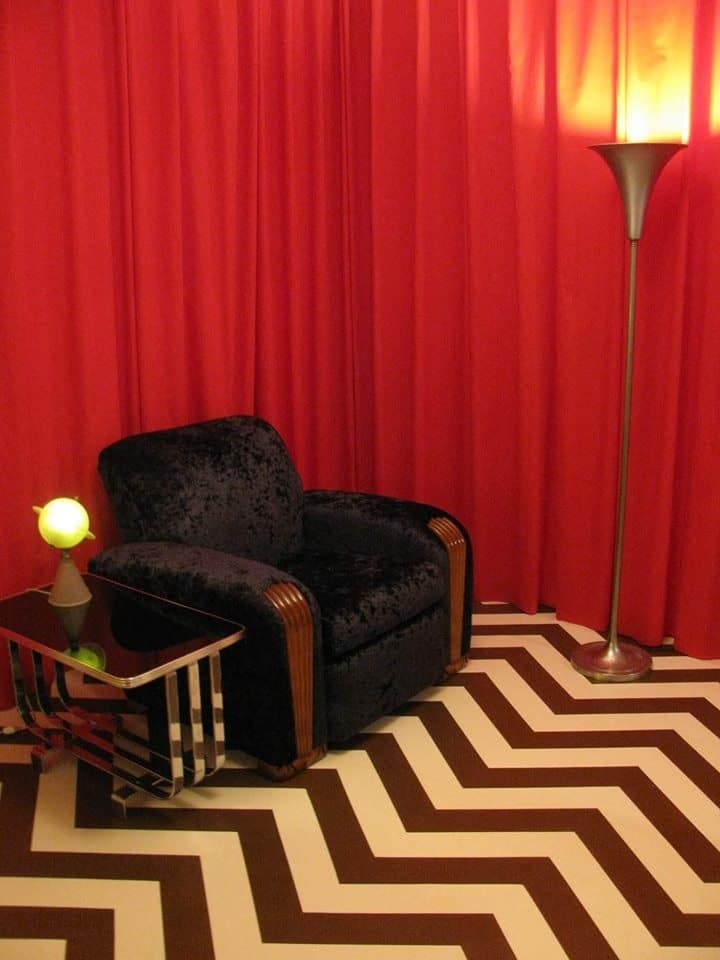 My Black Lodge recreation is ongoing and hopefully someday I will procure the other missing pieces…
Do you have a Twin Peaks inspired DIY project or a unique prop story to share? Please get in touch!