UPDATE: This deal is now over, but you can still find the Double R Diner t-shirt over at RedBubble.
For one day only, and that's February 19th 2013, you can grab this fantastic Twin Peaks themed t-shirt for only $10 over at ShirtPunch. And you can grab as many as you want as well as other goodies with this design, before the sale ends around midnight EST.
Called Double R Diner, this design by German freelance illustrator and graphic designer David Eberhardt aka kgullholmen, shows Special Agent Dale Cooper holding both a cup of damn fine coffee and a plate with a slice of cherry pie. And then there's the zig zag floor of the Black Lodge turned into Twin Peaks in the background, the traffic light and part of the well-known "(This must be) where pies go when they die" quote on top. "As a Bookhouse Boy myself I couldn't get past designing a Twin Peaks shirt myself, I just love that show so damn much. Well, and so I did," the designer told us.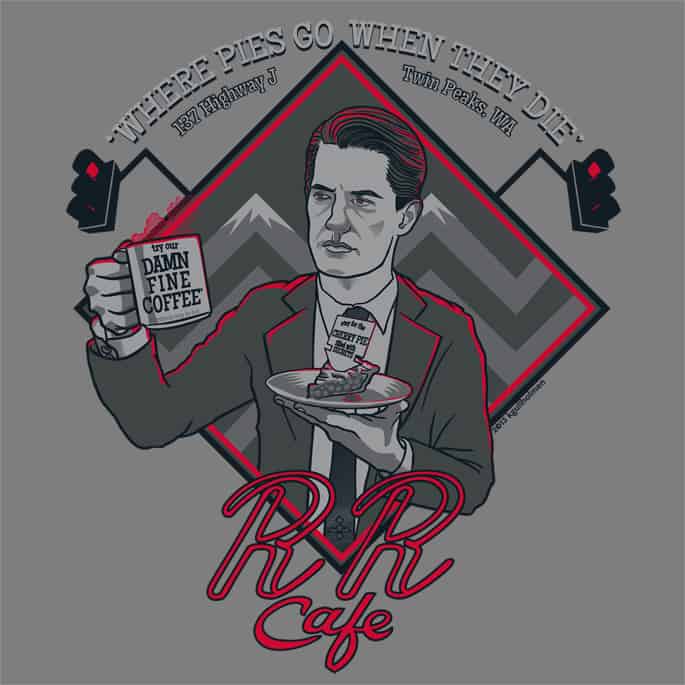 Buy the RR Café t-shirt as a unisex short sleeve or fitted t-shirt for only $10 (Feb 19 only) over at ShirtPunch.
Also available as long sleeve t-shirts, pullover and zip hoodies, posters, buttons, phone cases, iPad covers, console and laptop decals!
RETWEET and FOLLOW @ThatsOurWaldo to win the Double R Diner Twin Peaks t-shirt: http://t.co/czpi8HzM! pic.twitter.com/1i7hevfE

— Welcome to Twin Peaks (@ThatsOurWaldo) February 19, 2013