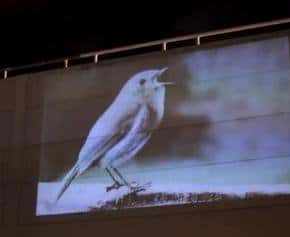 An ear. A bird. A heart. And the man himself.
At the end of this clip, you'll see David Lynch's intro for Chrysta Bell's performance at SXSW 2012, as projected on the wall of a garage across the Ballet Austin Theater in Austin, Texas.
Ok, because that was really short, here's a bonus video: Chrysta Bell performing a cover of Jimmy Scott's Sycamore Trees at Fasching in Stockholm, on 9 Feb 2012.