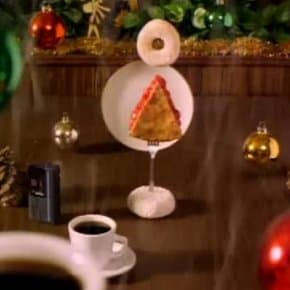 A Christmas treat from davidlynch.com, they've released the crystal clear "studio" take of Dark Mood Woods (as opposed to the dictaphone recorded version). Also included in this 99 cents package are One Eye Jack's parlor piano music and the bumper music for Twin Peaks' promotional holiday greeting, which I've embedded below.
DARK MOOD WOODS (STUDIO VERSION)
A clean, 'studio' version of this very unique composition can be heard here in a running time considerably longer than the original version. Although the show seemed to favor usage of the ethereally-murky dictaphone recorded version (most commonly heard in the show's Log Lady introductions), this traditionally recorded take is certainly audible at several points throughout the show. The clarity and presence of this direct version allows for a more revealing examination of the distinct synthesizer sound that forms the core of the very composition itself.
Twin Peaks Christmas Greeting (Christmas version of the Twin Peaks Theme)
One Eyed Jack's Parlour Music
Dark Mood Woods (Studio Version)
Here's said stop-motion holiday greeting with Kyle MacLachlan on the voice-over. I believe this aired in December 1990 in the period after second season episode 11.
Ho ho ho! Season's greetings from agent Cooper and the gang… and all those Douglas Firs up here in Twin Peaks.