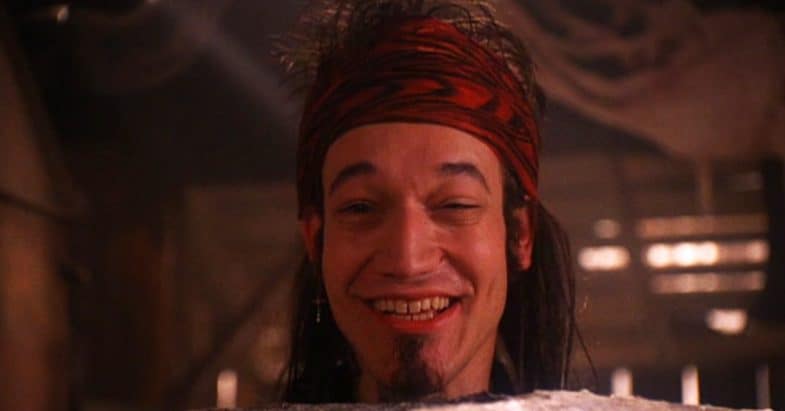 Today's actor Ted Raimi's 50th birthday! To celebrate, here's Hammerlord's heavy metal tribute to his (SPOILER ALERT) short-lived character on Twin Peaks, Rusty Tomaski aka Heavy Metal Youth. Unlike other Twin Peaks character tributes like The Ballad Of Maddy Ferguson or Diane's Lament, this —and appropriately so— isn't the most accessible genre of music, but one thing's for sure: Rusty would've loved it!
Listen, man. The story's cool. But you promised me beer!
—Rusty Tomaski
Hammerlord – The Ballad of Rusty Tomaski
The lyrics, for those who want to sing along…
WHOA! HEY MAN IS THIS FOR LIKE THE LILAC PARADE OR WHAT? OOOHH! ON OUR WAY TO ROCK KNIFE RIVER BUT IN TWIN PEAKS A TIRE BLEW. OUT OF THE WOODS CAME A MAN SAID IN HIS CABIN HE HAD SOME BREW! SO I WENT AND I SPENT TIME WITH HIM AND HIS GIMP. NO PARTY NO FUN, I'M ABOUT TO COME UNDONE. THEN HE TOLD ME OF A PLACE OF UNIMAGINABLE POWER. WHERE SPIRITS WILL RIP YOUR FLESH AND YOUR SOUL WILL BE DEVOURED! LISTEN MAN THE STORY'S COOL BUT YOU PROMISED ME BEER! WHITE LODGE, BLACK LODGE LIKE WHAT'S THE BIG DEAL? WHAT'S THE BIG DEAL? LIKE, WHAT'S THE BIG DEAL?! OOOHHHH! GUITAR! NIGHT CREATURES HOVER. SEEK TO HARNESS THE POWER. FEAR OPENS THE GATEWAY. NO PRAYERS DARE ENTER THIS FRIGHTFUL MAW WITH NOW LAW. THIS IS GOOD'S OPPOSITE. ANOTHER PLACE FOR DISGRACE AND VISCOUS SECRETS.