Today, July 17th 2011, marks the 86th birthday of the Black Lodge singer. Happy birthday, Jimmy Scott! From his Facebook page:
On July 17, 1925 at approximately 4:30pm "James Victor Scott" was born but nearly died being strangled by the umblilical cord, when the doctor arrived and got him unwrapped the baby let out such a loud wail that the doctor predicted "he was either going to be a great orator or a great singer". That prediction came true!
I've had the honor to witness a Jimmy Scott concert at the Charlie Parker Festival 2010 in New York's Tompkins Square Park, and was completely blown away by his charming charisma, and fragile but powerful voice.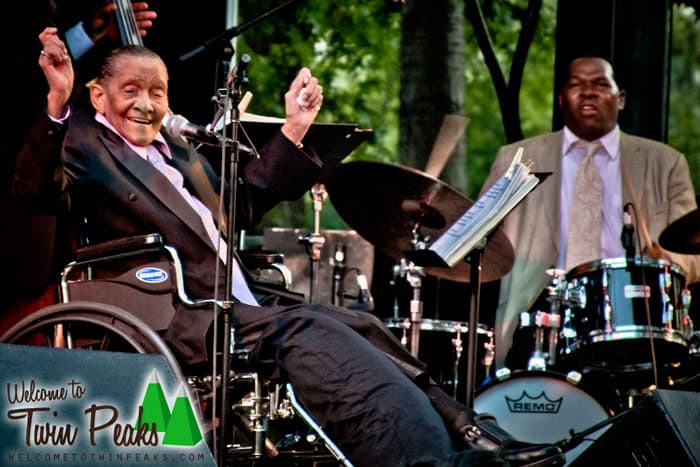 As a tribute to Sycamore Trees, I've made a compilation of cover versions and remixes of the song. Should you decide to record your own, download the instrumental of the song and send your version this way. Here's to many more years, Jimmy!
UPDATE (June 2014): Jimmy Scott has passed away on June 12, 2014. Here's an In Memoriam of the great jazz legend.
MC N.Eye made a beautiful version of Sycamore Trees, adding a Twin Peaks-inspired rap and a polyphonic refrain to the mix.
Sycamore Cowboys, a mashup with Portishead, by Colatron for the Mashed in Plastic project.
http://vimeo.com/7486976
A hint of DJ Shadow in this sample-laden trip hop version by the Italian DIGG RAW
Here's the version by a German black metal band called Dark Fortress.
A lo-fi, reverby cover by Kid Boots. The mixing is off, so watch your ears.
And finally, the original Black Lodge scene from the final episode of Twin Peaks: