Mulholland Drive, which celebrated its 15th anniversary this year, is returning to cinemas —at least in the UK— on April 14th, 2017. A new special edition release will follow in May "to coincide with the hotly anticipated return of David Lynch's cult TV show Twin Peaks."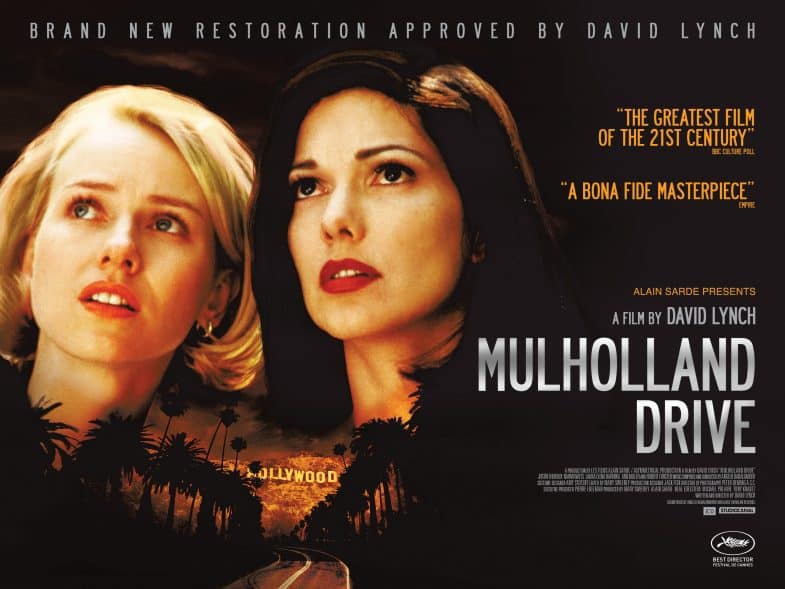 The 4K digital transfer of the movie restored under the supervision of David Lynch was released last year by Criterion in the US, and —assuming this is the same version— will now get a European release on DVD, Blu-ray and digital download. Special features on the physical releases have yet to be announced.
Would you go to a theater near you if it screened this new restoration of Mulholland Drive?
Mulholland Drive: Back In Cinemas (Official 2017 Trailer)
Here's the full press release:
Recently voted the best film of the 21st Century in a BBC Culture poll, Mulholland Drive is essential viewing by one of the masters of contemporary American cinema. David Lynch's scary and seductive vision of Hollywood is a true masterpiece, weaving together a tale of love, jealousy, and revenge like no other.

The new restoration of the 4k digital transfer, supervised by Lynch himself, will receive its UK premiere at Birmingham's Flatpack Film Festival, which takes place April 4 through 9th 2017. More information on the festival can be found here.

The film will be then released by the ICO in cinemas on April 14th 2017, followed by a new special edition DVD, Blu-ray and EST release through Studiocanal on May 1 8 22, 2017, to coincide with the hotly anticipated return of David Lynch's cult TV show Twin Peaks.

Beautiful, bizarre and strangely addictive, the film begins as a botched hit results in the meeting of brunette amnesiac Rita (Laura Harring) and blonde would-be Hollywood actress Betty (Naomi Watts). Taking the viewer on a memorable neo-noir trip through Hollywood's dark underbelly, Lynch dispenses with a conventional narrative in favour of a hallucinogenic assault on the senses that will stay with you long after the credits roll.

Special features on the DVD and Blu-ray Special Editions to be announced.
Mulholland Drive Cinema Screenings in the UK
Aberdeen
The Belmont Filmhouse – Fri 21 – Mon 24 April 2017
Aberystwyth
Aberystwyth Arts Centre – Mon 8 May 2017
Bath
Little Theatre Cinema – Mon 1 May 2017
Belfast
Queen's Film Theatre – Fri 21 – Tue 25 April 2017
Birmingham
mac – Mon 1 – Thu 4 May 2017
Flatpack Festival
Wed 5 April 2017 (Everyman Birmingham)
Bradford
National Media Museum – Mon 24 April 2017
Brighton
Duke of York's Picturehouse – Mon 24 April 2017
Bristol
Watershed – Fri 14 – Thu 20 April 2017
Vue Bristol Cribbs – Mon 24 April 2017
Cambridge
Arts Picturehouse – Mon 24 April 2017
Cardiff
Tramshed – Wed 3 – Thu 4 May 2017
Chesterfield
Pomegranate Theatre – Sun 14 May 2017
Clevedon
Curzon Community Cinema – Wed 17 May 2017
Coventry
Warwick Arts Centre – Fri 28 – Sun 30 April 2017 (excluding 29th)
Derby
Derby QUAD – Tue 2 – Thu 4 May 2017
Dublin
Irish Film Institute – Fri 14 – Thu 20 April 2017
Dundee
Dundee Contemporary Arts Cinema – Thu 11 May 2017
Edinburgh
Filmhouse – Fri 14 – Thu 20 April 2017
Cameo Cinema – Mon 24 April 2017
Edinburgh
Vue Edinburgh Omni Centre – Mon 24 April 2017
Ellesmere Port
Vue Cheshire Oaks – Mon 24 April 2017
Exeter
Exeter Picturehouse – Mon 24 April 2017
Exeter
Exeter Phoenix – Wed 10 May 2017
Falmouth
The Poly – Wed 14 June 2017
Glasgow
Glasgow Film Theatre – Sun 30 April – Tue 2 May 2017 (excluding 1 May)
The Grosvenor – Sat 22 April 2017
Hebden Bridge
Hebden Bridge Picture House – Sat 29 April 2017
Hereford
The Courtyard – Mon 22 May 2017
Richard Booth's Bookshop – Fri 21 – Sun 23 April 2017
Ipswich
Ipswich Film Theatre – Thu 4 May 2017
Kingston
Odeon Kingston – Tue 25 April 2017
Leeds
Hyde Park Picture House – Sun 7 May 2017
Vue Leeds Light – Mon 24 April 2017
Liverpool
Picturehouse at FACT – Mon 24 April 2017
London
Ritzy Cinema – Fri 21 April 2017
Stratford East Picturehouse – Mon 24 April 2017
Clapham Picturehouse – Fri 21 April 2017
Everyman Hampstead – Fri 14 – Thu 20 April 2017
Gate Picturehouse – Mon 24 April 2017
Electric Cinema (Portobello) – Sun 30 April 2017
Genesis Cinema – Thu 27 April 2017
Greenwich Picturehouse – Mon 24 April 2017
The Lexi Cinema – Fri 26 May 2017
Hackney Picturehouse – Mon 24 April 2017
Rooftop Film Club (Peckham) – Wed 24 May 2017
Regent Street Cinema – Fri 12 – Sat 13 May 2017
Picturehouse Central – Fri 14 – Thu 20 April 2017 – Fri 21 April 2017
East Dulwich Picturehouse – Fri 21 April 2017
Close-Up Cinema – Fri 28 – Sat 29 April 2017
Crouch End Picturehouse – Mon 24 April 2017
Everyman Screen on the Green – Sat 29 April 2017
Deptford Cinema – Thu 18 May 2017
Vue Islington – Mon 24 April 2017
Vue Piccadilly – Mon 24 April 2017
Vue Shepherd's Bush – Mon 24 April 2017
Odeon Wimbledon – Tue 25 April 2017
The Institute of Light – Fri 21 – Wed 26 April 2017 (excluding 24th & 25th)
Manchester
HOME – Fri 14 – Thu 20 April 2017
Odeon Manchester Printworks – Tue 25 April 2017
Newcastle upon Tyne
Tyneside Cinema – Fri 28 April – Mon 1 May 2017
Northampton
Errol Flynn Filmhouse – Sun 7 May 2017
Norwich
Cinema City – Sun 23 April 2017
Nottingham
Broadway Cinema – Fri 19 May 2017
Oswestry
KinoKulture – Thu 25 May 2017
Oxford
Phoenix Picturehouse – Sat 22 April 2017
Plymouth
Vue Plymouth – Mon 24 April 2017
Portsmouth
No 6 Cinema – Sat 24 June 2017
Vue Portsmouth – Mon 24 April 2017
Pwllheli
Neuadd Dwyfor – Sun 14 May 2017
Reading
Vue Reading – Mon 24 April 2017
Sheffield
Showroom Workstation – Fri 14 – Thu 20 April 2017
Southampton
Harbour Lights Picturehouse – Mon 1 May 2017
St Leonards on Sea
Kino-Teatr – Sat 20 May 2017
Stamford
Stamford Arts Centre – Sat 17 June 2017
Stirling
Macrobert Arts Centre – Sun 21 – Tue 23 May 2017 (excluding 22nd)
Stoke-on-Trent
Stoke Film Theatre – Tue 2 May 2017
Tewkesbury
The Roses Theatre – Sun 11 June 2017
Totnes
Barn Cinema – Wed 3 – Thu 4 May 2017
York
City Screen York – Fri 21 April 2017
BONUS: Mulholland Drive — How Lynch Manipulates You