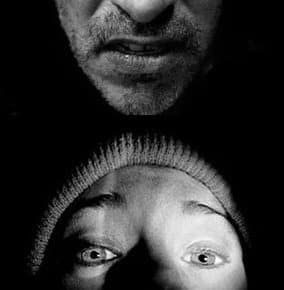 Last week, a Twitter friend called Michael S. Lucart pointed me to a story he'd written which merges the worlds of Twin Peaks, Washington and Burkittsville, Maryland of Blair Witch Project fame. I enjoyed the  '99 horror movie, and was immediately intrigued by this piece of cross-over fan fiction because there's indeed a connection between both stories: "the evil in the woods."
The Blue Rose Project tells the story of an FBI "handler" who, while cleaning out an old file room, becomes fascinated by a particular case. The file leads to transcripts of voice messages from Special Agent Crawford West to Gordon Cole… recorded using a micro-cassette tape recorder.
"We need to stop, Gordon. It's become too dangerous. We've lost too many good men trying to figure this thing out. Desmond. Jeffries. And what happened to Earle and Cooper. Is… is that what's gonna happen to me, Gordon? My choices? Death, or insanity?" He paused, and he said, "We can't win… the Lodge is too strong. Too old. We've got to close the Blue Rose project now before we draw more attention to ourselves."He sighed. "I've got to keep moving."
If you're a Twin Peaks fan, I should have your full attention by now. Now click the first link below to read the entire story, and don't forget to come back and let me know your thoughts!

» Read The Blue Rose Project by Michael S. Lucart.
» The author also explains the plot and symbolism in a separate post called The Secrets Of The Blue Rose Project.
BONUS: There's a Twin Peaks reference in the Blair Witch Volume 1: Rustin Parr game by Gathering of Developers. Here's a video of Dale (or is it Hale?) Cooper making a cameo appearance in the Gretchen's Diner: