The fan fiction below was written by John Bernardy and submitted to Twin Peaks: The Fan Dossier, a writing contest hosted by Welcome to Twin Peaks with the support of Flatiron Books and Mark Frost. A new entry is shared every Fan Fiction Friday.
INTEROFFICE MEMORANDUM
DATE: 12-8-2017
FROM: John Bernardy, Special Agent
TO: Tamara Preston, Special Agent
Dear Agent Preston:
While investigating the Dwight Murphy murder, found Twin Peaks connections that may be
relevant to your ongoing Cooper investigation, not even counting your happenstancial time in
Buckhorn. Information herein contains references to yet another missing person. The MO may
match up with your missing persons investigation, but I don't have clearance to verify. Hope it
helps.
CASE #008-119-1991 BUREAU FILE# JB-01/01
TOM PAIGE
BERNARDY, John
Case Agent
CONFIDENTIAL [FIELD OFFICE CRIMINAL INVESTIGATIVE AND ADMINISTRATIVE FILES]
See also Nos. 008-072-0119
Frank Strawberry was a resident of Twin Peaks until he went missing in 2005. We have reason
to believe what he knew about Dwight Murphy [then warden of Ghostwood prison] has placed
Strawberry either into hiding, top secret witness protection program above my clearance level,
or so deep in the ground no one's been able to find him. Not much is known about him, but we
do know his known associates are all dead but one: Tom Paige, a friend since their grade school
days in Twin Peaks, Washington. But from the sound of things, Tom may not be much longer for
this world, so if this information is relevant to you I encourage you move quickly.
As a young man, Tom Paige worked at the Packard Sawmill until the day it shut down. He
purportedly greatly admired the hard-nosed owner, Catherine Martell, so much so that he
refused any jobs from new owner Horne Industries and instead left the town where he was born
and raised for the Chicago suburbs of northern Illinois. Beverly Paige, his wife, tells me he spoke
well of his home town. "When we first met, we used to get out of the city and walk through any
state park we could find, and he'd always say 'you call these trees?' He used to have a sparkle
in his eye about everything, but especially about Twin Peaks. I had to see it."
It took five years for Tom to get fed up with the flatness of the Midwest, but when it happened it
coincided with Tom's father going through serious medical issues. Tom and Beverly got married and moved back quickly to Washington. Construction jobs weren't nearly as available in Twin
Peaks as they were in Des Plaines so Tom got back in touch with Strawberry, who was working
at the time as a prison guard at Ghostwood prison. He got Tom a job in the same division.
Beverly tells me those two were thick as thieves. Tom would always rib Frank about having the
name for baseball but zero of the talent. Not to mention he was much more interested in beer
than cardio. They stuck to watching the games regularly on television. Beverly told me the two
men would have the game on at least three times a week. She assumed they were serious
about the sport until she came across their internet history. They would be looking up local
legends and ghost stories, inquiring through social media to people who purport having
experiences with the afterlife, as if they were trying to prove its validity. Beverly would inquire
about their hobby in roundabout ways, but they never invited her into their research. "Which is
odd because we used to go on ghost hunting tours all the time up in Deerfield." After noticeable
contemplation, she said "best I can figure it, seemed like they were looking to contact specific
people."
The two men got more and more involved in conspiracy-related issues. To show depths of their
interests, I'm attaching this whopper of an idea roping classical composer Mozart to the
Masonic Lodges in a page that appears to be written in Tom's own handwriting. These guys
were definitely off the rails.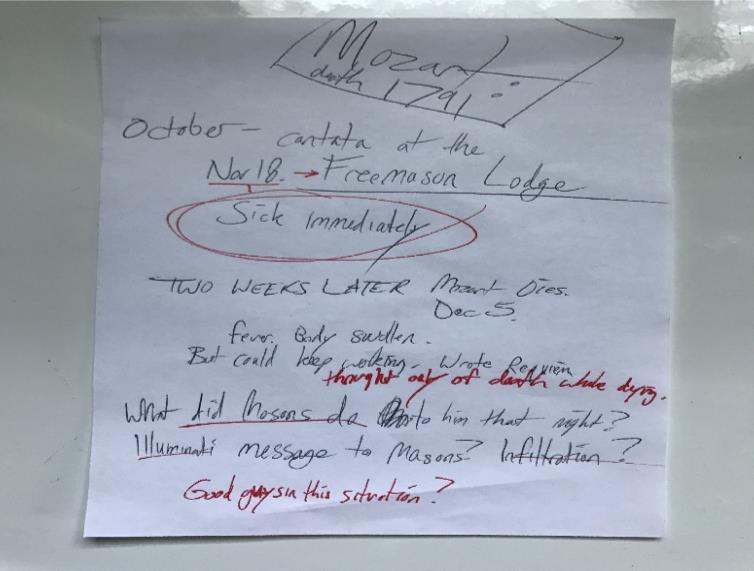 Were they in it so deep it affected their jobs? I suspect both yes and no. They remained
employed, had good records, right up until Strawberry went missing. But it is at that point things
changed seriously for Tom and his wife. When I asked Beverly about Strawberry's last known
whereabouts, she told me "Tom used to look for magic in the world…we used to look for it together, but after Frank died that sense of wonder turned into suspicion. And he shut me out of
all of it."
Tom was with Frank on November 4th , 2005, the night Strawberry disappeared, but he told
Beverly nothing, even to this day. She says Tom acted like he couldn't remember that night
even if he wanted to. Beverly said, "I know he didn't kill Frank, but something sure happened
that night." I asked her specifically about her claim that Frank died, as he's 100% on record as a
missing person, but all she said to me was "See, now I'm doing it. Tom believes it so much that I
don't even know what's true anymore."
Tom began acting out at work, lashing out on the job. Notes from his supervisor show he was as
secretive at work as he was at home about November 4th, and Tom began taking long weaving
drives home "because he didn't want to be followed." It didn't take long for this sort of personal
implosion to get him fired.
I submit this employee complaint form as an example of the paranoia Tom Paige displayed, in
his own words: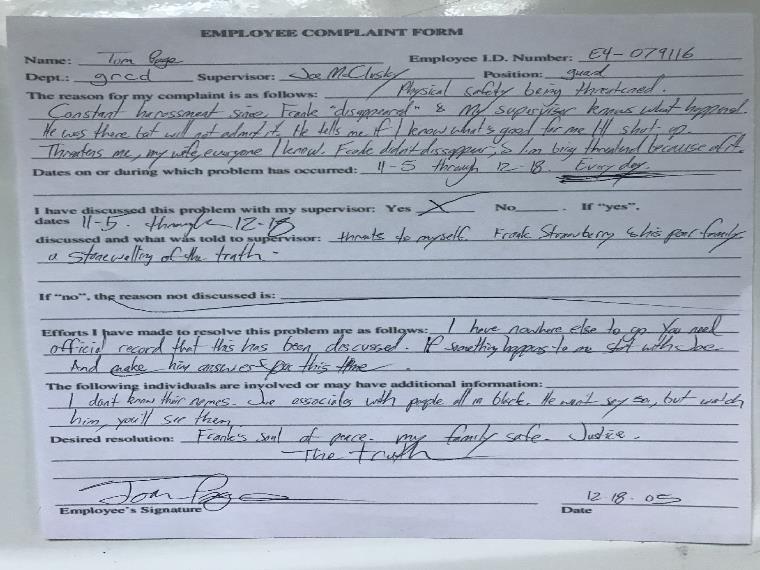 After he was relieved of his role in the prison, Beverly explained how Ramona DiPesto, one of
the clerks who worked well with Tom before his paranoid behaviors surfaced, felt bad for him
and connected him with the man who became Tom's supervisor in his new role serving warrants
around town. But instead of keeping Tom and Beverly afloat, his job searching out lawbreakers
added to Tom's new belief that everyone was trying to get away with something. He began
accusing Beverly of being sick, which she wasn't. He declared she had breast cancer, that
"they" were making her sick. Beverly Paige did not, nor ever, have any form of cancer. Turns
out, the Paige with the cancer was Tom, which is a possible explanation for his decline over the
past decade.
Does Tom Paige have the key to a missing persons case? I doubt it. Is he worth talking to? No
idea. He's under at-home medical care right now, battling cancer on multiple fronts. If you visit
him, I wouldn't wear a dark suit. I was able to interview his wife but he wouldn't answer a single
question. He was convinced I was some kind of Man In Black and I couldn't get six words out of
him. Your call as the ranking agent, but time sure looks to be of the essence if you want him on
record. All I know is I've got a hunch Paige is the nut to crack if we want to solve the Murphy
case and give the Strawberry family some peace. Please tell me this has something to do with
your Cooper case and you can help me.