"You have to watch these… they sneak up on ya!"
—Judge Sternwood
Before the murder of Laura Palmer was solved, Twin Peaks introduced another mystery in Episode 12:
The Black Yukon Sucker Punch.
Described in Barry Pullman's script merely as "a tall straight glass, half filled with a dark liquid and the top half filled with a blue foamy head," only Sid (or rather, season two's prop master) knows the official recipe for Judge Sternwood's go-to drink. Because a Twin Peaks party isn't complete without the mysterious cocktail on the menu, mixologists from far and wide have attempted to recreate this take on the Irish coffee by observing the inventory of the bar at the Roadhouse.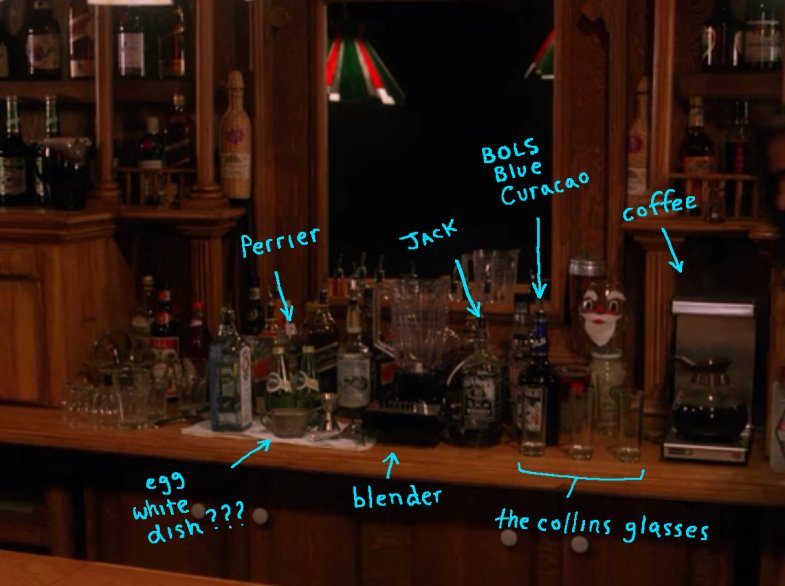 The most plausible Black Yukon Sucker Punch recipe Welcome to Twin Peaks has come across so far is the one reverse-engineered by James O. and Darcy Ross:
Get a Collins glass
Pour in 1 shot (1.5 oz) of Jack Daniel's whiskey
Pour in 6 oz of coffee, give or take, depending on how much you want to taste the whiskey. Or, for aesthetic purposes, fill the glass halfway up.
In a blender, add 1 egg white, 1 oz of Bols Blue Curacao, and a splash of Perrier.
Blend (probably on high) until it's 3-4 times its original volume. Make sure it's foamy and not soupy.
Pour the foam gently into the glass, up to the top!
In the video below, Nick from Cocktail Chemistry's makes a similar version, plus an alternative Black Yukon Sucker Punch using coffee beans for an infusion.
After Sid serves the drink, both Judge Sternwood and Sheriff Truman take a sip while Cooper just nervously eyes the glass. Why? When coffee is involved, he only takes it black as midnight on a moonless night.