"Diane, I'm holding in my hand an iPhone that reminds me of you."

When I heard the announcement of Siri, the voice assistant built into the iPhone, I (probably together with most of the Twin Peaks fans out there) immediately thought Diane would've been a much better name. In fact, here's hoping you'll be able to start every voice command saying "Diane" without the software flipping. UPDATE: Tested, and it works!
To make the comparison even more striking, here's a Diane iPhone/iPod/Samsung case that looks almost exactly like Dale Cooper's voice-activated tape recorder used to record the final words of Waldo the bird. Fitting your mystical voice assistant like a second skin, this case is a must have accessory for all modern day Special Agents and Twin Peaks fans.
Move over Siri and S Voice… Diane is here!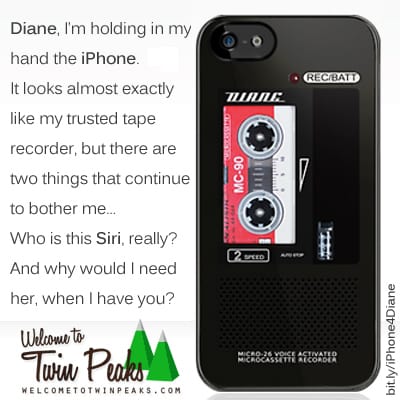 As required by FBI regulations, Dale Cooper's tape recorder iPhone case is extremely tough and the high-quality design is there for life.
Long life, super-bright colors embedded directly into the back cover
Extremely durable one-piece, shatterproof plastic casing
Allows access to all device features; iPhone charges while in case
Special keyhole ring keeps photos completely unobstructed
Fits all mobile providers, including AT&T and Verizon
» Turn Siri into Diane and purchase Dale Cooper's tape recorder case here (iPhone 5, 5S, 4, 4S, 3gs and iPod Touch 4G) or here (iPhone 5, 5C, 5S, 4, 4S, 3g and 3gs, iPod Touch and Samsung Galaxy S4 and S5).