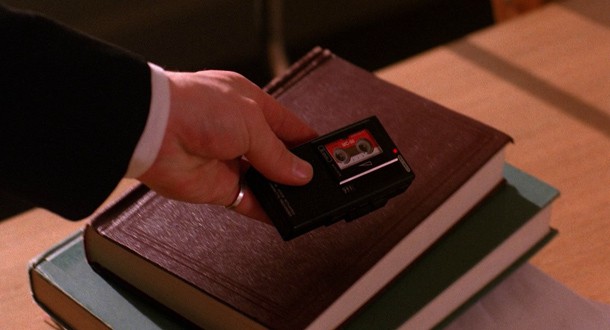 "Diane, I'm holding in my hand a device that reminds me of you."
Today Only: Take 
25% off

this case with code TEXTME25 over at RedBubble

When I heard the announcement of Siri, the voice assistant built into the iPhone, like many other Twin Peaks fans I immediately thought Diane would've been a much better name. In fact, here's hoping you'll be able to start every voice command saying "Diane" without the iOS going crazy. UPDATE: Tested, and it works!

To make the comparison even more striking, here's a Diane iPhone/iPod/Samsung case that looks almost exactly like Dale Cooper's voice-activated tape recorder prop used to record the final words of Waldo the bird. Fitting your mystical voice assistant like a second skin, this case is a must have accessory for all modern day Special Agents and Twin Peaks fans.
Diane, the tape recorder case for iPhone/Samsung
Move over Siri and S Voice… Diane is BACK!
Shown left: Society6's iPhone 6 Slim case.
Right: RedBubble's iPhone 6 Snap case.
As required per FBI regulations, Dale Cooper's tape recorder iPhone case is extremely tough and the high-quality design is there for life.
Long life, super-bright colors embedded directly into the back cover
Extremely durable one-piece, shatterproof plastic casing
Allows access to all device features; iPhone charges while in case
Special keyhole ring keeps photos completely unobstructed
Fits all mobile providers, including AT&T and Verizon
If you want to turn Siri (or S Voice) into Diane, you can find Dale Cooper's tape recorder case at:
Society6 (available for iPhone 6S, 6S Plus, 6, 6 Plus, 5, 5C, 5S, 4, 4S, 3g & 3gs, iPod Touch, Samsung Galaxy S4, S5 & S6)
RedBubble (available for iPhone 6, 6 Plus, 5, 5S, 5C, 4S & 4)
Both shops ship worldwide.
Take 
25% off

this case with code TEXTME25 over at RedBubble (code expires 12 AM on August 12, 2016)

Check out a few other Twin Peaks themed Samsung and iPhone cases.

Some feedback from the fans:
This may be the best piece of Twin Peaks merchandise I've seen.
—@Enzigary

Thank you for creating an iPhone case that I've wanted longer than I've wanted a new iPhone.
—Tony
@ThatsOurWaldo already have it and love it! Highly recommend you all getting one

— Michael (@hurdish) May 5, 2014
@ThatsOurWaldo @sparkleamiej I got my iPhone cover as well. Sometimes I even fool myself and forget its only a cover. Awesome!

— Christopher Forbes (@br1xt0n) November 23, 2011