Well, lookie here! Following the action figure and Pop! Vinyl, our beloved Log Lady gets another toy* treatment. Most fittingly, Bif Bang Pow! have turned Margaret Lanterman and her log into… wooden figures.
This so-called "Pin Mate" set is another San Diego Comic-Con 2017 exclusive, but if you pre-order today for $9.99, you may be able to snag one of the 1352 sets in case they do not sell out at the convention.
What advice or vision does she have for you today? Fresh from Showtime's highly anticipated television series TWIN PEAKS, Margaret Lanterman makes her Pin Mate™ debut in this Twin Peaks Log Lady and Log Pin Mate Wooden Figure Set of 2 from Bif Bang Pow!. These adorable retro-styled, 2-inch scale wooden figures are individually numbered within the Twin Peaks Pin Mate™ series. Log Lady is number 3, and Log is number 4. They feature highly detailed, brightly colored, 360-degree hand-painted artwork with limited decal elements. Plus, as an Entertainment Earth Convention Exclusive, each set is individually numbered on a holographic sticker. Ages 18 and up.
*According to the packaging, the retro-styled, 2-inch figures are no toys and for ages 18 and up. Eh, I'll just leave it at that.
The Log Lady and Log figures are numbered 3 and 4 in Bif Bang Pow!'s Twin Peaks Pin Mate™ series. The set which includes numbers 1 and 2 has yet to be officially announced but will have Dale Cooper and Laura Palmer wrapped in plastic.
UPDATE: The Agent Dale Cooper and Laura Palmer Pin Mate Wooden Figure set is now available!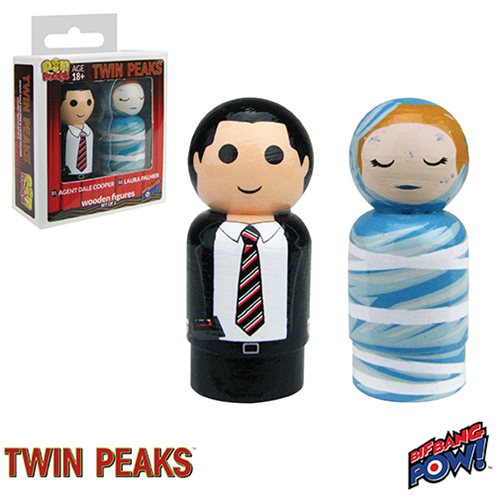 What are your thoughts on this new range of Twin Peaks products?