Peggy Lipton, who we all know and love as Double R Diner owner Norma Jennings in Twin Peaks, has died of cancer on Saturday, May 11, 2019. She also starred in The Mod Squad and had various roles in film and TV, from The Alfred Hitchcock Hour to House of Lies, in addition to a career in music.
A statement from her daughters Rashida and Kidada Jones as published by the Los Angeles Times:
"She made her journey peacefully with her daughters and nieces by her side. We feel so lucky for every moment we spent with her. We can't put all of our feelings into words right now, but we will say: Peggy was and will always be our beacon of light, both in this world and beyond. She will always be a part of us."
Norma, I'll see you in my dreams.
ALSO READ: Twin Peaks cast and crew members respond to the sad news of Peggy Lipton's death, Here's to Norma Jennings, for warding off the darkness with coffee and pie & David Lynch Misses Peggy Lipton Like Crazy: "Such A Beautiful Soul, Face, And Being"
Big Ed and Norma in Twin Peaks: The Return (2017)
David Lynch and Peggy Lipton on the set of Twin Peaks in 1989 and 2015
Peggy Lipton and David Lynch on the set of Twin Peaks in 1989 and again in 2015. https://t.co/tKm9IJv2JJ ?? #TwinPeaks #PeggyLipton pic.twitter.com/pQJWl7Vlok

— Welcome to Twin Peaks (@ThatsOurWaldo) May 12, 2019
Norma Jennings behind the counter of her Double R Diner in the 1990 Twin Peaks pilot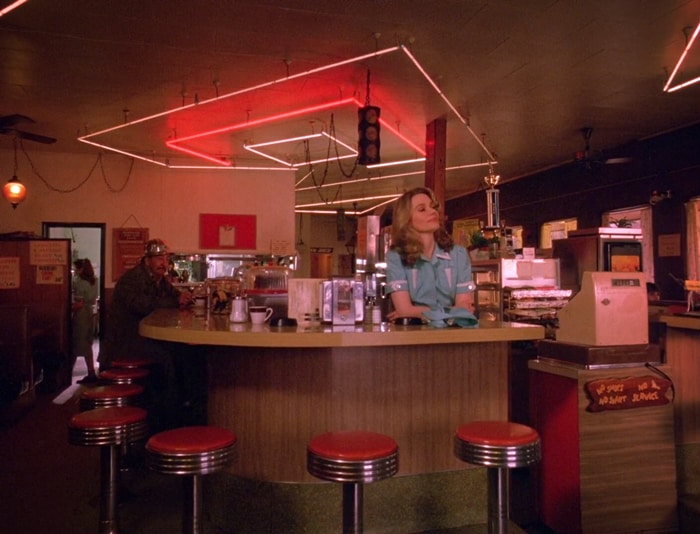 Norma Jennings and Big Ed Hurley (Everett McGill)