"The stars turn and a time presents itself."
—The Log Lady
In 2015, our Twin Peaks family lost one of its dearest members, Catherine E. Coulson, just shortly after she filmed her final scenes as Margaret Lanterman aka the Log Lady, together with her longtime friend, David Lynch.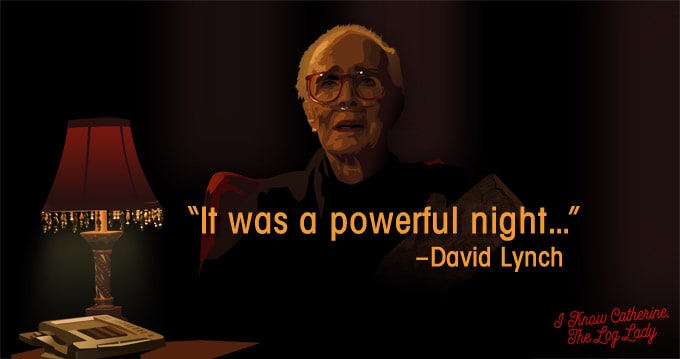 Today, I'm gonna let you in on a little secret!
The past few months, I have worked hard on hands-down the most beautiful Twin Peaks project I've ever been able to contribute to.
With David Lynch's blessing, a small team of independent filmmakers led by Richard Green (the Magician in Mulholland Drive and executive producer on David Lynch Presents: I Don't Know Jack), is making a feature length documentary on Catherine E. Coulson. Aka Cathy. Or Cookie! Together with her family and closest friends, we have gathered incredible footage and mementos from her childhood, her career as an actress on stage at Oregon Shakespeare Festival, and on screen, as well as her work as one of the first women behind the camera.
We can't wait to blend all the material into a wonderful film tribute to Catherine, but we really need help from everyone who was ever inspired or touched by her performances, from everyone who ever met her and had the same feeling so many of us share; that she made you feel like you were her best friend.
And you play a crucial role in making this authorized documentary happen. This film can only happen with the support of every Twin Peaks, David Lynch and Catherine fan. Your trust and contribution towards this crowdfunding campaign will be rewarded; we have an Answer Log, the Logbook, dedicated trees in the Log Lady Grove and so much more!
For instance, here's everything you will get if you pledge $35:
Digital stream of the finished Catherine Coulson documentary when it's available to own
Stream I Don't Know Jack (about Jack Nance) and its extras,
Download an unreleased 5-track EP by Johnny Jewel (of Chromatics)
Download an unreleased Twin Peaks-inspired jazz noir song by Silencio
Download a digital treasure trove with Log emoji, wallpapers and more
Insider updates straight from the film crew
Your name in the LOGROLL section of the film's website
The option to have your photo as Log Lady (or Gentleman) appear in the movie!
With Kickstarter, it's ALL or NOTHING and we don't have much time to get this project funded, so please pledge today!