Sunday Best Recordings has announced the upcoming release of Deluxe and Super Deluxe editions of David Lynch's The Big Dream on December 16th 2013.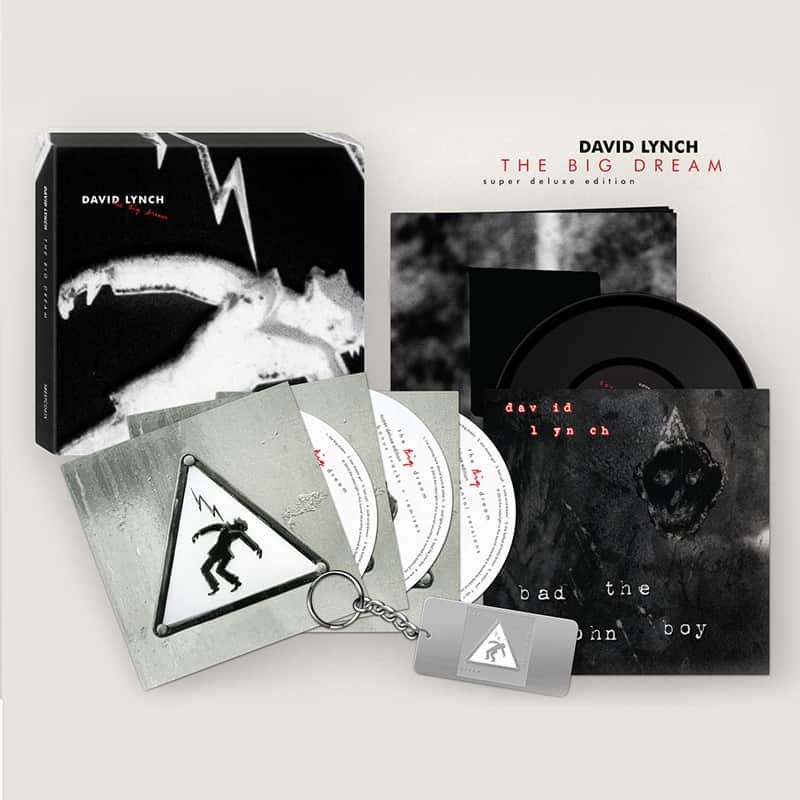 Coming only shortly after the release of Bad the John Boy, here's another limited edition (500 copies) David Lynch release which includes…
The original The Big Dream album
A second disc with bonus tracks and remixes
A third disc with instrumental versions (exclusive to this format)
A bonus heavyweight 7" single (exclusive to this format)
A 16 page 7" colour booklet
A 360mm x 360mm poster
A keyring
All packaged in a 7″ sized rigid box set.
On the 2nd CD you'll find Bad The John Boy, And Light Shines (originally a Japan bonus track), the David Lynch & Lykke Li track I'm Waiting Here (on CD for the first time) and brand new remixes of album tracks from Bastille, Hot Since '82, Venetian Snares and Bjorn Yttling (of Peter, Bjorn and John fame). The 7" vinyl features Bad The John Boy on one side and the Bastille remix of Are You Sure one the other.
Here are the previews of those remixes
http://www.youtube.com/watch?v=AbRXCgPBjrc
And the Japanese bonus track:
[wpaudio url="https://welcometotwinpeaks.com/wp-content/uploads/david-lynch-and-light-shines.mp3″ text="David Lynch – And The Light Shines" dl="0″]
You can pre-order the Super Deluxe version from Sunday Best, or if you're only interested in the music, you can get the substantially cheaper MP3 version of the original album and the remixes here.
And now for the tracklists (here's the original album's tracklist)
David Lynch – The Big Dream (Super Deluxe) Disc 2:
I'm Waiting Here (David Lynch & Lykke Li)
And Light Shines
Bad The John Boy
Are You Sure (Bastille Remix)
Wishin' Well (Hot Since 82 Remix)
The Big Dream (Venetian Snares Remix)
We Rolled Together (Yttling Jazz Remix)
David Lynch – The Big Dream (Super Deluxe) Disc 3:
The Big Dream (Instrumental)
Star Dream Girl (Instrumental)
Last Call (Instrumental)
Cold Wind Blowin' (Instrumental)
The Ballad of Hollis Brown (Instrumental)
Wishin' Well (Instrumental)
Say It (Instrumental)
We Rolled Together (Instrumental)
Sun Can't Be Seen No More (Instrumental)
I Want You (Instrumental)
The Line it Curves (Instrumental)
Are You Sure (Instrumental)
I'm Waiting Here (Instrumental)
And Light Shines (Instrumental)
Bad The John Boy (Instrumental)
David Lynch – The Big Dream (Super Deluxe) – Bonus 7″ Heavy Vinyl:
AA. Bad The John Boy
A. Are You Sure (Bastille Remix)