If you've watched the two-part Twin Peaks premiere, chances are you have this Chromatics song strongly engraved into your brain. At the end of Twin Peaks: The Return Part 2, just before the end credits roll, David Lynch uses the sentimental "Shadow" to transport us back to the Bang Bang Bar, where besides music, there's always love in the air.
Shadow by Chromatics was instantly added to the Nighttime at the Roadhouse playlist.
Along with the "Twin Peaks Theme" by Angelo Badalamenti, "Shadow" is one of two songs currently confirmed to be included on the forthcoming album, Twin Peaks (Music From The Limited Event Series). The official video, starring band members Ruth Radelet, Adam Miller, Nat Walker and Johnny Jewel, is a tribute to David Lynch's Blue Velvet and "the Legendary Julee Cruise," but there's also a hidden Twin Peaks reference.
Easter Egg: Guitar player Adam Miller wearing the Owl Cave ring.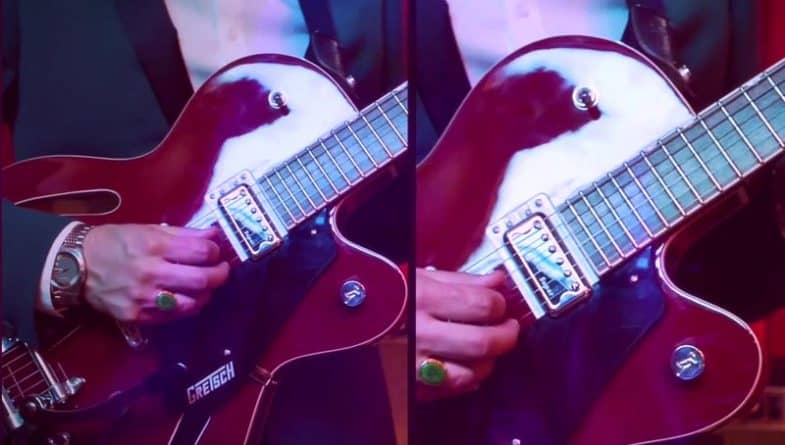 Chromatics also performed this song and a few others at the Los Angeles premiere of Twin Peaks last Friday.
https://twitter.com/JennyCooney/status/865800755906621440
Chromatics – Shadow (from Twin Peaks: The Return Part 2)
https://www.youtube.com/watch?v=3ljSqqL3AxI
Chromatics – Shadow (8 Track Version) (2014)
Chromatics – Shadow (Lyrics)
Shadow
Take Me Down
Shadow
Take Me Down With You
For The Last Time
You're In The Water
I'm Standing On The Shore
Still Thinking That I Hear Your Voice
Can You Hear Me?
For The Last Time
At Night I'm Driving In Your Car
Pretending That We'll Leave This Town
We're Watching All The Street Lights Fade
& Now You're Just A Stranger's Dream
I Took Your Picture From The Frame
& Though You're Nothing Like You Seem
Your Shadow Fell Like Last Night's Rain
For The Last Time