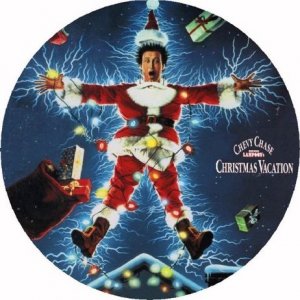 Until recently, I had no idea Angelo Badalamenti had worked on the soundtrack of a comedy I'd seen over and over again as a kid, about a year or two before I started watching Twin Peaks. But then I noticed National Lampoon's Christmas Vacation in the composer's discography, and dug up the songs Christmas Vacation Medley and Joy To The World for which he was credited in the 1989 Chevy Chase movie. So although these sound completely different, the Christmas version of the Twin Peaks theme was definitely not the maestro's first holiday song.
UPDATE: Christmas Vacation Medley was incorrectly credited to Angelo Badalamenti on the bootleg soundtrack, but is in fact Christmas At Carnegie Hall by John Williams from the Home Alone 2 score.
A guy called John Storms even made a visualization of Badalamenti's Joy To The World using his home's holiday decoration and the Light-O-Rama S2 software configured with a whopping 96 channels. Best neighbor ever?
Christine Hunter – Santa Bring Me Ringo
If all you want for Christmas is a Beatle, check out the Christmas single called "Santa, Bring Me Ringo" composed and arranged by Angelo Badalamenti in 1964.