That Christmas version of the Twin Peaks theme? Not the Maestro's first Christmas themed song.
When Angelo Badalamenti was in his twenties and a teacher at Dyker Heights Intermediate School (aka P.S. 201), he made the bold decision to compose the school's Christmas musical by himself. Unsurprisingly, the piece turned out so good the Department of Education caught wind of it, and soon after, PBS came to the Brooklyn school to film and subsequently air the show on television during the holiday season for a few years. Unfortunately, that footage is nowhere to be found, but the Maestro certainly did not stop composing Christmas songs.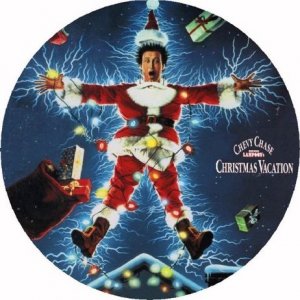 Around the same time he was working on Julee Cruise's debut album with David Lynch, he scored the 1989 Chevy Chase classic, National Lampoon's Christmas Vacation. Its soundtrack was never officially released, but a rare bootleg featured Angelo Badalamenti's Joy To The World which you can hear in one of the videos below. His original score for the opening titles didn't even make the final cut as it was replaced by a more 'poppy' Mavis Staples song. But as a special treat for you, here's the unused version featuring the Maestro's music…


Angelo Badalamenti – Christmas Vacation Opening Titles
Angelo Badalamenti – Joy To The World (from Christmas Vacation)
A Christmas enthusiast called John Storms made a visualization of Joy To The World using his home's holiday decoration and the Light-O-Rama S2 software, configured with a whopping 96 channels. Best neighbor ever?
NOTE: On the bootleg movie soundtrack, Christmas Vacation Medley is incorrectly credited to Angelo Badalamenti while it is actually Christmas At Carnegie Hall by John Williams from the Home Alone 2 soundtrack.
Christine Hunter – Santa Bring Me Ringo
Way before Christmas Vacation, the Maestro composed and arranged Christine Hunter's 1964 Christmas single, "Santa, Bring Me Ringo." If all you want for Christmas is a Beatle, this is a song for you…
And of course, let's not forget Angelo Badalamenti's official Christmas version of the Twin Peaks theme…
UPDATE: If you like the above, make sure to check out these Twin Peaks versions of some Christmas classics.