Soon after the incredibly successful LYNCHthree campaign on Kickstarter (the documentary got nearly 600% of what its makers originally hoped for), another David Lynch-centered project has appeared on the popular crowd-funding website. This time, David Lynch wants to build a bungalow and he needs your help.
Not just a bungalow, of course. His goal is to design a small 400 square foot modular living structure according to the architectural and planning principles of Maharishi Sthapatya Veda (MSV), assembled by founder of the Transcendental Meditation, Maharishi Mahesh Yogi.  The image below is a sketch drawn by David which he calls Bungalow #2, and it is a starting point for what he would like to see his Vedic Bungalow become.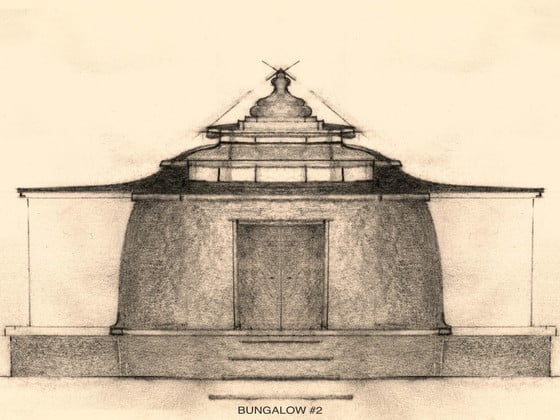 Toby Keeler, who manages the Kickstarter campaign, informed me that the funding will cover the cost of making Bungalow #2 comply with MSV principles. But he added that there's room for strong, personal forms in the design of Vastu. "It's a matter of getting a few rules and then exploring the possibilities of geometry within them – the possibilities are infinite and varied. I also am curious – and excited – to see what it may become. Vastu needs a really creative designer to demonstrate what can be done through his own voice."
Keeler, who's been friends with David Lynch since their teens and directed the 1997 documentary Pretty as a Picture: The Art of David Lynch, will make a 5-to-10-minute video documentary showing how David incorporates the architectural principles into Bungalow #2 and develops the final color architectural rendering.  The video will be sent as an mp4 file to reward all those who contribute US $10 or more. For US $100, you will received an additional 11X17 color rendering of the Vedic Bungalow signed by David Lynch, available in a limited edition of 300.
» Back David Lynch's Vedic Bungalow project here.