Oops! No results, try changing your search!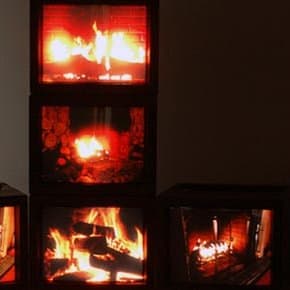 Fire (walk with me) is a 9-channel video installation by Sharon Bradley, showing continously looped establishing shots of the fireplaces in Twin Peaks. The Canadese video artist was inspired by "The Yule Log" television program which airs around Christmas since 1966 and shows a yule log burning in the fireplace for two up to four hours, to a soundtrack of classic Christmas music and without commercial interruption.
The Fire (walk with me) installation debuted at the "Mostly-Annual VIVO Winter Party" at the VIVO Media Arts Centre in Vancouver, Canada. I asked Sharon for some video footage of the installation, and she was so kind to capture it for us:
Obviously, this video art installation is not for sale, nor is the footage of the fireplace establishing shots freely available. But any of those burning fireplace DVDs can easily get you started.
Finally, I can't resist showing you the promotional image for VIVO's winter party. Behold, the Black Lodge's "Red Room" decorated in a true holiday spirit, with a Christmas tree and a burning fireplace: