Despite many references, only one Twin Peaks character ever appeared on The Simpsons (scroll down to find out if you have no clue). But two years ago, Belgian illustrator and art director Adrien Noterdaem showed us how Twin Peaks characters would look like if they had a cameo on The Simpsons.
This week, "it is happening again" as Adrien delivers a 2017 update for the new Twin Peaks by recreating Entertainment Weekly's Twin Peaks cover in the style of Matt Groening's world-famous yellow-skinned characters.
"I wanted to do a new series after the first one," Adrien tells Welcome to Twin Peaks. "And yes, the cover is quite awesome so it clearly inspired me to do something."
The source image is not the 3-part cover, but Marc Hom's alternative shot of the same scene inspired by Leonardo da Vinci's The Last Supper. The "Simpsonized" characters from left to right are Nadine Hurley, Big Ed Hurley, James Hurley, Laura Palmer, Gordon Cole, Dale Cooper, Audrey Horne, Shelly Johnson, Bobby Briggs and Norma Jennings.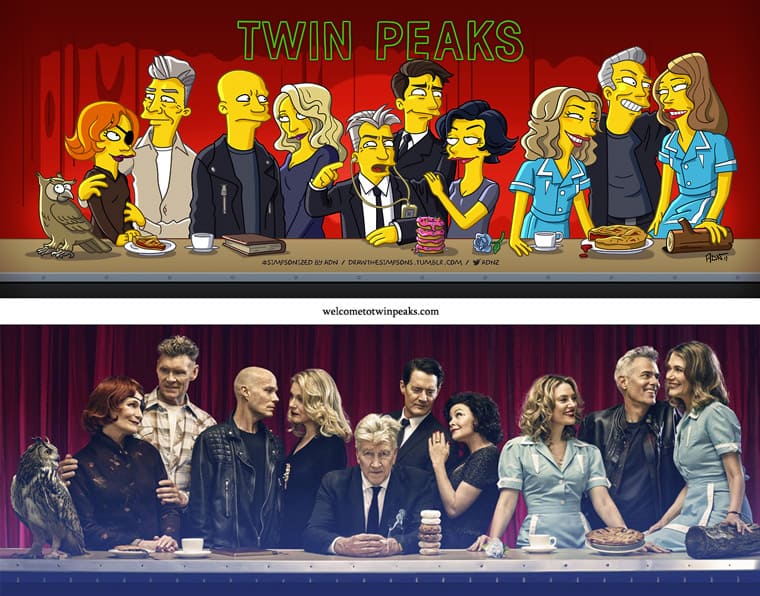 Bonus: Homer Simpson watches Twin Peaks