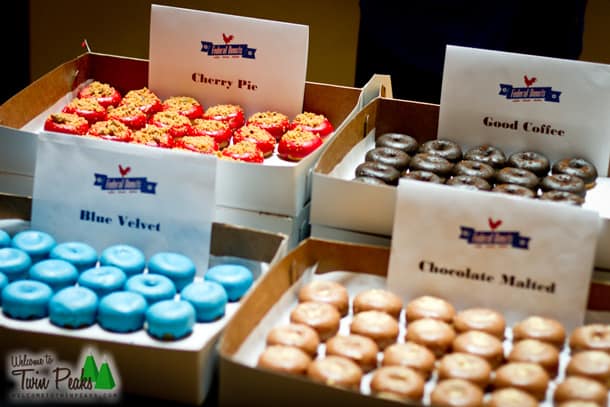 In honor of the David Lynch: The Unified Field exhibition at PAFA, the museum and art school asked Philadelphia's local Federal Donuts to invent some David Lynch-inspired doughnuts for the show's opening night. Mike Solomonov, co-owner and chef of FedNuts, collaborated with co-chef Matt Fein and they came up with four different flavors: Blue Velvet, Cherry Pie, Good Coffee, and Chocolate Malted.
"Good Coffee and Cherry Pie donuts recall two edible characters from Twin Peaks, as well as Winky's Diner in Mulholland Drive. We can't tell you the flavor of Blue Velvet, but it is as delicate, fierce and mysterious as Dorothy Valens herself. A real-life diner, Bob's Big Boy, provided creative space for Lynch to think when he visited daily for a chocolate malted milkshake. Who knows what our malt-dusted donut version could inspire?" the Federal Donuts team explained to The Daily Meal.
Federal Donuts X David Lynch
UPDATE: Matt Fein talks about the making of the David Lynch donuts.
The David Lynch donuts will be available at PAFA on Friday at the preview event of The Unified Field, and at the Federal Donuts shops starting September 13th (with the Cherry Pie flavor) for $2 each or $20 per dozen.
Welcome to Twin Peaks had a foretaste today and Good Coffee is a personal favorite. But when David Lynch was offered one, he went for Chocolate Malted… and it wasn't even 2:30 PM yet! Below is a photo of David Lynch enjoying a David Lynch doughnut with some David Lynch Signature Cup Organic Coffee. Is that meta enough for you?
"I want to thank the doughnut people. Thank you very much!"
—David Lynch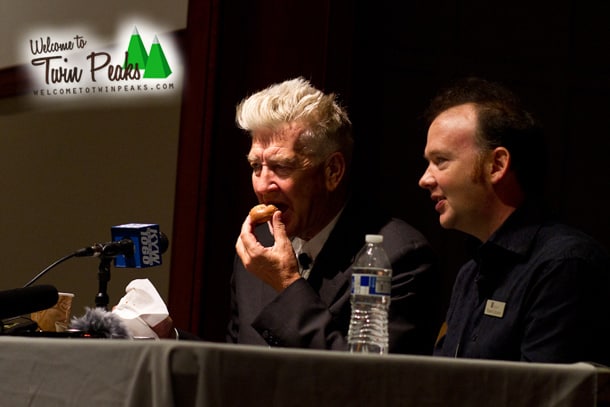 Donut Tribute
UPDATE: Here's M. Sean McManus' tribute to David Lynch and his namesake donuts.
This short piece is a tribute to both Mr. Lynch's work, and these foods inspired by him. Featured here is the "Cherry Pie" donut and the "Blue Velvet" donut. The audio sample comes from a recording of David Lynch reading his book "Catching The Big Fish".