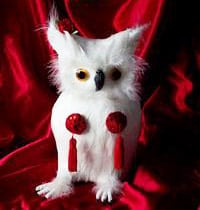 "A line at the Parkside Lounge!?"
Little did trivia night regulars know that the venue's back room had become as notorious as the Road House… at least for one night. Outside the Alphabet City bar, intrigued Lynch fans, "Peakies" and burlesque afficionados gathered for the first edition of the The Pink Room: New York's very own David Lynch inspired burlesque show.
She's alive, wrapped in plastic," went through my mind when Foxy Vermouth welcomed me and the rest of the audience inside. The go-go dancer's resemblance to Laura Palmer would've even lured Dr. Jacoby from under his fake palm tree. When what looked like an entire population of 51,201 had crammed into the back room to the sounds of Julee Cruise and Angelo Badalamenti, a psyched special agent Bastard Keith jumped on stage as the master of ceremony. Sometimes talking dwarfwards, he recalled his personal introduction to the Twin Peaks universe (regrettably, through the prequel movie) and left a few hilarious remarks on his handheld tape recorder.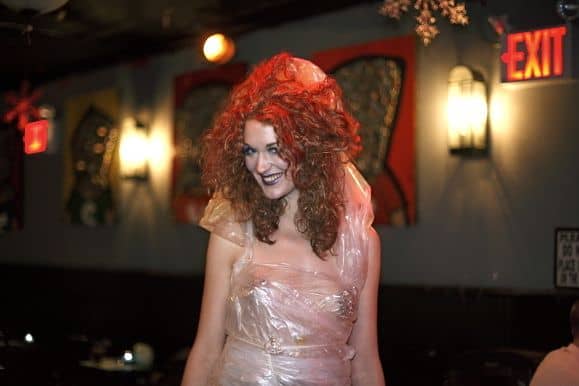 Setting the tone of the evening, Grace Gotham indulged herself to cherry pie and a damn giant cup of coffee as one of the more naughty Double R waitresses. Had to pinch myself in the arm for a moment: "Yes, this is really happening!" The Pink  Room organizer, Franny Fluffer, followed with an intimate version of Jimmy Scott's "Sycamore Trees". Her enchanting performance was charged with Twin Peaks symbolism as she, making full use of her feather fans, slowly transformed into an owl. Gemini Rising, who previously appeared in-between acts slipping handwritten notes to "her special agent", completely nailed Sherilyn Fenn's Audrey Horne. From her sexy self-confidence to the dreamy dance moves, she revisited her character's bordello adventures with the help of a cat mask and, of course, a soon-to-be unstemmed cherry.
Next up, Tansy Tan Dora impersonated Donna Hayward's metamorphosis from daddy's little girl to the smoking bad chick with sunglasses, all with the help of her BFF. Was that a real owl tattoo, by the way? By now, a mysterious lady carrying a log had already made several appearances all over the Pink Room. It was time for Amelia Bareparts to finally pay tribute to the gum-chewing Log Lady and, apparently, her husband-turned-log was asking her to do very nasty things to it. Talking about putting another log on the fire!
Abstaining from the most obvious choice, Calamity Chang wasn't dressed as Josie Packard but as "The Black Lodge". If you can't quite picture that,  imagine a 70's zig zag pattern, black and red tulle and a crow mask covered with rhinestones. The Asian sexsation danced to "Dance of the Dream Man" in such a seductive manner even Dale Cooper wouldn't dare to dream. Don't believe me? Here's how the crowd responded…
[wpaudio url="https://welcometotwinpeaks.com/wp-content/uploads/twin-peaks-burlesque.mp3″ dl="0″ text="Audio of Calamity Chang's Twin Peaks burlesque performance"]
In a superb closing act, Franny Fluffer took the stage for a second time to the sounds of "A Real Indication". Dressed as our beloved 90s prom queen, she sniffed glittercoke straight out of her secret diary. Franny performed her final tease to "Daddy's Home" by Shep & The Limelites. "How I've waited for this moment to be by your side / Your best friend wrote and told me you had teardrops in your eyes / Daddy's home, your daddy's home to stay." David Lynch himself couldn't have come up with a creepier song to end the first of hopefully many editions of The Pink Room. One thing is certain, it will be happening again…
For more pictures of New York's first Twin Peaks burlesque, head over to Time Out New York's photos by Syd London.
UPDATE: More photos thanks to katriona99: