Dance Tribute to David Lynch is the second of a new series called "Dance Tribute" in which twelve songs from a musician, band or creator are selected and then put to choreography, taught to dancers, and performed live. Dance Tribute to David Lynch will feature over thirty Chicago dancers/movers, shaking their bods to the tunes both associated with the great films of David Lynch, as well as his own musical compositions. Join them for a night of dance, happy chums, drinks, snacks, laughs, art, and only a few uncomfortable moments.
https://www.youtube.com/watch?v=Erf9Xe-d2M8
Let's hope their dance routines include the Leland Palmer Shuffle, the Man From Another Place Dance and, of course, Audrey's Dance! Maybe we'll be able to see some videos of the performances later. If not, there's always this recent dance tribute to Twin Peaks: the beautiful pole dance choreography to Julee Cruise's Falling.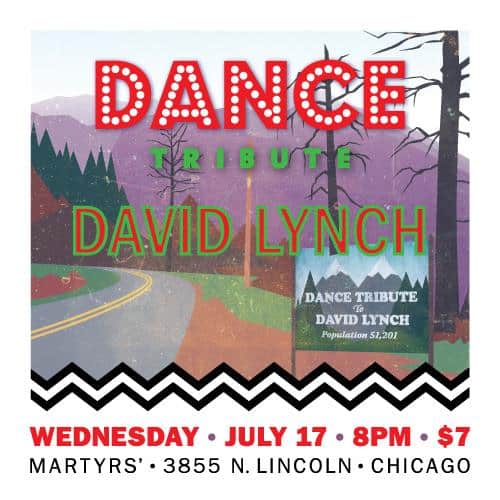 Here's an interview with organizing choreographer Kasey Foster:
https://soundcloud.com/vocalo/dance-tribute-to-david-lynch
Date: July 17 2013 at 8:00 pm
Venue: Martyrs', 3855 N. Lincoln, Chicago, IL
Tickets: $7 (here)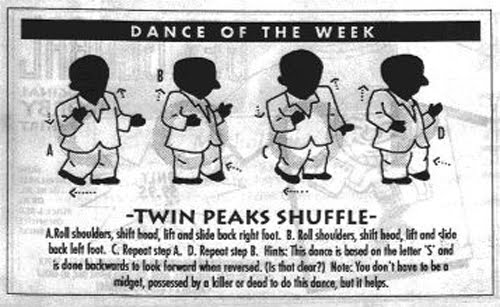 https://www.youtube.com/watch?v=fZZ_qx7W-7k
UPDATE: Here's a video of the Dance Tribute to David Lynch, shot by Joseph Campanella.