When it comes to Twin Peaks tributes, Los Angeles really gets it. Just look at all the L.A.-based Twin Peaks themed events we've posted in the past. And lo and behold, here's another great upcoming event: Damn Fine Coffee, an artistic tribute to Twin Peaks at Meltdown Comics located in the heart of Hollywood on Sunset Blvd. Nearly 50 artists from around the industry will be contributing to the exhibit curated by Nico Colaleo. There will be themed beverages and snacks, live entertainment, decor, and Twin Peaks crew members will be invited to the opening on June 8th 2013.
Donuts and a hot cup of joe, anyone? Damn Fine Coffee brings you back to David Lynch's mysterious town of Twin Peaks, with an artistic celebration brought to you by over 40 talented artists from around the industry. Join us for the opening reception at Nerdist Showroom at Meltdown Comics (7522 Sunset Blvd.) from 7pm-10pm, Saturday, June 8, 2013! (Tell 'em the Log Lady sent ya!) Enjoy Twin Peaks-themed refreshments and live entertainment! Treat your tastebuds to a donut from Winchell's! Be entertained by Twin Peaks musical accompaniments, themed decor, and photo-ready backdrops! And who knows… there might even be surprise guests! In a place like Twin Peaks, only one thing's for sure: the owls are not what they seem.
Damn Fine Coffee will feature work by Kelsy Abbott, Natasha Allegri, Benjamin Anders, Eric Bauza, Emily Brundige, Tony Christopherson, Daisy Church, Anna Claydon, Nico Colaleo, Nick Cross, Cheyenne Curtis, Becky Dreistadt, Brianne Drouhard, Kate Freund, Shane Glines, J.R. Goldberg, Gina Gress, Brenda Hickey, Danielle N. Kramer, Molly Bates Johnson, Joanna Leitch, Kirsten Lepore, Cheryl Levine, Troy Little, Tommy Meehan, Frank Macchia, Marlo Meekins, Zoe Moss, Dan O'Connor, Sarah Oleksyk, Kent Osborne, Sara Pocock, Katie Rice, Sandra Rivas, Deanna Rooney, Austin Salmi, David Smith, Jacob Strick, Gabe Swarr, Matt Taylor, Doug TenNapel, Arica Tuesday, Julia Vickerman, Rishon Wagner, Pendelton Ward, Luke Weber and others.
Date: June 8  through 21, 2013 (opening June 8th 2013 7-10pm)
Address: Meltdown Comics, 7522 W. Sunset Blvd. Los Angeles, California 90046.
Tickets: Free
Damn Fine Coffee: An Artistic Tribute To Twin Peaks (Poster)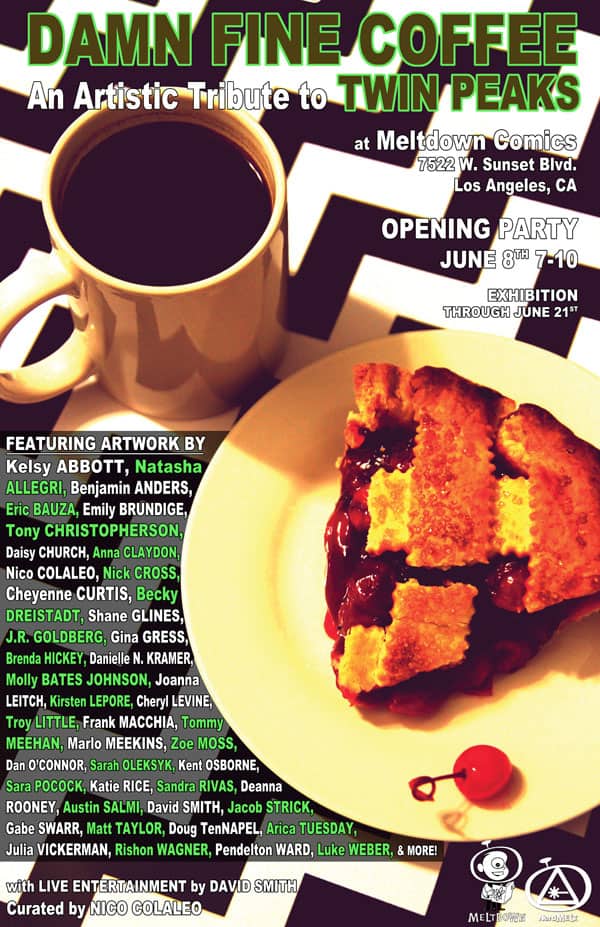 Damn Fine Coffee: An Artistic Tribute To Twin Peaks (Preview)