Suicide rates are on the rise worldwide, now up to 800,000 every year according to the World Health Organization. That's a death by suicide every 40 seconds and many more attempts are being made in the same time frame. But those struggling with suicidal thoughts feel relieved when someone asks about them in a caring way. Helping a person at-risk of suicide connect to a support system can drastically reduce feelings of hopelessness and helplessness.
Today we're presenting the debut episode of Correspondence, a compelling six part mini-series that aims to raise awareness for crisis services such as the National Suicide Prevention Lifeline (1-800-273-TALK), and to weaken the stigma attached to calling for help. Directed by JD Mendonca and written by three-year hotline counselor Ted Hornick, the project also came to be with the help of several David Lynch collaborators, including Sheryl Lee as 'Mona,' Sabrina S. Sutherland and Michael Barile as executive producers, and Twin Peaks stand-in 'Skip' Buccola as a creative associate.
Welcome to Twin Peaks spoke to both Sheryl Lee and director JD Mendonca about the limited web series, but first, please find a quiet place and take some time watch the poignant premiere of Correspondence.
Correspondence I of VI (featuring Sheryl Lee & Garon Atencio)
Interview with Sheryl Lee and JD Mendonca
WTTP: How did you get involved and why is this project important to you?
JD Mendonca: I thought to do this series in direct response to a particularly dark time I had gone through about a year and a half ago. I think I'm a naturally fairly hopeful and optimistic person, sometimes naively so, but late one night I had a self-destructive thought that was very alarming. I've always been reluctant to burden the people I care for with any personal problems I go through. Reluctant to ask for help, to a fault. But something was very different about this particular thought, and the timing of it came after a year of me actively making an effort to truly improve my life. I realized I had done all I could on my own and needed professional help. I had genuinely never looked into anything like that before, so I dialed 911, as I truly didn't know what else to do. And I asked for help… The compassion I received over the next 24 hours saved my life, and changed it in ways I can't express. I realize now that that was the specific journey I needed to go on to get to a place where I reached out, but I do wish I wasn't so reluctant to. Correspondence is an effort to try to encourage anyone in need to not be too reluctant to ask for help… Even if it's to as unlikely an ally as a stranger over the phone.
Sheryl Lee: I was on a plane in Australia and the wonderful Sabrina Sutherland, who was sitting next to me, told me about it. I am very grateful to be a part of it as I want to serve suicide prevention in any way that I can.
WTTP: Observing just one side of the phone conversation, as a viewer, you realize you know just as much about Mona as the person trying to help her: nothing. And that's incredibly daunting. What do you know about her?
Sheryl Lee: My knowing of her is internal, from the place where we are all one and share loneliness, heartbreak, hopelessness, grief, despair and depression.
WTTP: We then witness how all of a sudden a conversation between two strangers can take a wrong turn. What would it take for Mona, or someone in her situation, to ever call back?
Sheryl Lee: I think this question is probably best answered by a professional, but my instinct is that most of us want to feel that we are in a safe place emotionally and physically. We want to feel heard from an open heart and open mind without judgement. We want to feel cared for.
JD Mendonca: To the answer to this, at least as it particularly pertains to Mona, stay tuned until episode 5 to be released on February 28th.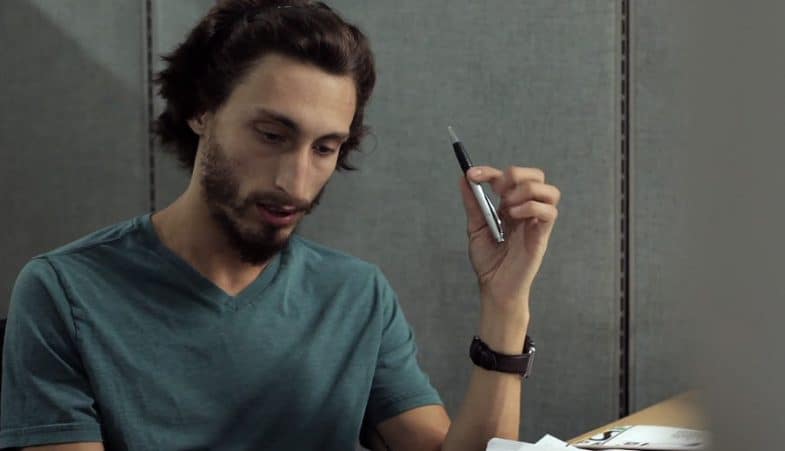 WTTP: What do you hope Correspondence will accomplish?
Sheryl Lee: I pray it will be a life raft of support for anyone considering suicide… that it reaches out to them across the airways with a steady, strong hand of compassionate care and support so they will know they are not alone no matter how alone they feel… that we do care about them and there is help and hope here. I also hope that it will raise awareness for our culture and be helpful and healing for those that have friends or loved ones who struggle with thoughts or attempts of suicide.
JD Mendonca: I do hope that some viewers may feel inspired to volunteer at, or donate to, the Suicide Prevention Lifeline or the American Foundation for Suicide Prevention. More than that, though, if we encourage a single viewer in emotional crisis to call and ask for help, than this work will have been more than worth it. We've also made a real effort to try to present a genuine person in the character of our counselor, faults alongside his qualities. I believe it's essential for a potential caller to know that their counselor may, and most likely will, say the wrong things to them at times… For true progress to occur, an effort to improve and show compassion needs to come from both parties. Everyone needs to save themselves but no one can do it alone.
WTTP: To conclude, do you have a message to those struggling with mental health issues right now?
Sheryl Lee: Please be gentle and kind with yourselves. There is much love and support only a phone call away. You are not alone in your suffering.
JD Mendonca: I can't express any message better than Sheryl just did perfectly. I echo her words exactly. I think it's important to say that we're not being paid to promote the Suicide Prevention Lifeline at all. This series was independently funded by our creators, and any profit that is potentially made from this series will be donated entirely to the Suicide Prevention Lifeline because we believe in the efforts being made there. If you are in emotional need of help, start here: 1-800-273-TALK (1-800-273-8255).
WTTP: Thank you both for your time and for tackling this difficult but important subject in such a powerful way.
Future episodes will be released over at Misfit Picture Shows over the next few weeks. Here's the complete schedule:
Thursday, February 7th: EPISODE ONE (featuring Sheryl Lee, #SendACardToAFriendDay)

Thursday, February 14th: EPISODE TWO (#ValentinesDay)

Sunday, February 17th: EPISODE THREE (#RandomActsOfKindnessDay)

Thursday, February 21st: EPISODE FOUR

Sunday, February 24th: OUTTA MY HEAD (CORRESPONDENCE, an Interlude)

Thursday, February 28th: EPISODE FIVE (Sheryl Lee's caller from Episode One returns)

Thursday, March 7th: EPISODE SIX (the Finale, #NationalBeHeardDay)
You are not alone.
Episodes will be embedded below as they're released.
Correspondence II of VI
Correspondence III of VI
Correspondence IV of VI
Correspondence V of VI (featuring Sheryl Lee)
Correspondence VI of VI