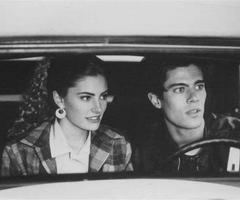 Twin Peaks co-stars Mädchen Amick (Shelly Johnson) and Dana Ashbrook (Bobby Briggs) will be appearing in upcoming episodes of the FBI dramedy, White Collar, just one week apart. From Hollywood Reporter:
Amick will play Selena Ellis in the episode titled "Veiled Threat" airing July 5. Selena is described as a sultry femme fatale who is suspected of marrying wealthy men for money. The real question is: Will she catch Neal's (Matt Bomer) eye?
Ashbrook's turn follows in the July 12 episode, appearing as Carlisle opposite guest star Hutch Dano in "Scott Free." Carlisle, a millionaire playboy who loves to spend big bucks on extravagant, over-the-top objects that label him as a status symbol of wealth.
Are you a fan of White Collar on USA? And will you be watching these episodes?