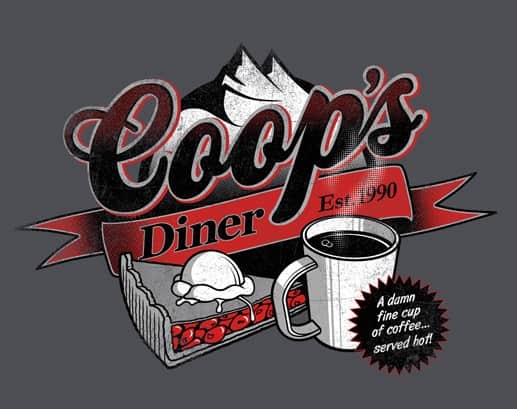 Not sure if this Coop's Diner t-shirt implies that Dale Cooper took over the Double R, or that Coop opened his own diner in Twin Peaks. Either way, it's a beautiful t-shirt which I already happen to own, and gets a lot of comments when I'm wearing it! Notice how the "Twin Peaks" mountains in the back seem to be made of delicious whipped cream. And even though it was based on the Coors logo, it makes me think of nothing but cherry pie with vanilla ice on top, and damn fine coffee.
Est. 1990. A damn fine cup of coffee… served hot!
Today only, you can buy this t-shirt for just $10. At that price you should also get a spare, 'cause you'll be wearing this one on a daily basis. Available in men's and women's sizes on a charcoal tee.
Update: This sale is over, but you can still get Coop's Diner t-shirt for its regular price here.