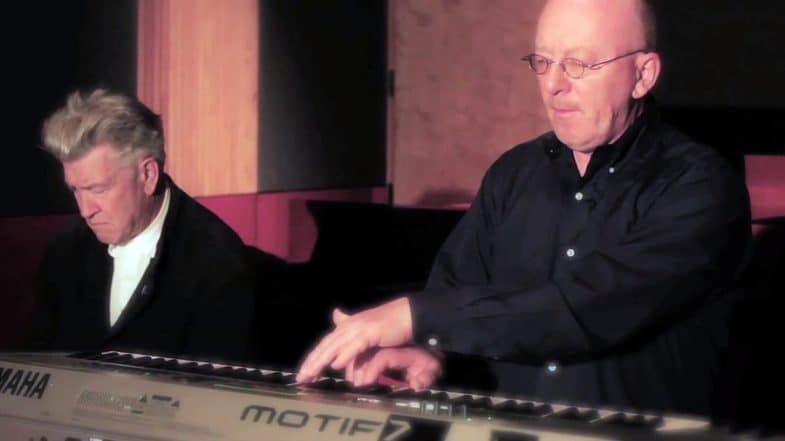 Barren train stations, Polish factories at night, and silent hotels where lonely travelers meet. These are the images and suggested narratives that pervade the spirit of Polish Night Music, the musical collaboration between American filmmaker David Lynch and Polish concert pianist and composer Marek Zebrowski. "We don't know what will happen," says Lynch, simply. Somewhere in this not knowing exists the experience of a Polish night, and this album is its soundtrack.
Between 2004 and 2006, David Lynch and Polish pianist Marek Zebrowski —who worked as a translator for Lynch while shooting Inland Empire in Lodz— collaborated on a series of musical experiments at Asymmetrical Studio in Hollywood with some additional field recordings in Poland. The result of those improvisations can be heard on Polish Night Music, an out-of-print album that was released on CD in 2007 but is now getting a limited edition vinyl pressing on December 11 as well as an iTunes release on November 13, 2015.
Several years after the original release, in March 2011, the duo gathered again in Lynch's studio to record this live improvisation track. Aside from some snippets here and there, there isn't a lot of footage out there showing David Lynch making music and here are 9 minutes of just that. Like the liner notes of Polish Night Music: "(play after dark)".
Starting today, you can pre-order Polish Night Music as a 2X heavyweight LP. The vinyl release comes with a free download code that includes the previously unreleased bonus 4 track live album recorded in 2006.
Polish Night Music
The album is now streaming on Spotify.
Disc 1
Night – City Back Street 13:30
Night – A Landscape With Factory 17:41
Disc: 2
Night – Interiors 26:46
Night – A Woman On A Dark Street Corner 18:51
Live At The Consulate General of the Republic of Poland
Night (Memories of Machines)
Night (Unfilled Dreams)
Night (The Great Electrical Pants Stand Like Cathedrals)
Night (Snowfalls Through The Black Leafless Trees)