Unless you've been living in an alternate universe and only just got out, you've probably seen some of Greg Ruth's graphite Twin Peaks art float by on social media. A graduate of the Pratt Institute and multiple award-winning artist who worked with The New York Times, Criterion, DC Comics and many others, Greg has occasionally found himself inspired by the world of David Lynch and Mark Frost in projects such as his debut graphic novel, The Lost Boy (Amazon), and Logs I Have Known. Now, thanks to Mondo, Showtime, and David Lynch himself, his most recent undertaking, The Art of Greg Ruth – A Twin Peaks Interpretation, will be exhibited in full glory —that's over 60 pieces— at Mondo Gallery in Austin, TX, from March 8 through 12, 2019.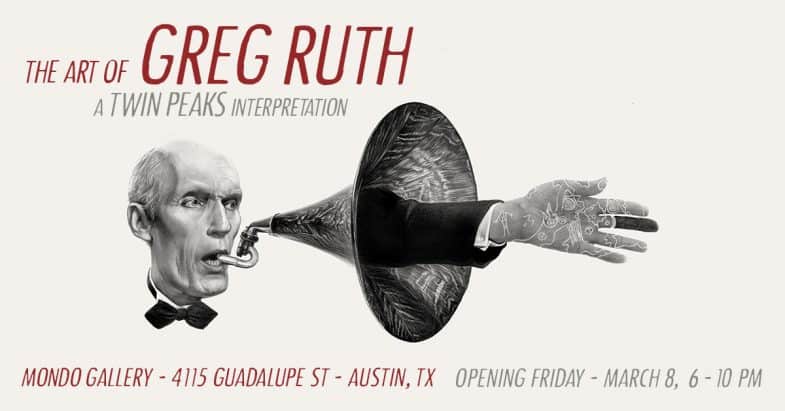 Ahead of the exhibition's official opening on Friday, Welcome to Twin Peaks has the honor to exclusively reveal the five giclée prints of Series 4, which will be available for sale during the exhibition and later online at mondotees.com starting April 11th. But first, Greg gives us insight into his ongoing fascination with Twin Peaks and the Lynchian experiences that ensued while working on this grand project.
Welcome to Twin Peaks (WTTP): Let's go way back in time. What was your introduction to the world of David Lynch?
Greg Ruth: I think the very first film I saw of his must have been The Elephant Man when it came out. I had gone into the movie familiar with John Merrick's story and morbidly curious to see him walk about as if I were going to a carnival sideshow. A few of these depressing traveling caravans were still tooting around Texas when I was a kid and they always held a kind of repulsion/attraction experience for me. The film is a kind of restrained weirdness to it but the heartbreaking humanity in the film surprised me, and pointed a terrible finger at my participating as a spectator that always intrigued me. I came away feeling uncomfortable and moved and that was new. I went to a midnight screening of Eraserhead with The Alphabet at a local art house theater the next week and was hooked forever.
WTTP: Did your appreciation for David Lynch evolve over the years?
Greg Ruth: Well, sandworm muppets aside, I loved Dune and Blue Velvet is one of the most perfect films ever and it grew from there. When Twin Peaks landed while I was in art school at Pratt in Brooklyn around 1990, it was a game changer for a lot of us. The whole campus would go quiet on Saturday nights as we ran into whichever dorm room had a working TV and crowded around it for the latest episode. As I grew and began to set out on my creative career, I always admired David's work, if for nothing else the mere singularity of the truth of his own vision he embraced. Of all the directors at the time, when given the opportunity, he chased his own themes rather than status or money and I really respected that fealty to his art. Still do.
WTTP: My first encounter with your work was "Logs I Have Known" from 2011, which was a more subtle nod to Twin Peaks and the Log Lady in particular. How did that come about?
Greg Ruth: Well, we heat primarily with wood out here in the hills, about six or seven cord per year. And when you interact it's your heat source like this, it's personal and can become weirdly affectionate. We have the firewood delivered, bucked and split via this humongous dump truck, so we have to stack them into exterior bays, then bring them in throughout the winter on a cart then handle them once more as we load them into the stove. As a result you become really intimately familiar with certain logs. Ash, maple, cherry, beech, oak… they all have these gorgeous swirls and unique bark shapes. The way they were cleaved from themselves and their size bestows upon them a sense of character I wanted to capture in portraiture like Victorian memento more daguerreotypes. The connection to Catherine Coulson's Log Lady was impossible to escape so I embraced it fully. I have never gotten more random love letters and hate mail about any project I have ever done before. It's mysterious.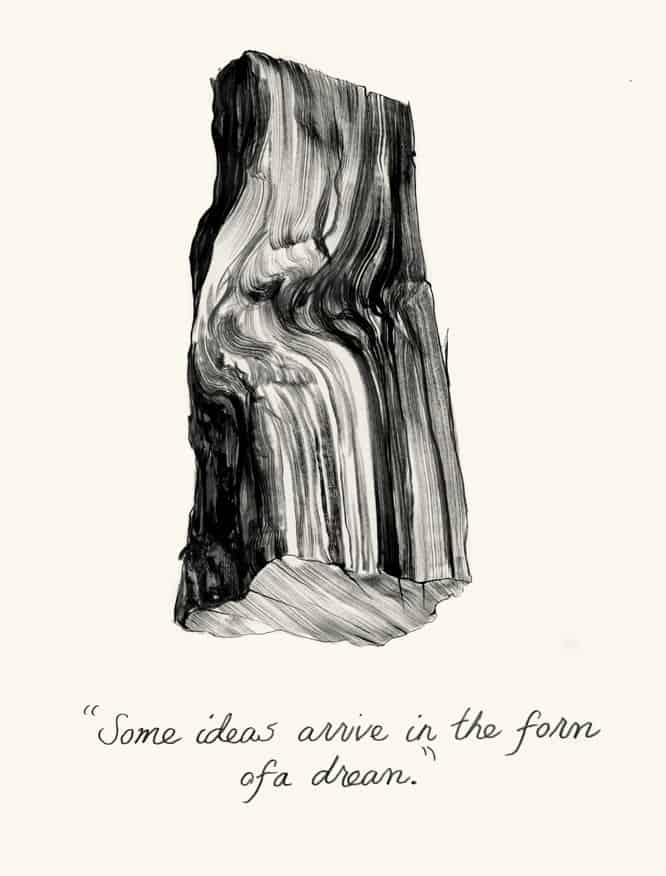 WTTP: So at what point did you realize you had to do a new Twin Peaks-inspired series?
Greg Ruth: At first with the small portraits [The White Lodge, ed.], it was a familiar subject matter to use to explore the new medium of graphite for me. But the new series did something else. When I first started tackling these little portraits, they took hours. It was slow and meticulous even at four inches square. By the time The Return aired, I had done a few other genre based themes using this medium and technique an had gotten things together more so after seeing the first episode I had the practical skillet to try and return to Twin Peaks on a grander scale.
I did that first drawing of Cooper floating in that glass cube in NYC and when I was done I couldn't wait to do more. David got into my brain. The timing was perfect too- I had just finished INDEH (Amazon), my graphic novel with Ethan Hawke focused on the Chiricahua Apaches in the 1800's and it was a perfect salve to ease my post-partum feelings after that big effort had concluded. I had time and a fever and it was off to the races from there.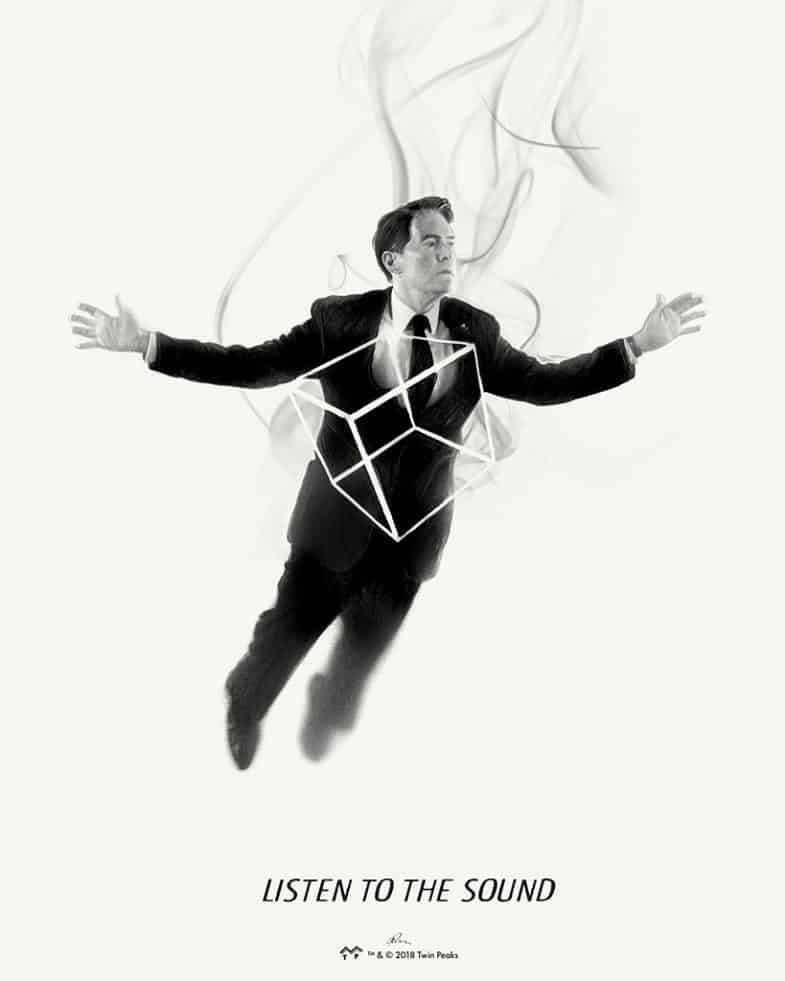 The ghost is far more interesting before you discover what it really is and why it's there, so I prefer to linger in that mysterious time before clarity- especially for a show like this . . . Some things are made eternal as experiences rather than in analysis.
WTTP: Did you envision the project becoming this big?
Greg Ruth: Those first two drawings set the stage: Cooper floating in his glass capture-box, and then the portrait of Cooper split apart and penetrated by the branch changed a lot of how I worked on previous themed series for The 52 Weeks Project. The deep dive into the Lynchian dictionary the show was doing was a huge departure from the previous seasons of the show on several levels and it challenged me to push beyond my expected comfort zones as well. I had done a previous series of character portraits, so this needed to be deeper and more to hold and keep my interest. I hadn't expected it to be more than four or five pieces as an homage and a hardening back to the original series, but it caught fire and I couldn't stop.
As per usual the drawings were sold, but these were much more expensive than previous efforts and such a specific genre theme I didn't expect them to become so popular. By the fifth or sixth drawing they went like hot cakes and that afforded me to keep going in practical ways beyond the artistic obsessive motivations. It was like being given a whole language to craft new sentences from and was a landscape to experiment with techniques and visual ideas I hadn't had the opportunity to really tackle before. I'm still not done either and have just finished five new pieces. There's just something about this story to sparks more stories and speaks to me on a level I can't quite understand yet. I'm not sure I want to either.
WTTP: What was your process like? Did you write down ideas while watching the new episodes, or did you take some time to let everything sink in?
Greg Ruth: Hard to say. It was such an amorphous tale with dips back and forth in time and space, I just let the process roll on in response to that. Sometimes a particular image or moment would spark an idea for a piece to be executed the next day, other times just sitting down to a blank sheet of paper would spark the path forward. There were times that I did a portrait weeks after a particular scene happened and some that became weirdly predictive of what was coming. The results always surprised me and I've come to find in this art thing, that you aren't well served by questioning the genie's gifts, so I just let it happen however it happened. There were times I had a long queue of images I wanted to tackle. Jolting up awake late at night to write down some notion, or have a particular drawing technique to explore that sought a home to dance in…
WTTP: Which pieces got the most interesting fan reaction when you shared them?
Greg Ruth: I think "Non-Exist-Ent" was one that first grabbed the most headlines, shares and the attention of the cast and Showtime. The Bowie portrait, "We Are Not Going To Talk About Judy" was another big one. About a dozen became repeated and reshaped online and in social media. They all sparked early calls for prints, as the originals had sold out and the price range didn't suit everyone's budget, but I wasn't looking to make products without copyright permission despite the call fo them, so I just soldiered on assuming this would run its course and I'd move on after. there were and still are a few shady online sites that have illegally stolen the work to sell t-shirts and iPhone cases or whatever, and its been interesting to see both the backlash to that and those that eagerly were glad to have someplace to get something. I had one person accuse me of actual sorcery because I had apparently reached inside her dreams and plucked from there the image that became "This Is The Water, and This Is The Well". It was both an angry and wild hate mail but also so deeply written I can't help but see it as a love letter. I kept that one of course.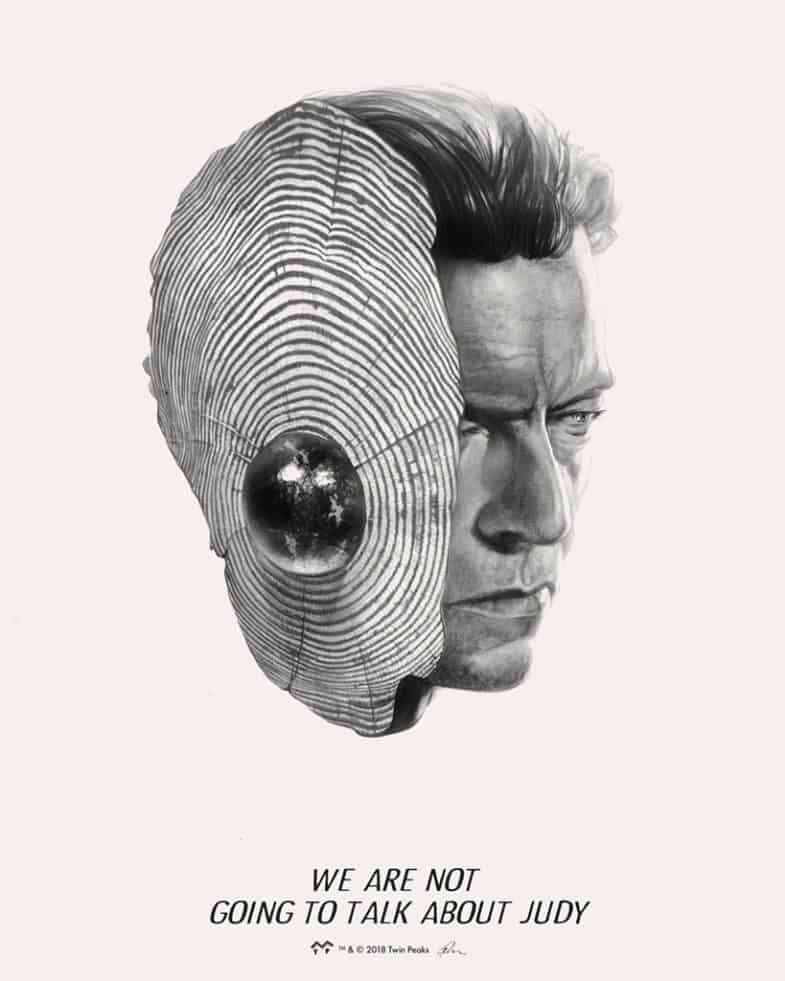 I had one person accuse me of actual sorcery because I had apparently reached inside her dreams and plucked from there the image that became "This Is The Water, and This Is The Well".
WTTP: Can you talk about any responses you got from the Twin Peaks cast?
Greg Ruth: Well, I have come to find the best way to keep access to these realms is to not turn those opportunities to mingle into selfies so I can't really speak to specific responses. That said, the response from many of the cast and creative forces behind the show, including Showtime's support have been beyond terrific. I have when the original was gone happily printed out full sized giclées of a piece particular to a member of the cast when they've gotten in touch. I was sent t-shirts and Double R diner mugs and I even have a handmade Black Lodge necktie I must of course don for the opening of the show on March 8. But the communication and kind notes from the cast have been beyond fantastic and very warmly received. Really cool to have come upon Audrey Horne back in college, do her portrait a few times and hear from her after, or Bobby, Andy or Agent Cooper himself. It's been wild and wonderful.
WTTP: In a way, you give us an insight in your own theories about certain elements of the show. While working on these pieces, what did you figure out about Twin Peaks that you otherwise wouldn't have?
Greg Ruth: I used to be of the ilk that sought to answer all the questions of the show, and I've certainly immersed myself in some of the fan theories out there, and delighted in the books the creators published as part of the world they created. But I don't hold necessarily to the idea of answering the show's questions as a value. The ghost is far more interesting before you discover what it really is and why it's there, so I prefer to linger in that mysterious time before clarity- especially for a show like this.
That said, a lot of what I suspected from watching the first series back in the '90s came to pass as true and more than I expected based on information from the Return. There's a law of diminishing returns in storytelling when some weird threat becomes overly clarified later… whether its the Force, or the cyclones, or Westworld… the answers tend to make them smaller. Somehow in The Return, the more we come to know, the bigger it got. It flipped that script in a way I never expected while I have a ton of personal theories about what certain elements meant, I'm not eager to reduce them through explaining. Some things are made eternal as experiences rather than in analysis.
WTTP: Tell us three things about your pieces that we don't know yet.
Greg Ruth: Okay… no one to date has noticed the hidden image of Judy in the piece "We Need to Talk About Diane" [Can you spot it in the image below? -Ed.] "There's a Fire Where You're Going" literally came in a dream… and "Time and Time Again" came to being as a result of a fever-born hallucination.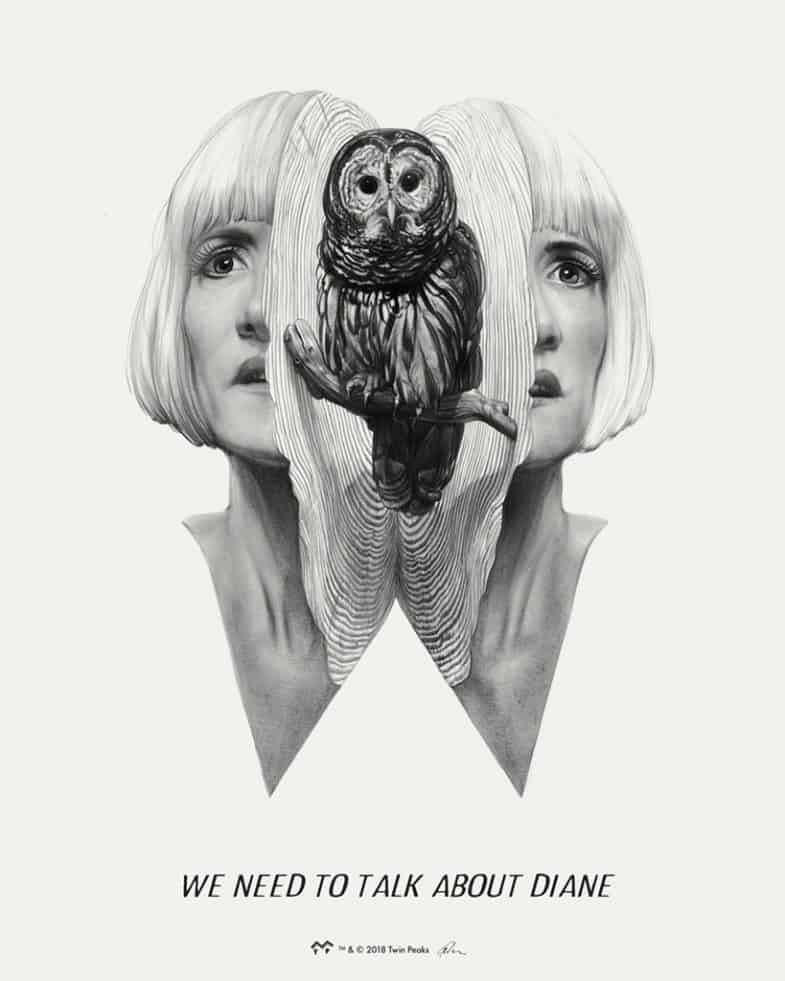 WTTP: What was David Lynch's involvement? Did you have to get his stamp of approval?
Greg Ruth: As a result of the series' popularity when this last set was rolling out, it caught the attention of the creators, cast and networks and they have been all terrifically supportive of the effort. They pretty much let me run free, and Showtime even got in touch and did a feature of the series, and sent along some great swag and a Blu-ray set of the show. David's an artist himself and very particular of what art gets used or supported based on his material and I never really expected we'd ever get his okay to do this print series given that specific intent. No one had ever really managed it, particularly with Twin Peaks, so it's beyond any dream I could have had to be here in this moment right now. If only I could whisper to myself back at Pratt when this was first birthing itself onto the world…
WTTP: You mentioned visiting someone's dream earlier. Did any other Lynchian things happen during this venture?
Greg Ruth: Too many to count and given the weirdness and dreamlike state from which these pieces were created I couldn't hope to number them here. It's a bit like being caught up in a tidal swirl of someone else's design. In many ways this aspect of making art, when the narrative symbology is someone else's, is tremendously freeing and allows all the energy to be focused on the interpretation of the subject rather than also having to build itself from the ground up. You get to play with building blocks rather than be burdened with the total invention of starting on a white canvas. Somehow that invited the strange in more ferociously, and while in it, the coincidences, patterns and connections of the world this world has touched.
WTTP: Is there anything you would like to learn from those who visit your exhibit at Mondo Gallery in Austin, TX?
Greg Ruth: I just love hearing from fans of the series, of the show and their ideas that come from what they've witnessed. The personal stories good and bad that they seem to spark are always wonderfully fascinating to hear. Twin Peaks fans are not dummies- the show tends to attract wildly intelligent artist minds and crosses and blends all the usual gender boxes that some genre materials segregate, and I love witnessing the range of people from old and young that come to this arena. I just can't wait to meet them again in Austin and hear what they have to say. The audience is always so much more clever than you think they could be and I've found it's wise to listen to the sounds, and pay strict attention.
WTTP: Thank you for this interview and for sharing your amazing work, Greg! Congratulations and best of luck with the exhibition. And as promised, here's the exclusive reveal of Series 4…
EXCLUSIVE: The Art of Greg Ruth – A Twin Peaks Interpretation Series 4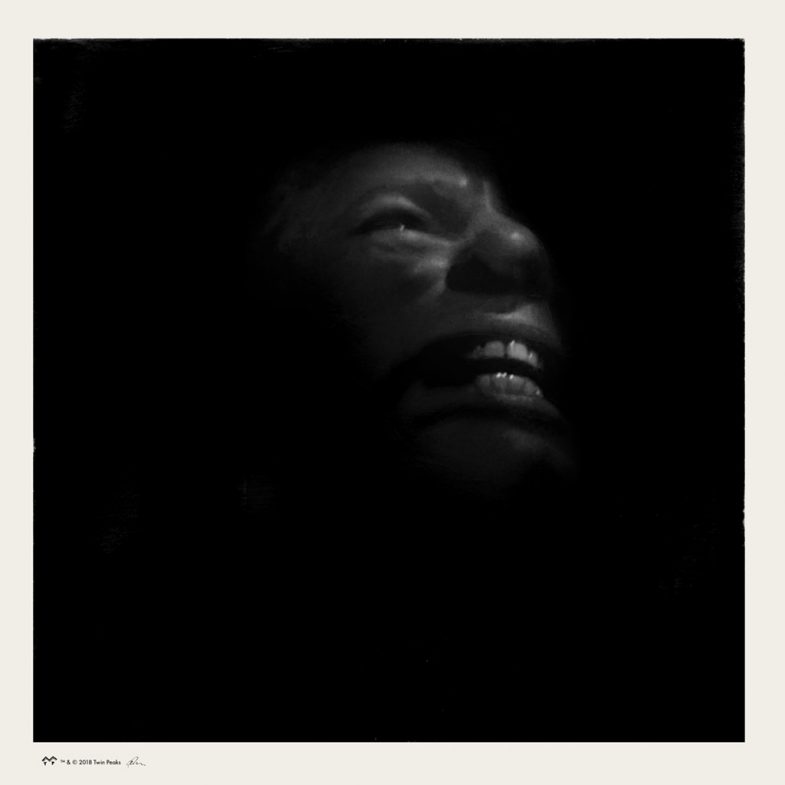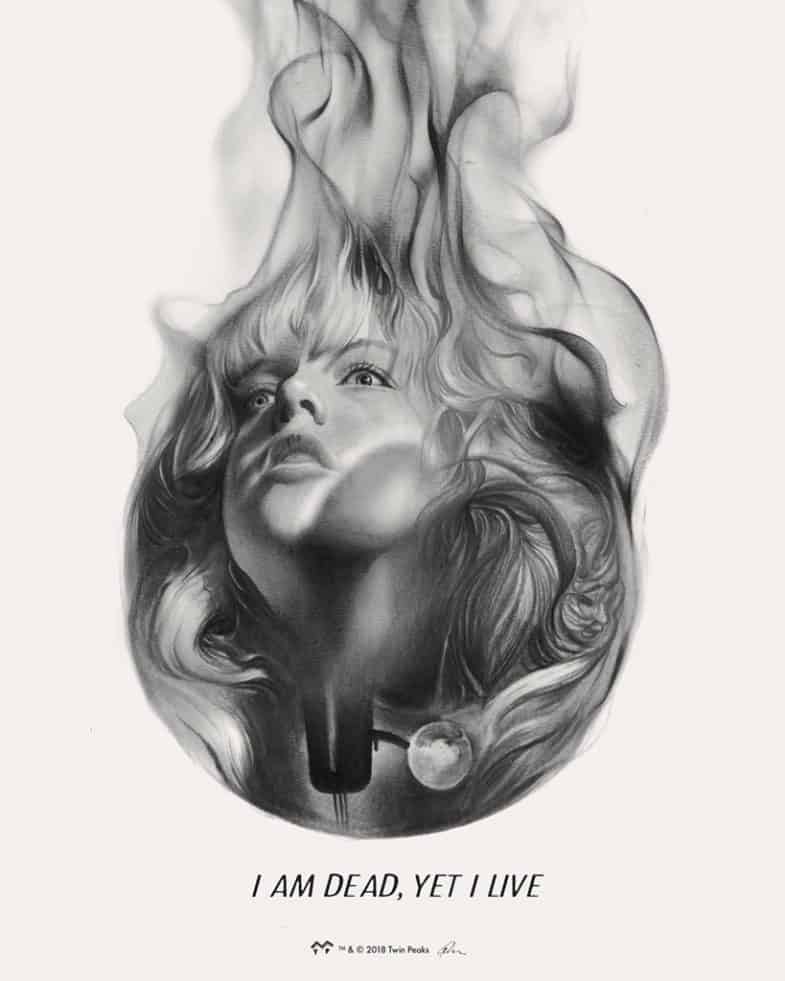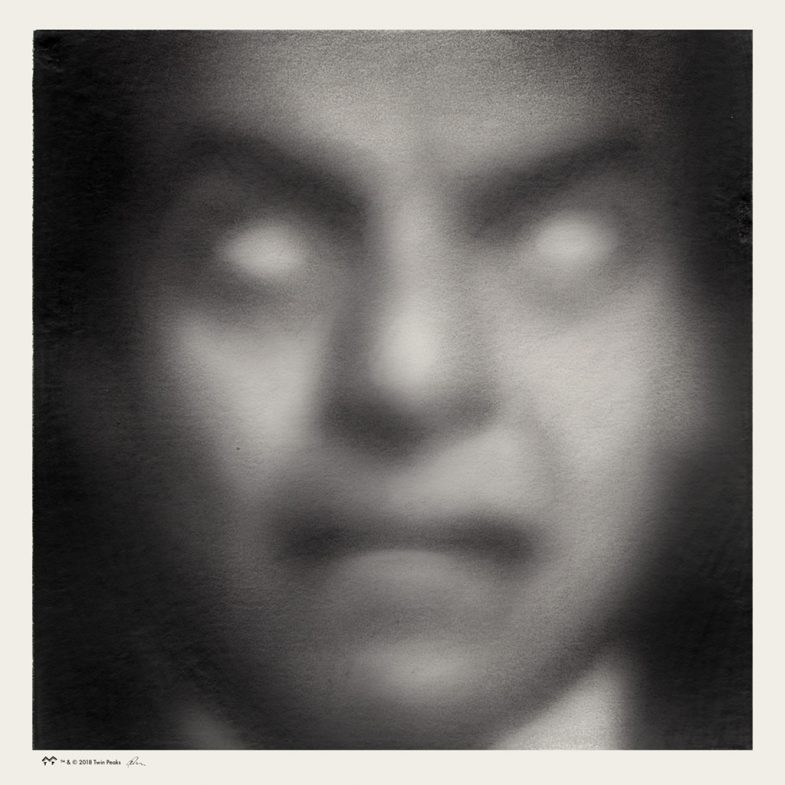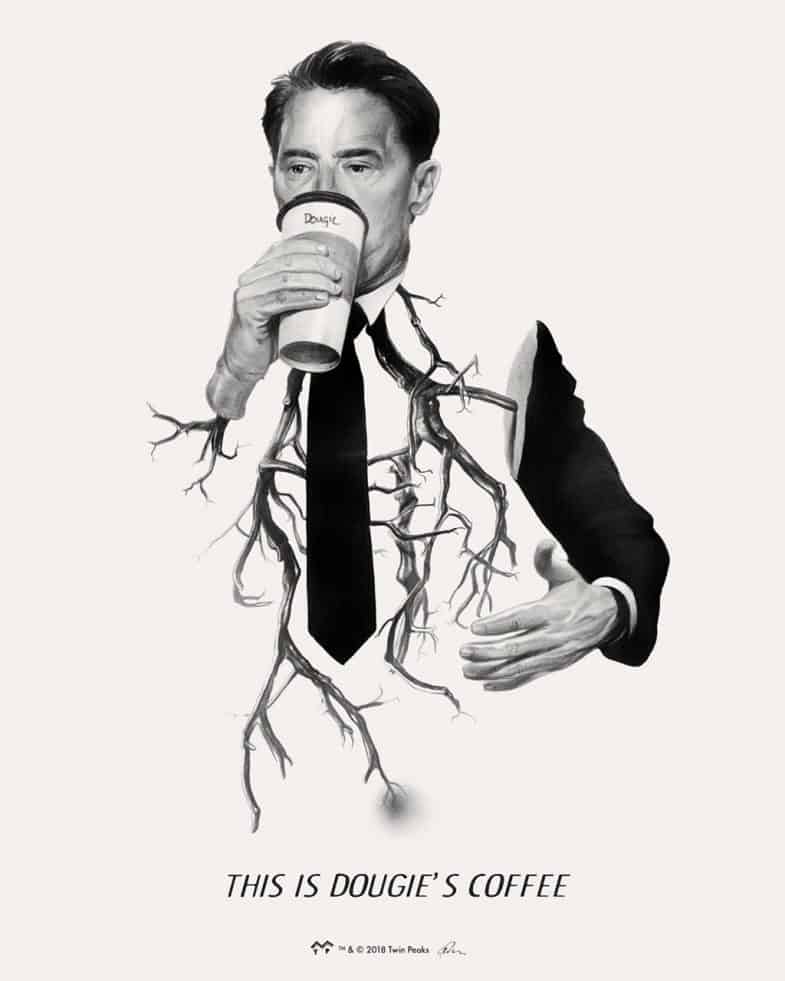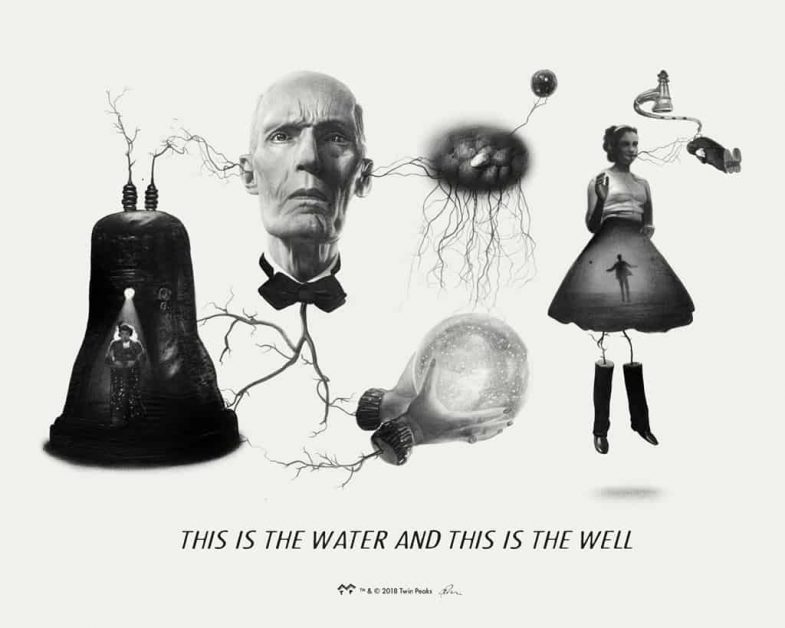 The Art of Greg Ruth – A Twin Peaks Interpretation (Gallery)
BONUS: Watch Criterion's Studio Visits with Greg Ruth