Twin Peaks screenings and marathons are usually mentioned on Twitter and Facebook only, but I'm making an exception for the marathon at Sun-Ray Cinema this weekend because they've really upped the ante when it comes to serving Twin Peaks themed food and drinks.
Not content with offering the Twin Peaks trifecta of coffee, doughnuts and cherry pie, they've put together a special Double R Diner style menu. With items such as Bob's Alphabet Soup and the famous Horne Brothers brie and butter baguette, it looks like the food alone is worth a stop (though M.T. Wentz might disagree). You will need the 25.6 hours of Twin Peaks binge-watching to try everything on the menu.
RR Diner Menu For Sun-Ray Cinema's Twin Peaks Marathon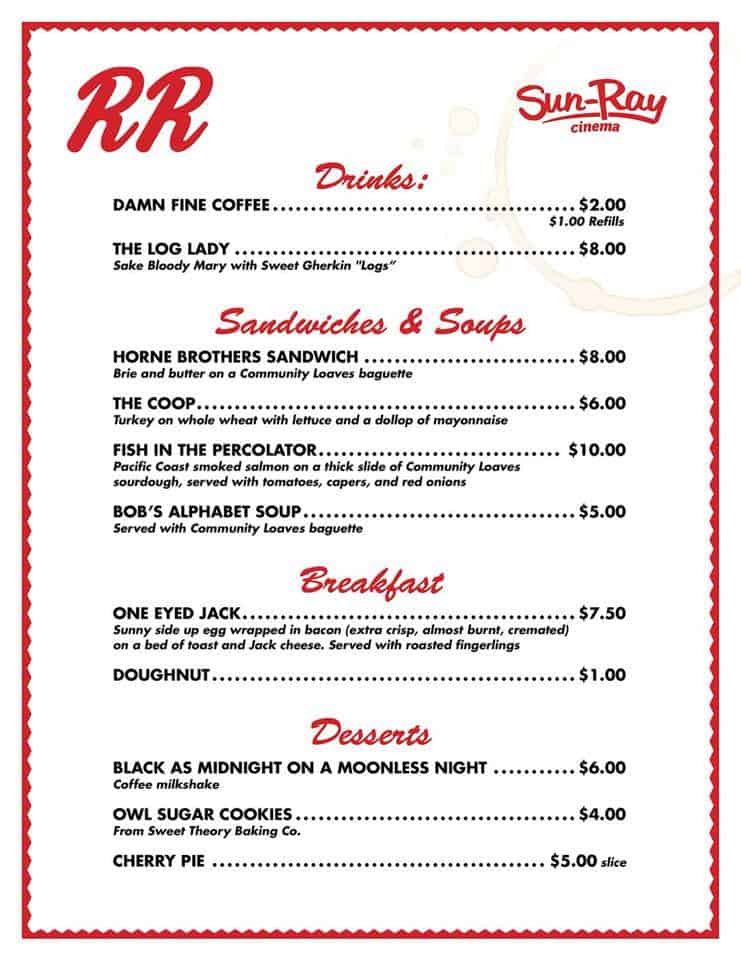 An overview:
Damn fine coffee ($1 refills)
The Log Lady cocktail (with sweet gherkin "logs")
Horne Brothers Sandwich (brie and butter baguette)
The Coop (turkey on whole weat)
Fish In The Percolator (Pacific coast smoked salmon)
Bob's Alphabet Soup (look for the letters R, B, O and T)
One-Eyed Jack (a sunny side up egg)
Doughnuts
Black as midnight on a moonless night (coffee milkshake)
Owl sugar cookies
…and cherry pie!
The Twin Peaks marathon at Sun-Ray Cinema (1028 Park St, Jacksonville, Florida, USA) starts Friday, August 22nd at 8 PM. Tickets are $10 and the proceeds go to Hubbard House.
This excellent poster by Sean Tucker will be on sale too, as well as t-shirts by Richard Colorado.