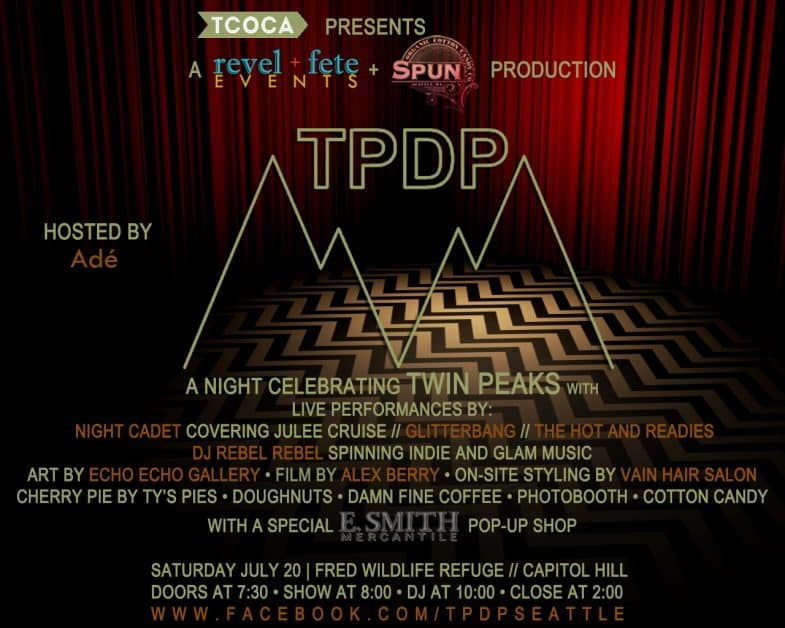 Local businesses and artists in Seattle, WA have collaborated to produce an epic night dedicated to Twin Peaks. Hosted by Adé, the Twin Peaks Dance Party in Seattle's Capitol Hill neighborhood will have live performances by GLITTERBANG, Night Cadet (covering Julee Cruise), The Hot And Readies (cover band playing Twin Peaks-inspired doo wop). DJ Rebel Rebel is on deck duty, while Alex Berry takes care of the "video magic". But that's not all…
Upstairs in the Black Lodge, you'll be able to taste fresh baked cherry pies from Ty's Pies or the newest, Twin Peaks-inspired flavor from SPUN Cotton Candy. You'll be able to get Twin Peaks hair and makeup courtesy of VAIN. There will be a pop-up shop, an art show by Echo Echo Gallery, a photo booth, coffee, doughnuts, special guests, craft cocktails, costumes… and drag queens (Denise!).
If you're going, make sure to snap some photos and share them with Welcome to Twin Peaks!
Date: Saturday, July 20, 2013 at 7:30 PM-2:00 AM
Venue: Fred Wildlife Refuge, 127 East Boylston, Seattle, WA 98102
Tickets: A limited number of standard tickets are still available for $20 here (groups of 8 or more pay $15 per person)
UPDATE: Photos from the event by Brady Harvey