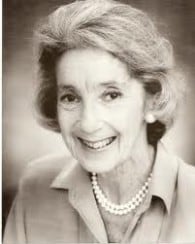 Canadian actress, Frances Bay, passed away at age 92 on September 15, 2011.
Starting a screen acting career only in her late 50's, her filmography lists over 150 titles. Cheers, Charmed, E.R., The X-Files, Happy Days, Seinfeld… Name a popular TV series and Frances was in it. Of course, the actress was also a Lynch favorite, playing Mrs. Tremond in Twin Peaks and Mrs. Chalfont in Twin Peaks: Fire Walk with Me, aunt Barbara in Blue Velvet and a madam in Wild At Heart.
May she rest in peace.
Here's her memorable "creamed corn" scene with Lara Flynn Boyle and David Lynch's son, Austin Jack Lynch.
Frances Bay on meeting David Lynch and small towns:
Frances Bay as Mabel Choate in the Seinfeld episode "The Rye", which also starred Grace Zabriskie (Sarah Palmer), Warren Frost (Dr. Hayward) and Don Amendolia (Emory Battis)!
BONUS: Frances Bay, member of the Elder Wisdom Circle ("your grandparents in cyberspace"):