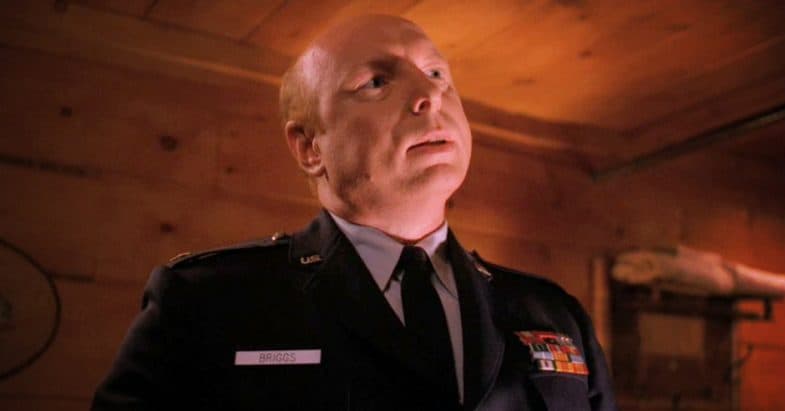 On June 29, 2008, actor, visual artist, theater professor and U.S. Army captain Don S. Davis suffered a fatal heart attack at the age of 65. Former fest organizer Jared Lyon made the following video tribute to Don and his work as Major Garland Briggs in Twin Peaks, which was shown at the Seattle Art Museum as part of the 2008 Twin Peaks Fest where he was originally expected as a special guest for the 9th time.
A favorite character of many, Don will be sorely missed when Twin Peaks returns. There's no doubt David Lynch and Mark Frost will honor his important role in the world of Twin Peaks. If not in the new series, then at least in The Secret Lives of Twin Peaks. Unless, of course, whatever happened to Major Briggs remains "highly classified".
Twin Peaks Tribute to Don S. Davis (August 4, 1942 – June 29, 2008)
The Major's Vision
One Cloud of the Roofs made the following edit mixing the Major's speech to his son, Bobby Briggs, into M83's Sister (Part 1).
https://soundcloud.com/one-cloud-of-the-roofs/major
MAJOR BRIGGS
Bobby, may I share something with you?
A vision I had in my sleep last night. As distinguished
from a dream, which is a mere sorting and cataloguing
of the day's events by the subconscious; a vision, fresh
and clear as a mountain stream, the mind revealing itself
to itself.
In my vision I was on the verandah of a vast estate, a
palazzo of some fantastic proportion. There seemed to
emanate from it, a light from within this gleaming,
radiant marble. I had known this place. I had, in fact,
been born and raised there and this was my first return, a
reunion with the deepest wellsprings of my being.
Wandering about I noticed happily that the house had
been immaculately maintained and there had been
added a number of additional rooms but in a way
that blended in so seamlessly with the original
construction one would never detect any difference.
Returning to the house's grand foyer, there came a knock
at the door.
My son was standing there.He was happy and
carefree, clearly living a life of deep harmony and joy.
We embraced, a warm and loving embrace, nothing
withheld. We were, in this moment, one.
My vision ended and I awoke with an overwhelming feeling of
optimism and confidence about you and your future.
That was my vision of you.
I'm so glad I've had this opportunity to share it with
you.
I wish you nothing but the very best in all things.
BOBBY
Thank you. Dad
MAJOR BRIGGS
I'll see you later at home.
BOBBY
Okay.