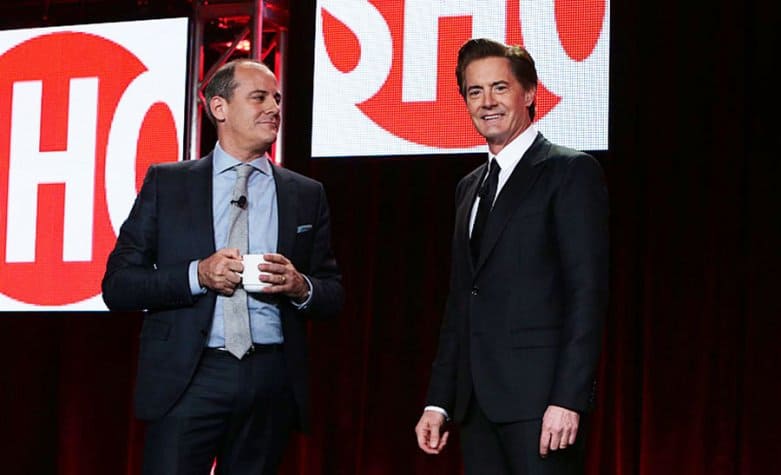 [bctt tweet=""I think Twin Peaks is going to be a work of, dare I say, genius. I don't use that word lightly." —David Nevins" via="no"]
In an exclusive conversation with Bloomberg, Showtime's David Nevins describes David Lynch as a genius and an "incredibly efficient director" who is currently working with many longtime collaborators on something that's going to be "really special television." And really special television calls for a unique approach.
No, you won't be able to binge-watch Twin Peaks in its entirety on premiere day. Showtime's new CEO doesn't believe that Netflix's all-at-once release strategy would work for them, but he admits to considering other options for Twin Peaks than the network's standard weekly release format.
There's great value in having the conversation sustained over the course of a couple of months. […] Although I'll do different shows in different ways. When we put Twin Peaks out, maybe it'll be fun not to do just one a week, but to do it in a different way. Who knows. Something I'll talk about with David Lynch. There's all sorts of possibilities, but the idea of just throwing it out, having a week [or two] of buzz, and then having it die down, I don't think that makes sense for us.
Welcome to Twin Peaks ran a poll some time ago and two out of every three fans prefer the new episodes to be released week-by-week as opposed to simultaneously. But that was without considering options in between, such as scheduling multiple episodes back-to-back or throughout the week. There's clearly room for experimentation with the release format, at least on the network side, which leaves a lot of freedom to David Lynch and Duwayne Dunham in the imminent editing phase.  Episodes could have various lengths, subplots could be turned into mini-episodes, and what not.
But the willingness of Showtime to break out of its mold for Twin Peaks doesn't stop there. Commenting on the increasingly blurry line between television and film, David Nevins projects a guaranteed interest from movie theaters to screen the new Twin Peaks as an "out-of-home collective experience." If that's going to be the case, I have a feeling massive, massive quantities of pie and coffee will be involved.
Showtime CEO David Nevins talks Twin Peaks
Studio 1.0 with Showtime CEO David Nevins (03/20)