On Record Store Day 2014 (April 19), the exhibition soundscape David Lynch created with Dean Hurley for his 2007 The Air Is on Fire retrospective at Fondation Cartier pour l'art contemporain in Paris, will get a limited edition vinyl release on Brooklyn's Sacred Bones Records label.
In early 2007, David Lynch was the subject of a retrospective art exhibition at Paris' Fondation Cartier pour l'art contemporain. Evocatively titled The Air is on Fire, it was notable for being the first major comprehensive exhibition of the avant-garde director's paintings, photographs and drawings. It wasn't strictly a visual affair; throughout the entire gallery's two floors and four rooms, a pervasive, interactive soundscape escorted viewers through the work. That soundscape, which shares the name of the exhibition, was composed by Lynch and his collaborator, Dean Hurley, and it's being issued for the first time on vinyl by Sacred Bones Records as a special Record Store Day release.
The album will be released on 2,000 copies. If you prefer a digital version, you can already purchase the entire soundscape on iTunes (US) today.
UPDATE (May 16, 2014): Limited quantities of this vinyl release are now available through Sacred Bones (sold out). Some copies may be available on Amazon.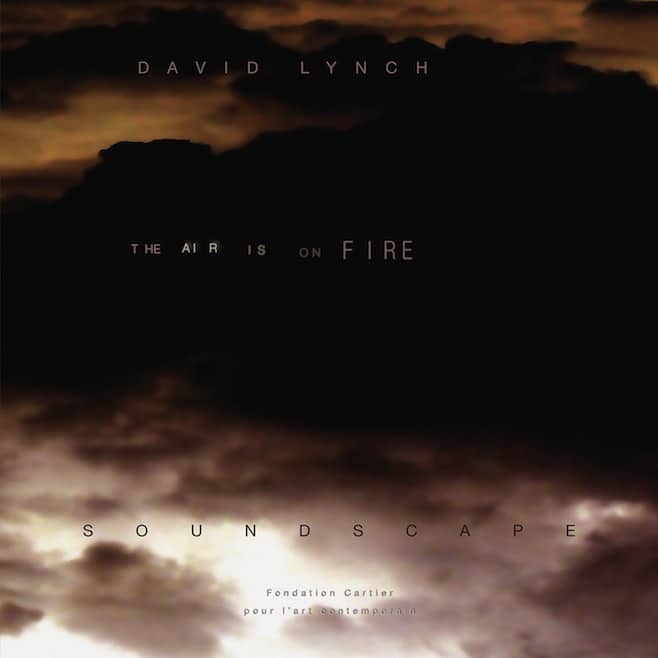 Musical collaborator 'Big' Dean Hurley talks about the piece:
The Air Is On Fire