French dark jazz collective Dale Cooper Quartet & The Dictaphones has just released their third album. I've been a fan since their 2006 debut ("Parole De Navarra") because, as the quartet's name suggests, there's no denying the influence of Angelo Badalamenti and David Lynch on their music. And luckily, "Quatorze Pièces de Menace" continues their "quest for dreamy but mysterious places". This is how their label Denovali describes the new album, which is now out in the U.S. (as MP3 or CD) and soon elsewhere:
"A hint of '50s cool jazz, a truckload of noise and melodies, again tiny references to the Twin Peaks series soundtrack and some ghostly and deep tone voices: the Dale Cooper Quartet pushes the genre Dark Jazz towards other spaces. The album is further enriched by appearances of guest musicians such as Alicia Merz (Birds of Passage), Zalie Bellacicco, Ronan Mac Erlaine and Gaëlle Kerrien (Yann Tiersen) on vocals."
The DC4tet, as Christophe Mevel, Gael Loison and Yannick Martin abbreviate themselves, was so kind to talk to me about their sound and their apparent and less obvious influences. May I suggest that you first hit the play button below to listen to the album (requires Spotify) and then continue to read the interview?
WELCOME TO TWIN PEAKS: Who is Dale Cooper Quartet & The Dictaphones, and please tell me it all started over a cup of damn good coffee at the local diner?
DALE COOPER QUARTET & THE DICTAPHONES: The Quartet started in 2002 as a real Quartet for an improvisation jazz night. It was supposed to be a one-off gig with four musicians from different bands. We wanted to make a mix of Angelo Badalamenti's soundtracks, especially Twin Peaks's, and Bohren & Der Club of Gore, a German cult band we were listening to a lot at that moment. Nowadays there are three permanent members and various guests. Some regulars, some only for when we're recording.
Maybe it was at a local diner that the idea appeared? We do not remember quite well. But coffee was involved, that's for sure. And it was surely late at night.
WTTP: You mentioned you were all coming from different bands. What kind of genres did you play before?
DC4TET: We all played in various bands, mostly electronic, instrumental, post-rock with tracks based upon loops and soundscapes.
WTTP: The first track on Quatorze Pièces de Menace immediately throws the listener into the darkness, without any warning. It's like you skip the introduction of the story and go straight to its darkest part. And for the next 21 minutes, even with your eyes open, you'll see grim alleys, shut-down factories, haunting shadows on old brick walls… As with all of your music, it's like you've scored an imaginary film. Can you describe your creative process a bit?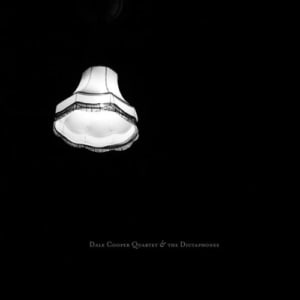 DC4TET: We thought it was fun to do an introduction-free record this time. And yes, it settles the rest of the record and drives the listener directly into our music. This track fits perfectly in its place and it seems natural, even though it's the longest song we ever wrote. Classic records often have a hit song placed high on the track listing and epic tracks like this one are then placed at the end, as if to prove to the listener that the band is doing odd stuff and to underline the "experimental" side of their music. We wanted it to be different: the most "poppy" song is placed at the very end of the record.
Our creative process is sometimes slow. Some albums take years, like our first LP, and some go faster, like six months of recording for the new one. We start with a backbone and add various layers and instruments. Also the mixing is as important as the recording.
WTTP: Angelo Badalamenti and David Lynch are obvious inspirations. Can you tell me about some other influences?
DC4TET: Our musical influences are wide and various. We share common tastes but most of all: we are friends, which is the easiest for making things go further. We often says that Brittany, our homeland, also inspired us quite a lot. It is supposed to be the most rainy part of France and it is full of mysteries and gloomy characters. That's the Twin Peaks connection, we guess.
WTTP: Which song from your entire repertoire has absolutely the strongest Twin Peaks vibe, according to you? And which song has the least?
DC4TET: "Calbombe Camoufle Fretin" on "Quatorze Pieces de Menace" has the strongest Twin Peaks vibe. And the least… maybe "Elle Agréable Rendez-Vous de Chasse" on "Metamanoir"as we tried to write a Morricone-style anthem for that one.
WTTP: I really dig your album music, so now I'm curious about your live performance. What's a live set like?
DC4TET: We often change the line-up. The core trio: electronics, keys and two guitars often becomes a true quartet —yes, we are not a quartet anymore— with a saxophone player. And sometimes we have singers on stage. We rarely do the same songs with the same line-up twice. It is mainly because our debut gigs were based upon improvisation and because we wish to avoid routine. That also helps creating a peculiar atmosphere around the band.
Can't wait to see you live someday. Thanks for the interview, guys!
Dale Cooper Quartet & The Dictaphones – Eux Exquis Acrostole, live at Denovali Essen (2013)
Here's a sample of their live performance.