David Lynch's MasterClass on Creativity and Film has opened!
Over the course of thirteen on-demand lessons exclusive to the MasterClass platform, David Lynch teaches his unconventional process for translating visionary ideas into film and other art forms. At your own pace and from anywhere in the world, you can watch David Lynch's classes, download a class-specific workbook, connect and share ideas with fellow classmates and occasionally submit your video questions to the class Q&A. Some questions will be selected to be answered directly by the director, so join soon if you don't want to miss out on that rare opportunity.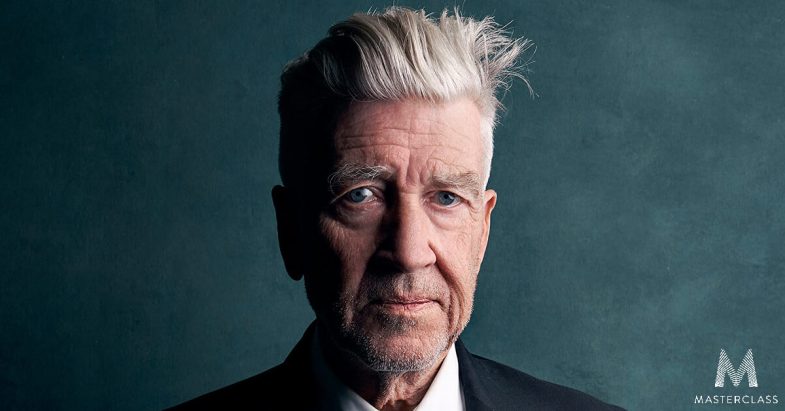 Enrolling in David Lynch's MasterClass requires an $180 all-access pass which includes one year of unlimited access to all 50+ MasterClass programs by additional instructors such as Spike Lee, Martin Scorsese, Helen Mirren, Werner Herzog, Serena Williams, Steve Martin, Samuel L. Jackson, Natalie Portman, Margaret Atwood, and Judd Apatow.
David Lynch's MasterClass Trailer
David Lynch MasterClass – Lesson Plan
Here's the complete lesson plan for David Lynch's MasterClass on Creativity and Film.
Introduction: The Art of Life
Meet your new instructor: Oscar-nominated filmmaker and artist David Lynch. In his first lesson, David talks about the importance of exploring deeply and encourages you to seek out thrilling ideas in the pursuit of creativity.
2 – Catching Ideas
For David, ideas are everything. Learn how to draw from your intuition and life experience to unlock powerful sources of creative inspiration.
3 – Creativity and the Writing Process
Writing is a way to remember ideas that come to life in your mind. Learn how to approach a blank page and find out why David thinks there is no formula for writing a good script.
4 – Educating Yourself
David believes that the best learning is experiential and hands-on. He shares lessons from his first experiments in cinema and discusses the master filmmakers who have inspired him.
5 – Casting for Character
Casting is an intuitive process that can result in exciting discoveries and collaborations. Learn how to identify and recognize the right performer for a part and hear David discusses working with some of his favorite actors.
6 – Working With Actors
Rehearsals are the time to shape scenes and take risks. David teaches you how to bring out an actor's potential in front of the camera and elicit an unforgettable performance.
7 – On Set: Creating a Happy Family
Treat your team like a happy family and they will go the extra mile for you. Learn how David handles the pressures of the set while protecting a creative space for the cast and crew.
8 – Production Design: Building Unique Worlds
The world on screen begins as an idea in the director's mind. David shares several show-and-tell techniques for conveying ideas to designers, encouraging improvisation along the way.
9 – Cinematography: Manifesting David's Vision
Using vivid black-and-white examples from "Eraserhead" and "The Elephant Man," David teaches you how to think cinematically.
10 – Sound Design and Scoring
The right music can elevate every other cinematic element on screen. Learn how David collaborates with composers and sound designers to create the perfect union of sound and picture.
11 – Breaking the Rules
Rules are great for driving, but in cinema? David doesn't like rules. Learn to distinguish restrictions that stifle creativity from those that actually help you to think outside the box.
12 – Make It True to the Ideas
Every artist struggles with fears of failure and the pressures of success. David encourages you to keep your creative decisions focused on one overriding goal: staying true to the idea.
13 – Bonus Chapter: Transcendental Meditation
David practices Transcendental Meditation twice a day. Learn to approach life and work with deeper awareness through meditation and enjoy the "doing" of almost any activity.
An avant-garde figure in filmmaking, David Lynch introduced mainstream audiences to art-house films. Now the Oscar-nominated director of Mulholland Drive teaches his cross-disciplinary creative process. Learn how he catches ideas, translates them into a narrative, and moves beyond formulaic storytelling. Embrace the art life in David's MasterClass and learn to test the boundaries of your own artistic expression in any medium.
Enroll in David Lynch's MasterClass (or gift the class to a creative friend) and feel free to share your thoughts and takeaway notes with Welcome to Twin Peaks!