David Lynch will be directing the live webcast of Duran Duran's March 23rd 2011 concert in Los Angeles.
"I am very excited about this opportunity to experiment with the band, Duran Duran, at the Mayan Theater on March 23rd. The idea is to try and create on the fly, layers of images permeating Duran Duran on the stage. A world of experimentation and hopefully some happy accidents."
-David Lynch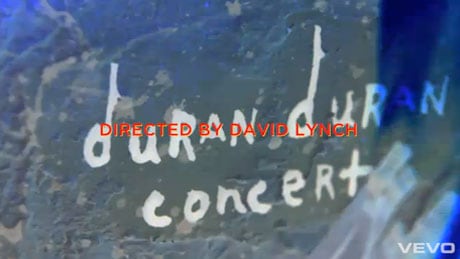 The concert will be streamed live at 10 PM EST / 7 PM PT on Duran Duran's Vevo page. Here's a little teaser trailer by David Lynch:
https://www.youtube.com/watch?v=go98Oa10QR4
Duran Duran Unstaged directed by David Lynch
UPDATE: Here's the entire concert.
https://www.youtube.com/watch?v=41_ZeBYbPIE&list=PL14259B8363FF895F
UPDATE (July 2013): Duran Duran's Nick Rhodes announces the theatrical and DVD release of David Lynch's Unstaged film.