Here's another deleted scene from the Blue Velvet Blu-ray, that shows us the well-mannered Jeffrey offering Sandy a kiss goodnight. But the best part of the excluded scene is when he enters his home to find a note with a PS from his eccentric Aunt Barbara.
[Removed]
And here's the deleted scene as originally scripted. Notice the differences?
130. EXT. BEAUMONTS' HOME – NIGHT
Jeffrey gets out of the car. He goes around to her side and looks down at her in the car. She looks very beautiful. He stands there for a moment.
JEFFREY
Can I give you a kiss good night?
SANDY
(pauses, trembling)
You better not, Jeffrey.
JEFFREY
Okay. okay.
SANDY
Goodnight.
JEFFREY
See ya tomorrow.
Sandy slowly drives off. Jeffrey watches her go then turns and goes inside his house.
131. INT. BEAUMONTS' LIVING ROOM – NIGHT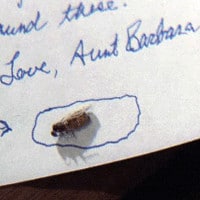 The house is very dark and quiet. Jeffrey finds a note by the one table light is on. The note is from his mother. It reads, "Jeffrey hope you enjoyed yourself. See you at breakfast. Love Mom." A postscript is written on the note by Aunt Barbara. "Jeffrey, honey, I found these. Love, Aunt Barbara." Jeffrey sees that Aunt Barbara has left him two dead termites. He picks one up and studies it. Again we see a huge CLOSEUP of a termite in the half-light. Jeffrey shakes his head in amusement.