A few days ago I tweeted that whenever I hear Michael Jackson's "Smooth Criminal", I think of Special Agent Dale Cooper looking at the man in the mirror…
Every time I hear Michael Jackson's Smooth Criminal, I envision Dale Cooper in his bathroom. "Annie, are you okay?" #iamsuchatwinpeaksgeek

— Welcome to Twin Peaks (@ThatsOurWaldo) July 3, 2011
Today I found out there is a connection between Michael Jackson and Twin Peaks. Apparently, the King Of Pop is still alive, and sometimes he hooks up with The Little Man From Another Place for a dance off in the Red Room!
Imagine an Angelo Badalamenti version of "Billie Jean" playing back in the background while reading this…
Klawnoom in The Red Room (Get it? It's "moonwalk" spelled backwards!)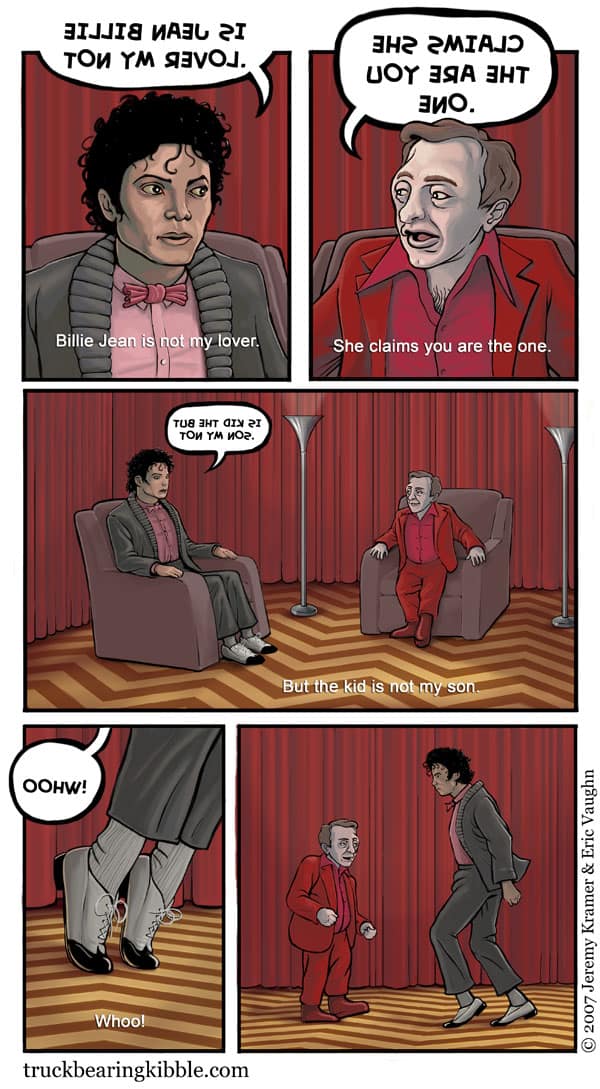 This wonderful Twin Peaks inspired comic was made by Jeremy Kramer and Eric Vaughn from Truck Bearing Kibble.
BONUS VIDEO: David Lynch once directed a 30-second intro for Michael Jackson's "Dangerous, the short films."
Lots of blue: CHECK. Lots of red: CHECK. Fire: CHECK. Strobes: CHECK. Yup, this is Lynch:
https://www.youtube.com/watch?v=X2mvH2zyX7U